The Survivors: A Novel (Mass Market)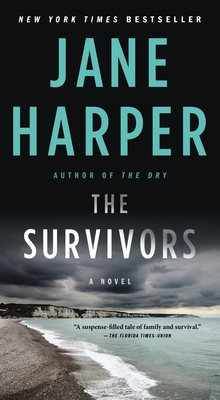 $9.99

Usually Ships in 4-7 Days
Staff Reviews
---
Kieran Elliot comes home to the coastal town in Australia where he grew up to help his mother pack up the house. She is moving his father into a memory care unit on the mainland. There are lots of memories here. The worst memory is the loss of his brother and his diving boat partner during a freak storm. Add to it, a young teenager's disappearance. And now, an artist and waitress who is loved by the community shows up dead. Kieran has to decide if the long ago cases and the present day one have something or someone in common. There are many possible suspects and Harper strings them all along in a satisfying way for mystery lovers.
— Valerie
February 2021 Indie Next List
---
"Jane Harper returns with another atmospheric psychological suspense novel, this time set on the Tasmanian coast. Harper's landscapes are tangible, exquisitely drawn, and as important to her stories as any character. The laid back and beautiful — but slightly run-down — beach town of Evelyn Bay is the star. Though there is a new body and an old mystery here, the novel focuses more on the inner conflicts, guilt, and secrets of its characters — a close group of lovers, friends, and family who are all holding back parts of their past. Reading the book was like watching the waves lap at the mouths of dark caves from a Tasmanian beach. An excellent escape!"
— Debra Ginsberg, DIESEL, A Bookstore, Santa Monica, CA
Description
---
Instant New York Times Bestseller

"I love Jane Harper's Australia-based mysteries....and The Survivors is the best yet. There are cave scenes that will freeze your blood." —Stephen King

"As always, Harper skillfully evokes the landscape as she weaves a complicated, elegant web, full of long-buried secrets ready to come to light." -The New York Times Book Review

Kieran Elliott's life changed forever on the day a reckless mistake led to devastating consequences.

The guilt that still haunts him resurfaces during a visit with his young family to the small coastal community he once called home.

Kieran's parents are struggling in a town where fortunes are forged by the sea. Between them all is his absent brother, Finn.

When a body is discovered on the beach, long-held secrets threaten to emerge. A sunken wreck, a missing girl, and questions that have never washed away...
About the Author
---
Jane Harper is the New York Times bestselling author of The Dry, Force of Nature, and The Lost Man. Jane previously worked as a print journalist in Australia and the UK and lives in Melbourne with her husband, daughter, and son.
Praise For…
---
Instant New York Times bestseller, #1 International Bestseller

"I love Jane Harper's Australia-based mysteries....and The Survivors is the best yet. There are cave scenes that will freeze your blood." —Stephen King

"As always, Harper skillfully evokes the landscape as she weaves a complicated, elegant web, full of long-buried secrets ready to come to light."
—New York Times Book Review

"Harper is to Australia what Tana French is to Ireland, a writer whose psychologically rich plots are matched by a deep understanding of place."
—Washington Post

"Another suspenseful thriller...And in Harper's proven style, the story is not only atmospheric, it delves deep into the psyche of main character Kieran Elliott and the townsfolk, unearthing dark secrets, hidden guilt and simmering social tensions."
—Herald Sun

"The latest stunner from Jane Harper…[She] expertly raises the reader's pulse throughout the narrative, insinuating what happened that day but only revealing the truth slowly as Kieran comes to see past and present in a new light."
—Booklist, starred review

"[Harper is] a master at creating atmospheric settings, and it's easy to fall under her spell…A layered and nuanced mystery."
—Kirkus

"Jane Harper has created a tightly told, beautifully written, and suspenseful novel… It is a novel of guilt, remorse, injustice, and regret, all skillfully woven together seamlessly into a realistic work of literary power I cannot recommend highly enough."
—Deadly Pleasures

"Harper expertly weaves past guilts with present grief. She remains a writer to watch."
—Publishers Weekly

"Jane Harper creates an impressive landscape that serves to illustrate how the experience of place inevitably shapes the lives of those who live there."
—Sydney Morning Herald

"It's now clear Harper has a gift...every book has a distinct landscape that plays a central part in the plot made possible by her uncanny knack of bringing scenery to life."
—Daily Telegraph

Praise for Jane Harper:
"Ms. Harper is not one to drop a fact [...] without using it later. If you enjoy being hoodwinked…you'll love Ms. Harper's sleight of hand. Ms. Harper has made her own major mark." —The New York Times

"Such a good storyteller… Harper has again raised the bar for emerging crime writers." —Chicago Tribune
"Intense, deeply intelligent psychological thrillers that explore how our pasts – especially our childhoods – mold and disrupt our lives in the present." —Christian Science Monitor

"Harper writes with precision and creates a tense atmosphere on the brink of combustion." —Real Simple

"Book by book, [Harper is] creating her own vivid and complex account of the outback." —New York Times Book Review
"Place is paramount, a multifaceted character that's in turns brutal and breathtaking." —Washington Post

"An author at the top of her game." —Kirkus, starred review

"I think of Jane Harper as the Australian Louise Penny. Like Penny's Inspector Gamache series, Harper's books evoke a vivid sense of place, and are as much about her nuanced characters and the moral dilemmas they face as the mystery itself." —BookRiot

"Harper works miracles. We're lucky to witness them." —A.J. Finn, #1 New York Times bestselling author

"Harper evokes the complexities of love, hate, rage, emotional baggage, and a spot of redemption with a spare language that suits her story's geographical surroundings – and her characters' deeply interwoven and even more deeply imprinted relationships – down to a T." —Seattle Review of Books

"Harper adroitly blends the tension and brisk pace of a thriller with the psychological acuity and stylish prose of literary fiction." —Irish Independent

"In just a couple of years, Jane Harper has soared into the first rank of contemporary crime writers." —Sunday Times (UK)

"Ms. Harper is not one to drop a fact [...] without using it later. If you enjoy being hoodwinked…you'll love Ms. Harper's sleight of hand. Ms. Harper has made her own major mark." —The New York Times

"Such a good storyteller… Harper has again raised the bar for emerging crime writers." —Chicago Tribune

"Harper writes with precision and creates a tense atmosphere on the brink of combustion." —Real Simple

"Book by book, [Harper is] creating her own vivid and complex account of the outback." —New York Times Book Review

"Harper works miracles. We're lucky to witness them." —A.J. Finn, #1 New York Times bestselling author