The Search for Us: A Novel (Hardcover)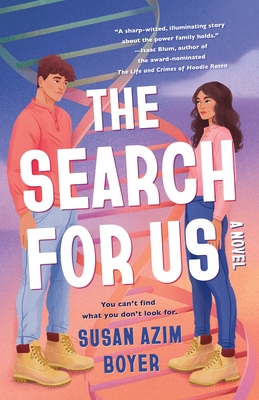 $21.00

Usually Ships in 4-7 Days
Description
---
"A sharp-witted and illuminating, impressive sophomore novel." - Isaac Blum, author of the award-nominated The Life and Crimes of Hoodie Rosen

Two half-siblings who have never met embark on a search together for the Iranian immigrant and U.S. Army veteran father they never knew.

Samira Murphy will do anything to keep her fractured family from falling apart, including caring for her widowed grandmother and getting her older brother into recovery for alcohol addiction. With attendance at her dream college on the line, she takes a long shot DNA test to find the support she so desperately needs from a father she hasn't seen since she was a baby.

Henry Owen is torn between his well-meaning but unreliable bio-mom and his overly strict aunt and uncle, who stepped in to raise him but don't seem to see him for who he is. Looking to forge a stronger connection to his own identity, he takes a DNA test to find the one person who might love him for exactly who he is—the biological father he never knew.

Instead of a DNA match with their father, Samira and Henry are matched with each other. They begin to search for their father together and slowly unravel the difficult truth of their shared past, forming a connection that only siblings can have and recovering precious parts of their past that have been lost. Brimming with emotional resonance, Susan Azim Boyer's The Search for Us beautifully renders what it means to find your place in the world through the deep and abiding power of family.
About the Author
---
Susan Azim Boyer (she/her), author of Jasmine Zumideh Needs a Win, writes young adult fiction featuring Iranian American heroines she *never* encountered growing up, who make messy, complicated choices that rapidly snowball into avalanches. She hails from Nebraska but grew up in Los Angeles before spending several years in San Francisco and the next twenty in Sonoma County. She now lives in the Coachella Valley with her husband, Wayne, and her Pug mix, Teddy. Their son, Alec, lives in New York.
Praise For…
---
"The Search For Us is a sharp-witted, illuminating story about the power family holds over us. Long-lost siblings Samira and Henry embark on a search for their estranged father and, as the two teens slowly unravel the difficult truth of their shared past, they must reimagine who they are and who they want to be in this poignant and gripping, impressive sophomore novel." -Isaac Blum, National Book Award Longlist Nominee for The Life and Crimes of Hoodie Rosen

"The Search For Us is an emotional story about the journey of figuring out not only where you fit in the world but how you came to be in the present, all at the same time. Henry and Samira are working to unravel the Choose Your Own Adventure story of their lives, where every choice has been made by someone else, and the repercussions of those choices weigh heavily on their present—college, relationships, and responsibilities most of all. Not one character in this story is perfect, and their layers are peeled away with each passing chapter, proving they are much more than they seem, both to the reader and to Samira and Henry. Susan Azim Boyer has crafted a moving story about the complicated emotions that come with an absentee parent, and about healing and anger and all the feelings in between the two, all while threading through hints of her signature humor. This is a story that will have you snort-laughing in surprise while holding back your tears." - Samantha Markum, author of This May End Badly and You Wouldn't Dare

"A heartfelt and poignant quest for self-discovery by an author to watch. Readers will relate deeply to both siblings, whose dual narratives describe complicated familial bonds with nuance and compassion as they seek out their estranged father. At once deeply tender, authentically messy, and ultimately brimming with hope, The Search for US will captivate till the last page." - Priyanka Taslim, author of The Love Match

"A beautiful showcase of how families—in all their many shapes and sizes—can be their own special type of love story." - Charlene Thomas, author of "Seton Girls"

"Riveting, heart-wrenching, and ultimately hopeful, The Search for Us beautifully explores the ways our roots shape us—and the power we have to shape ourselves." —Maya Prasad, author of Drizzle, Dreams, and Lovestruck Things, a Children's Book Council Young Adult and Librarian Favorite of 2023

"Relatable, poignant, and full of hope." - Kirkus

"Boyer handles such heavy themes as absent parents, cultural repression, and substance abuse with sensitivity and humor, making this heartwarming, illuminating story about siblings and identity a well-crafted, engaging one." -Shelf Awareness

"Boyer sensitively explores the complexities of identity, family, and responsibility in a plot fueled by a compelling search for answers and healing." - Booklist

"An absorbing and deeply human story of losing and finding family." - The Bulletin of the Center for Children's Books