The Simple Art of Rice: Recipes from Around the World for the Heart of Your Table (Hardcover)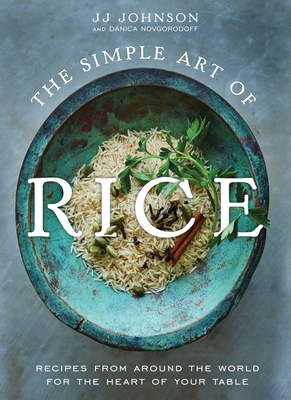 Staff Reviews
---
With beautiful photography and watercolor illustrations, this book takes a deep dive into that pantry staple from around the world — rice. Full of family recipes, new takes on old classics, and culturally significant dishes, this cookbook pulls recipes from around the globe to explore one of the most vibrant and lasting crops ever grown. Beginning with "Everyday Favorites" and moving through to dessert and drinks, there are so many great recipes in this book for both quick and simple meals as well as elaborate celebratory dishes that require more time in the kitchen. Two recipes jumped out at me to try immediately from this book — one a little more interesting and one a unique spin on a classic. The first, a recipe from South Africa called Geelrys, completely intrigued me. Spices, dried fruit, and brown sugar all go in the rice cooker along with chicken stock, butter and jasmine rice. What emerges is fluffed and topped with cashews and cilantro. My kids devoured it and I love that we've found a new side dish to keep in our repertoire! For a treat, I had to try the Coconut Tahini Crispy Rice Treats — a twist on the classic rice crispy treat. Sweetened with honey instead of marshmallows, it was nutty and delicious. This book will make a great addition to anyone's kitchen, and would even be a great coffee table book.
— Aerie
Description
---
From award-winning author and acclaimed chef JJ Johnson comes a cookbook full of delicious recipes that celebrate the history and versatility one of the world's essential foods.

The Simple Art of Rice is a celebration of rice and the many cultures in which this life-giving grain takes pride of place at the center of every table. The recipes are influenced by these global flavors from Asia to Europe, Africa to the Americas, and feature many of the world's favorite dishes. With Danica Novgorodoff, award-winning author Chef JJ Johnson takes readers on an informative and exciting culinary adventure that will help anyone master the art of cooking rice.

From iconic savory dishes like Liberian Jollof and Poppy William's Red Rice and Beans to sweet finishes like Champorado, The Simple Art of Rice has a rice dish for every kind of meal and occasion, including nourishing comfort foods and dishes that can be made quickly to transform a weeknight dinner into a feast. The book also features a fool-proof method for turning out perfect rice every time, as well as fascinating information on the role that rice has played in culture and history.
About the Author
---
JJ Johnson is a James Beard Award-winning co-author of Between Harlem and Heaven, founder of FIELDTRIP rice restaurants, and a TV personality appearing on HBO Max and Netflix. He has been recognized by Eater as one of their New Guard of Power in NYC Dining and in Forbes 30 Under 30.

Danica Novgorodoff is a writer and illustrator from Brooklyn. Her books include Long Way Down (in collaboration with Jason Reynolds) and Alexander von Humboldt: Explorer, Naturalist, & Environmental Pioneer.
Praise For…
---
"The Simple Art of Rice is a feat whose greatest strength is its core principle: celebrating the many people who have and continue to grow, eat, and love rice in whatever form it may take at any moment in our lives." ―Eater

"In The Simple Art of Rice, JJ Johnson offers a love song to the world's second most popular grain. In the magistral volume, Johnson takes the reader on a worldwide tour of rice from the field to the kitchen and presents its history, cultivation, and multiple uses. Informative and fascinating to read, fun to cook from, it is a work that deserves a place on every cook's bookshelf." ―Jessica B. Harris, Culinary Historian, and author of High on the Hog

"There's no one better than JJ Johnson at helping you cook in your own kitchen. The Simple Art of Rice is a beautiful book and a masterclass for your family's table." ―Selena Gomez

"JJ Johnson was born and raised at the intersection of rice cultures from the South, Caribbean and Latin America and schooled in the synthesis of African Atlantic and Asia-Pacific rim rice cookery; nobody is more prepared to bring you on a tour, a field trip if you will, through the world's most versatile and satisfying staple. This book is a gift to your palate." ―Michael W. Twitty, James Beard award-winning author and scholar

"Comforting, joyful and utterly delicious – this is an essential cookbook" ―Jamie Oliver

"Rice is universally enjoyed around the world. As much a historiography as recipe book: JJ takes you on a soulful rice culinary journey. His recipes offer both new inspiration and century-old techniques, leaving you to question how you ever treated rice as an afterthought." ―Chef Daniel Boulud, Chef/Restaurateur

"Chef JJ Johnson's new cookbook, The Simple Art of Rice, is a masterful exploration of one of the world's most beloved ingredients. With stunning illustrations, photography and recipes from all over the globe, Johnson takes readers on a journey through the history and culture of rice, from its origins to modern-day dishes. This cookbook is an essential resource for anyone looking to make the most of this versatile and delicious grain. With Johnson's expert guidance, even the most novice cook can create delicious and satisfying meals. The Simple Art of Rice is sure to be a favorite for both beginners and experienced cooks alike." ―David Chang

"Chef JJ Johnson's The Simple Art of Rice is as much a cultural journey as it is a culinary one. His pioneering embrace of this magical grain lifted it from unsung hero to featured ingredient. He's created a new dialogue that cleared paths for many young chefs. With 100 fresh recipes including "everyday favorites", "comfort food" and "celebration" it will quickly become my rice bible and clearly a smart addition to any great cookbook collection. Beautifully illustrated the book also includes the ultimate guide to rice varieties and is sure to become the authority on rice cooking." ―Rocco DiSpirito

"Chef JJ takes you on a round the world adventure in The Simple Art of Rice. Rice unites countries and cultures and JJ makes sure they'll all come together for a delicious meal." ―Tom Colicchio, Chef & Owner, Crafted Hospitality

"I had the pleasure of cooking a rice dish with Chef JJ on season two of Selena + Chef. It was unparalleled. I am excited for others to experience what I did as they create the delicious recipes featured in this book. The simple art of rice also brings to life the history, beauty, and significance of rice all around the world and is a must-read for all food lovers." ―Raquelle Stevens, author, producer, and host

"For much of the world, rice is a supporting actor, a dish to enhance the main course. But in JJ Johnson's wonderful new cookbook, "The Simple Art of Rice", the ancient grain is the star and many of these delicious recipes are Academy Award-worthy." ―Nancy Silverton

"The Simple Art of Rice is a multi-cultural and history-filled masterpiece that celebrates a simple, but complex, ingredient, from the farm to the table and from the farmers to the cooks. It's a delicious love letter of cultural diversity and acceptance." ―Carla Hall