What the River Knows: A Novel (Secrets of the Nile #1) (Hardcover)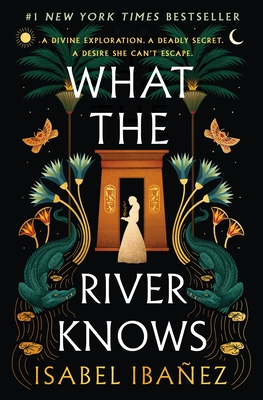 $20.00

Usually Ships in 4-7 Days
Staff Reviews
---
Inez Olivera lives in Buenos Aires in 1884 and spends much of her time chafing under the rules she must live by with her aunt and two cousins. She wishes she could spend time with her parents, who spend most of the year in Egypt, and she longs to study the pyramids and the pharaohs like they do. Old-world magic can be imbued in objects and passed along to the owners of the object, and Inez receives a ring in the mail from her father that she senses the magic in when she wears it. When she receives a letter that says her parents are missing and presumed dead from her Uncle Ricardo, who they were working with in Egypt, she leaves Argentina and sets out to find her uncle and the truth about what happened to her parents. Inez begins to be drawn to magic objects and convinces her furious uncle and his young British associate Whit that she can be helpful, and is with them when they discover the long lost tomb of Cleopatra. But there are darker forces on their trail, ones that would rather sell Egypt's historical treasures to the highest bidder, and Inez is going to have to figure out who she can trust and what really happened to her parents. A sweeping fantasy romance set among the pyramids of Egypt and the rush of discovery in the late 19th century. 
— Aerie
November/December 2023 Kids Indie Next List
---
"Ancient Egypt, mystery, and magic make this historical adventure a rollicking read. A daring Bolivian-Argentinian heroine breaks all the rules to find out what happened to her parents in their search for the lost tomb of Cleopatra."
— Katie Fransen, The Novel Neighbor, Webster Groves, MO
Description
---
The Mummy meets Death on the Nile in What the River Knows, Isabel Ibañez's lush, immersive historical fantasy set in Egypt and filled with adventure, a rivals-to-lovers romance, and a dangerous race.

Bolivian-Argentinian Inez Olivera belongs to the glittering upper society of nineteenth century Buenos Aires, and like the rest of the world, the town is steeped in old world magic that's been largely left behind or forgotten. Inez has everything a girl might want, except for the one thing she yearns the most: her globetrotting parents—who frequently leave her behind.

When she receives word of their tragic deaths, Inez inherits their massive fortune and a mysterious guardian, an archeologist in partnership with his Egyptian brother-in-law. Yearning for answers, Inez sails to Cairo, bringing her sketch pads and a golden ring her father sent to her for safekeeping before he died. But upon her arrival, the old world magic tethered to the ring pulls her down a path where she soon discovers there's more to her parent's disappearance than what her guardian led her to believe.

With her guardian's infuriatingly handsome assistant thwarting her at every turn, Inez must rely on ancient magic to uncover the truth about her parent's disappearance—or risk becoming a pawn in a larger game that will kill her.

What the River Knows is the first book in the thrilling Secrets of the Nile duology.

"Expertly plotted, explosively adventurous, and burning with romance." - Stephanie Garber #1 New York Times bestselling author

"Take a plucky heroine, a historically grounded Indiana Jones-esque adventure through Ancient Egypt, and add a surprising dollop of magic — it's a recipe for a delightful read." - Jodi Picoult, #1 New York Times bestselling author

*Book 1 in the Secrets of the Nile duology*
About the Author
---
Isabel Ibañez is the author of Together We Burn (Wednesday Books), and Woven in Moonlight (Page Street), a finalist for the William C. Morris Award, and is listed among Time Magazine's 100 Best Fantasy Books Of All Time. She is the proud daughter of Bolivian immigrants and has a profound appreciation for history and traveling. She currently lives in Asheville, North Carolina, with her husband, their adorable dog, and a serious collection of books.
Praise For…
---
"Expertly plotted, explosively adventurous, and burning with romance. What the River Knows is a pulse pounding archeological hunt that exquisitely weaves together glittering pieces of history with fascinating mythology. This book should come with a seatbelt, because you'll will want to buckle up for this brilliant ride." - Stephanie Garber #1 New York Times bestselling author of Once Upon A Broken Heart

"Take a plucky heroine, a historically grounded Indiana Jones-esque adventure through Ancient Egypt, and add a surprising dollop of magic — it's a recipe for a delightful read." - Jodi Picoult, #1 New York Times bestselling author

"Phenomenal. This is a book that truly deserves that word. What the River Knows has it all—page-turning mystery, adventure, intrigue and betrayal, laugh-out-loud banter, and slow-burn romance with characters that jump off the page. I am a fan for life." - Mary E. Pearson, New York Times bestselling author of The Remnant Chronicles

"What The River Knows is a historical adventure ripe with delicious twists, swoony angst, and sassy wit that is as thrilling as it is insightful." - J. Elle, New York Times bestselling author of Wings of Ebony

"A sweeping historical fantasy brimming with adventure, romance, and richly researched lore, What the River Knows is a treasure of a book. Ibanez's worldbuilding is masterful, and the chemistry between her characters is swoon worthy." - Elizabeth Lim, New York Times bestselling author of Six Crimson Cranes

"With vivid descriptions, singular magic, and shocking betrayals, What the River Knows is a thrilling adventure the whole way through. Add in a swoon-worthy romance and Ibañez's beautiful prose and this is a journey readers will eagerly go on." - Rachel Griffin, New York Times bestselling author of The Nature of Witches

"Luminous and enchanting, What the River Knows gleams with dangerous secrets, a clever heroine, ancient tombs, and a mystery that readers will be eager to unravel. A romantic, spellbinding adventure." - Rebecca Ross, internationally bestselling author of A River Enchanted and Divine Rivals

"Intricately threaded with real history, What the River Knows is romantic, adrenaline-soaked, and gleaming with clandestine magic. Opening like a dusty puzzle box, it reveals a spirited heroine, her prickly love interest, and an adventure that will spirit you away to the serpentine waters of the Nile. A masterpiece." - Ava Reid, internationally bestselling author of The Wolf and the Woodsman

"Magic and mystery, quests and romance sparkle in Ibañez's dazzling historical adventure novel. Prepare to be whisked on a whirlwind ride to the glittering banks of the Egyptian Nile by a plucky, courageous heroine!" - Amélie Wen Zhao

"Fast-paced yet lyrical, with twists that keep you flying through the pages while Ibañez's evocative prose makes you want to savor every sun-drenched paragraph, What the River Knows is a truly enchanting work of storytelling. All the stars." - Heather Fawcett, author of Emily Wilde's Encyclopaedia of Faeries

"A romantic, heart-pounding adventure." - Kirkus

"A novel that exquisitely depicts both its characters and the world around them...the story will sweep readers away with its cinematic details, its touches of magic, and a dash of romance." - Booklist, starred review

"A lively cast and a heaping helping of banter-filled romance radiate from this seamless blend of history, mystery, and mythology." - Publishers Weekly

"A lush historical fantasy set in nineteenth-century Argentina and involving the search for Cleopatra's tomb, What the River Knows deliciously mixes romance and adventure." - Paste Magazine

"With an adventurous treasure hunt, a perilous mystery, and a character-driven romance set in a unique historical moment, this is Ibañez's best work yet." - School Library Journal, starred review