Imperfect Women: A Novel (Paperback)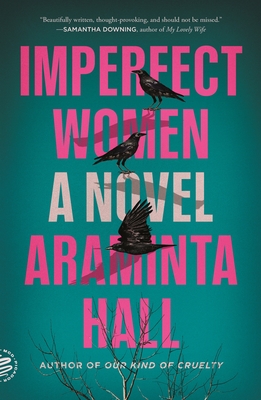 Description
---
FROM THE AUTHOR OF OUR KIND OF CRUELTY

"A stunning, dark novel about who women want to be and the reality of who they are." —Samantha Downing, author of His Lovely Wife

"Promises to please those who enjoy psychological thrillers and all those who love Elena Ferrante but wish her series was just a bit (okay, a lot) more twisted." —Molly Odintz, Lit Hub

When Nancy Hennessy is murdered, she leaves behind two best friends, an adoring husband and daughter, and a secret lover whose identity she took to the grave. Nancy was gorgeous, wealthy, and cherished by those who knew her—from the outside, her life was perfect. But as the investigation into her death flounders and her friends Eleanor and Mary wrestle with their grief, dark details surface that reveal how little they knew their friend, each other, and maybe even themselves.

A gripping, immersive novel about impossible expectations and secrets that fester and become lethal, Imperfect Women unfolds through the perspectives of three fascinating women. Their enduring, complex friendship is the knot the reader must untangle to answer the question Who killed Nancy?

Imperfect Women explores guilt and retribution, love and betrayal, and the compromises we make that alter our lives irrevocably. With the wickedly sharp insights and finely tuned suspense that has drawn comparisons to Patricia Highsmith and Paula Hawkins, Araminta Hall returns with another page-turning, thought-provoking tour de force.
About the Author
---
Araminta Hall has an MA in creative writing and authorship from the University of Sussex, and teaches creative writing at New Writing South in Brighton, where she lives with her husband and three children. She is the author of Our Kind of Cruelty, which was named a best book of 2018 by CrimeReads and Real Simple.
Praise For…
---
**Editors' Choice at The New York Times Book Review**
A Best Book of the Summer at Stylist
A Most Anticipated Book of 2020 at The Millions
A Most Anticipated Book of Summer at CrimeReads

"Here [Araminta Hall] turns her close attention to women—how complicated their lives are; the Faustian bargains they make when they get married and raise children, or not; the complicated nature of their friendships; how hard they are on each other and themselves . . . The book creeps on you slowly, like a fog, until you find yourself enveloped in this tangled skein of relationships, eager to see how all this is going to play out, who is going to betray whom and in what way . . . Imperfect Women is not a conventional detective story, but an investigation into character and motivation."
—Sarah Lyall, The New York Times Book Review

"You won't be able to put it down. Trust me."
—Elisabeth Moss, on Instagram

"A gripping thriller that has me racing through the pages."
—Laura Jane Williams, Good Housekeeping

"Promises to please those who enjoy psychological thrillers and all those who love Elena Ferrante but wish her series was just a bit (okay, a lot) more twisted . . . Hall's suspenseful and astute thriller should keep us guessing till the very last reveal."
—Molly Odintz, Lit Hub

"A psychological thriller in the truest sense of the word: a thoughtful examination of the psyche of three credible women with baggage and flaws. So much will resonate: not least Hall's exploration of gender politics and motherhood. At points I was folding pages repeatedly. Deeply unsettling."
—Sarah Vaughan, author of Anatomy of a Scandal

"Imperfect Women mines that grey area where friends' lives feed our own insecurities to dazzling effect."
—Francesca Brown, Stylist

"Imperfect Women is a stunning, dark novel about who women want to be and the reality of who they are. Beautifully written, thought-provoking, and should not be missed."
—Samantha Downing, author of His Lovely Wife

"Readers who enjoy a challenge will appreciate how deftly Hall paints nearly every character as a viable suspect . . . Imperfect Women is an engrossing deep dive into the individual and shared history of a long-term friendship, an acknowledgement of the slow poison of being confined by gender roles, and an exploration of what can happen when reasonable expectations begin to seem sadly unattainable."
—Linda M. Castellitto, BookPage

"[A] heart-wrenching psychological thriller . . . Hall shows each woman being emotionally drawn to doing something she knows is awful, revolting against feeling trapped, and feeling separated from her support system by guilt, evoking both empathy and outrage in the reader. The suspense alone is crafted skillfully enough to hold interest, but the dark portrait of the stifling nature of contemporary womanhood makes this story really stick."
—Publishers Weekly

"A brilliant exploration of the secrets and hidden lives women create for themselves as they try to navigate their way through life. A fabulous novel of modern love, life and people, with an excellent twist."
—Dorothy Koomson, author of Tell Me Your Secret

"At times surprising and other times disturbing, Imperfect Women is a suspenseful mystery with depth, a frightful look at domesticity gone awry, intricately written with layers of female frailty and ferocity that are impossible to turn away from."
—Paula Priamos, New York Journal of Books

"Rare and very refreshing . . . Middle-aged women are represented in all their wise, sensual, flawed complexity. I enjoyed it so much."
—Marian Keyes, author of Grown Ups

"Out come secrets galore, plus a nuanced depiction of complex female friendships. For fans of Patricia Highsmith and Paula Hawkins."
—The Millions

"Beautifully written and expertly structured—a masterclass in psychological thriller writing"
—Simon Lelic, author of The New Neighbors

"[This] absorbing psychological thriller is much more than a classic whodunit. Readers who think they finally know who the killer is will be confounded by the twists and turns the plot takes . . . The story goes deep into guilt, love, and the ties that bind us. Recommended for fans of Paula Hawkins."
—Kristen Calvert, Library Journal


"Although there's a murder at the heart of Imperfect Women, it's not a conventional detective story. Its real mysteries concern love, friendship, obligation, and the disappointments that come with the passage of time."
—The New York Times, "12 New Books We Recommend This Week"

"It's been clear from the start that Araminta Hall has a talent for telling unpalatable truths and Imperfect Women is no exception. She expertly peels the layers from the everyday lies we tell each other, and ourselves."
—Sarah Hilary, author of Come and Find Me

"A perfect slow-burning thriller."
—Nikki Smith, author of All in Her Head

"The investigation into Nancy's murder is the electric cord charging [Araminta Hall's] absorbing novel . . . Hall's astute novel unravels a gripping mystery and explores the complicated shifts of personal and familial relationships and the conflicts between societal expectations and inner desires."
—Leah Strauss, Booklist

"A psychological page-turner . . . that deftly explores the dark and confronting dualities of womanhood."
—Laura Jane Williams, author of Our Stop

"Pitch-perfect, meticulously observed, and utterly absorbing."
—Philippa East, author of Little White Lies

"An emotionally-drenched novel that focuses on guilt and betrayal . . . Araminta Hall has done an excellent job with Imperfect Women. Her style is eminently readable, her characters believable."
—Mark Rose, bookgasm

"A dark take on friendship and festering secrets."
—Caroline Hulse, author of The Adults

"Tense."
—Julie Cohen, author of Dear Thing

"Immersive, intelligent and gripping."
—S. E. Lynes, author of The Women

"A slow-burning, tense build to a furious conclusion. It's great."
—Harriet Tyce, author of Blood Orange

" Hall's fifth novel takes a refreshing approach to the multiple-narrator thriller . . . it culminates in a satisfying solution to the crime . . . Good bone structure."
—Kirkus

"A brilliantly unsettling exploration of secrets and lies."
—Jo Spain, author of With Our Blessing

"A deeply satisfying psychological thriller . . . insightful and sometimes disquieting."
—Cara Hunter, author of In the Dark

"Toxic relationships, crushed hopes, and rebuilding yourself from rock bottom. Fabulous."
—Liv Matthews, author of The Prank

"Dark, visceral, proper psychological thriller with a powerful feminist agenda."
—Laura Wilkinson, author of Skin Deep

"A painfully honest, haunting portrait of friendship, betrayal, marriage and disappointment."
—Dolly Wells