Begin Again: A Novel (Hardcover)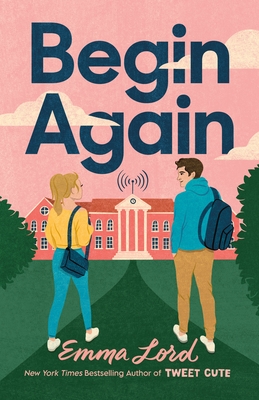 Staff Reviews
---
Andie Rose has goals–very specific ones: attend Blue Ridge State like her parents, major in Psychology, join the secret society her mom belonged to, with her high school boyfriend. Unable to attend Fall semester, she transfers in spring semester and surprises Conner. Andie is the one in shock when their plans don't line up. Living her best life and making lots of friends somehow gets in the way of studying and classes. Learning to work for balance, to be her own person, and to let go of the past are all lessons she has to muddle through. With a cast of funny individual characters, this book is a great read and brings us back to our college days when we tried to figure life out!
— Christina
January/February 2023 Kids Indie Next List
---
"I've loved Emma Lord since Tweet Cute and she killed it with the follow up; Begin Again is just as sweet and romantic. A must read for YA fans!"
— Kailey Fox, Kingfisher Bookstore, Coupeville, WA
Description
---
Most Anticipated by Goodreads, Popsugar, Cosmopolitan, BookRiot, E! News, and More!

An Indie Next Pick

Filled with a friend group that feels like family, an empowering journey of finding your own way, and a Just Kiss Already! romance, Emma Lord's Begin Again is an unforgettable YA novel of love and starting again.

As usual, Andie Rose has a plan: Transfer from community college to the hyper competitive Blue Ridge State, major in psychology, and maintain her lifelong goal of becoming an iconic self-help figure despite the nerves that have recently thrown her for a loop. All it will take is ruthless organization, hard work, and her trademark unrelenting enthusiasm to pull it all together.

But the moment Andie arrives, the rest of her plans go off the rails. Her rocky relationship with her boyfriend Connor only gets more complicated when she discovers he transferred out of Blue Ridge to her community college. Her roommate Shay needs a major, and despite Andie's impressive track record of being The Fixer, she's stumped on how to help. And Milo, her coffee-guzzling grump of an R.A. with seafoam green eyes, is somehow disrupting all her ideas about love and relationships one sleep-deprived wisecrack at a time.

But sometimes, when all your plans are in rubble at your feet, you find out what you're made of. And when Andie starts to find the power of her voice as the anonymous Squire on the school's legendary pirate radio station–the same one her mom founded, years before she passed away–Andie learns that not all the best laid plans are necessarily the right ones.

"A gratifying romance." - Publishers Weekly
About the Author
---
Emma Lord (she/her) is a digital media editor and writer living in New York City, where she spends whatever time she isn't writing either running or belting show tunes in community theater. She graduated from the University of Virginia with a major in psychology and a minor in how to tilt your computer screen so nobody will notice you updating your fan fiction from the back row. She was raised on glitter, a whole lot of love, and copious amounts of grilled cheese. Her books include Tweet Cute, You Have a Match, and When You Get the Chance.
Praise For…
---
"This grumpy-sunshine rom-com features a grouch with a secret heart of gold, an eternal optimist with plenty of depth beneath the surface, a healthy dose of banter, and a generous helping of Lord's laugh-out-loud wit." - School Library Journal

"If you haven't read a novel by Emma Lord before, you've been missing out on something spectacular." - Paste