Devil Makes Three: A Novel (Hardcover)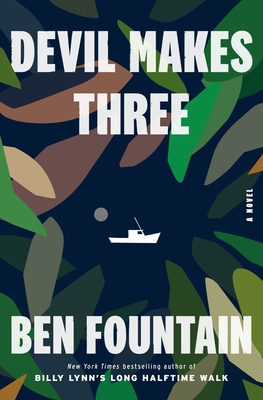 Staff Reviews
---
Fountain's adventure tale explores in vivid detail the violence and corruption in the chaotic aftermath of the 1991 military coup in Haiti. The novel is stuffed with a large cast of characters and story lines focusing on an American ex-pat named Matt who owns a scuba diving business. When the political upheaval and U.S.-backed embargo after the coup dries up his business, he approaches some American who are interested in looking for treasure in Haiti's coastal waters. A second story line follows Shelly, a tough and beautiful undercover CIA agent who is involved in the arms-for-drugs trade. And then there's Misha, sister of Matt's Haitian business partner Alix, who takes a break from her PhD program in the U.S. to work at a hospital in Port-au-Prince. When Matt and Alix are arrested during their dive to salvage a cannon from a suspected 15th century galleon, an already fraught situation gets even more exciting. The author wades deeply (sorry) into the technical aspects of salvage diving and provides a revealing description of a country in the throes of political and economic upheaval. Well-researched and smartly written, it's a compelling novel worth the time it takes to read.
— Alice
Description
---
A NEW YORK TIMES BOOK REVIEW EDITOR'S CHOICE · From the award-winning, bestselling author of Billy Lynn's Long Halftime Walk comes a brilliant and propulsive new novel about greed, power, and American complicity set in Haiti

"An engrossing, psychologically complex and politically astute novel." —The New York Times

Haiti, 1991. When a violent coup d'état leads to the fall of President Jean-Bertrand Aristide, American expat Matt Amaker is forced to abandon his idyllic, beachfront scuba business. With the rise of a brutal military dictatorship and an international embargo threatening to destroy even the country's most powerful players, some are looking to gain an advantage in the chaos–and others are just looking to make it through another day.

Desperate for money—and survival—Matt teams up with his best friend and business partner Alix Variel, the adventurous only son of a socially prominent Haitian family. They set their sights on legendary shipwrecks that have been rumored to contain priceless treasures off a remote section of Haiti's southern coast. Their ambition and exploration of these disastrous wrecks come with a cascade of ill-fated incidents—one that involves Misha, Alix's erudite sister, who stumbles onto an arms-trafficking ring masquerading as a U.S. government humanitarian aid office, and rookie CIA case officer Audrey O'Donnell, who finds herself doing clandestine work on an assignment that proves to be more difficult and dubious than she could have possibly imagined.

Devil Makes Three's depiction of blood politics, the machinations of power, and a country in the midst of upheaval is urgently and insistently resonant. This new novel is sure to cement Ben Fountain's reputation as one of the twenty-first century's boldest and most perceptive writers.
About the Author
---
Ben Fountain's work has received the National Book Critics Circle Award for Fiction, the PEN/Hemingway Award, the Los Angeles Book Prize for Fiction, and a Whiting Writers Award, and has been a finalist for the National Book Award and runner-up for the Dayton Literary Peace Prize. He lives in Dallas.
Praise For…
---
MOST ANTICIPATED BOOK OF 2023: Los Angeles Times, Associated Press, ABC News, Yahoo! Finance, Seattle Times, Lit Hub, The Chicago Tribune, and more!!!

"The depth and the rapidity at which we become invested in these lives shows that it's possible to write from any point of view as long as the writer is willing to do the hard work — the observation, the imagination, the selflessness — of getting a character right.... It takes courage to set an extremely complicated work of fiction in Haiti, to write across the lines of class, color, gender, ideology and nationality." —New York Times Book Review

"[A] big, deeply humane political thriller that proves the flame of Graham Greene and John le Carré is still burning." —The Washington Post

"[A] sprawling and sardonic work of geopolitical intrigue." —Wall Street Journal

"The book is packed with Haitian history and culture, politics and scenery. The writing is so vivid you can close your eyes and see the technicolor sunsets, smell the fetid air of Port-au-Prince. Woven throughout is a spy-thriller-worthy plot, complete with buried treasure, double-crosses, gun-running, drug-dealing and deadly factional feuds.... For anyone as invested in Haiti as the author — or deeply curious about the country — Devil Makes Three will be a rewarding read." —Dallas Morning News

"[A] bold tale... Fountain brings a Graham Greene-like approach to Haiti's vagaries and wonders. This sweeping, bracing, and sobering exploration of the troubled island nation's perennial, heartbreaking turmoil and geopolitical complications is topical yet timeless, elaborate and nuanced, laden with political intrigue and immersed in cultural rituals." —Booklist (starred review)

"A sprawling, fierce exploration of violence and corruption in the Caribbean... Readers of international thrillers should pounce." —Publishers Weekly

"Ben Fountain's powerfully written novel is many things at once—a spy thriller, a family saga, a love story, a treasure hunt, and a tale of brutal political repression, all set in the charged atmosphere of early 1990s Haiti. By succeeding at all of these, Devil Makes Three reminds us not only of the ways an ambitious, fully engaged novel can further our understanding of the world, but also of how pleasurable and satisfying reading such a novel can be." —Imbolo Mbue, New York Times bestselling author of Behold the Dreamers and How Beautiful We Were

"Ben Fountain portrays with precision the native and foreign devils of Haiti in this extremely well-constructed novel. All must endure the intractability of this complex country, an intractability…that sometimes yields in proportion to one's willingness to risk everything." —Yanick Lahens, author of Moonbath, winner of the Prix Femina

"Woven artfully into the fabric of Ben Fountain's literary thriller Devil Makes Three is a scathing indictment…Reflective and prescient, stunning in its narrative complexity and nuanced characterization, the novel is at once timely and timeless, working double duty as a reminder of the sins of America's past and a warning of those to come." —John Vercher, author of Three-Fifths and After the Lights Go Out

"Devil Makes Three is the sort of expansive, heartbreaking, thrilling novel I didn't realize I was missing until it grabbed hold of me and wouldn't let go. Writing at the peak of his considerable powers, Ben Fountain makes a harrowing period in Haiti's recent history come wonderfully and tragically alive. This morally complex novel is why we read fiction." —Jess Walter, #1 New York Times bestselling author of The Cold Millions and Beautiful Ruins

"Devil Makes Three brings the relentless intimacy of great literature to the quest to understand Haiti. In this sense, the novel is both an act of wild faith and an act of mad love and, finally, a triumph." —Bob Shacochis, author of The Woman Who Lost Her Soul and The Immaculate Invasion

"Devil Makes Three is a fast and riveting read, a gripping thriller braided with a couple of credible love stories. This novel will pin your ears back with some of its hard-won truths." —Madison Smartt Bell, author of All Souls' Rising