Warrior Girl Unearthed (Hardcover)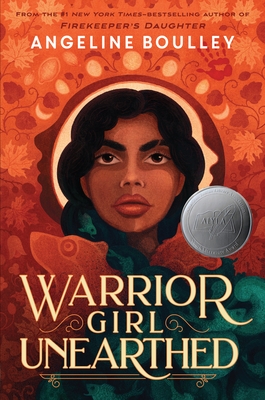 $19.99

Usually Ships in 4-7 Days
Staff Reviews
---
Perry Firecatcher-Birch is the more forthcoming twin sister. She and her sister Pauline have been enrolled in their tribe's summer internship program which helps teach the culture of their clan. Perry would rather be fishing. Her first assignment is to help at nearby Mackinac Island in the cataloging of Native American artifacts under the NAGPRA and MACPRA repatriation act. But when Perry sees the unburied bones of possible ancestors as well as other precious artifacts, she is sickened. She steals heirloom seeds and when caught, is fired and sent to her next assignment. This one involves the tribal police and missing teenage girls. She and her smart friends learn much about their culture as they help solve the mysteries. A great second book after Firekeeper's Daughter. The main character Daunis in the first book is Perry's auntie.
— Valerie
May/June 2023 Kids Indie Next List
---
"Angeline Boulley's newest YA thriller brings us back to the world of Firekeeper's Daughter. Perry Firekeeper-Birch follows the footsteps of her Auntie Daunis to find missing Indigenous women, fight corruption, and honor her ancestors."
— Jennifer Carney, Sidetrack Bookshop, Royal Oak, MI
Description
---
An Instant New York Times bestseller!
A #1 Indies Bestseller!
An Amazon Best Book of the Year!
Winner of the Boston Globe–Horn Book Award!
A BookPage Best Book of the Year!
An Indigo Teen Staff Pick of the Month!
An Indie Next Pick!
FIVE STARRED REVIEWS FOR WARRIOR GIRL UNEARTHED!

#1 New York Times bestselling author of Firekeeper's Daughter Angeline Boulley takes us back to Sugar Island in this high-stakes thriller about the power of discovering your stolen history.

Perry Firekeeper-Birch has always known who she is - the laidback twin, the troublemaker, the best fisher on Sugar Island. Her aspirations won't ever take her far from home, and she wouldn't have it any other way. But as the rising number of missing Indigenous women starts circling closer to home, as her family becomes embroiled in a high-profile murder investigation, and as greedy grave robbers seek to profit off of what belongs to her Anishinaabe tribe, Perry begins to question everything.

In order to reclaim this inheritance for her people, Perry has no choice but to take matters into her own hands. She can only count on her friends and allies, including her overachieving twin and a charming new boy in town with unwavering morals. Old rivalries, sister secrets, and botched heists cannot - will not - stop her from uncovering the mystery before the ancestors and missing women are lost forever.


Sometimes, the truth shouldn't stay buried.

Pick this up if you love:
● high stakes heist
● will-they-won't-they romance
● family secrets spanning decades
About the Author
---
Angeline Boulley, an enrolled member of the Sault Ste. Marie Tribe of Chippewa Indians, is a storyteller who writes about her Ojibwe community in Michigan's Upper Peninsula. She is a former Director of the Office of Indian Education at the U.S. Department of Education. Angeline lives in southwest Michigan, but her home will always be on Sugar Island. Firekeeper's Daughter is her debut novel.
Praise For…
---
PRAISE FOR WARRIOR GIRL UNEARTHED

An Instant New York Times bestseller!
#1 Indies Bestseller!
A 2023 Amazon Best Book of the Year So Far
An Indigo Teen Staff Pick of the Month!
An Indie Next Pick!

"A riveting, culturally focused thriller. Bouklley has become a must-read author." -NPR

SIX STARRED REVIEWS FOR WARRIOR GIRL UNEARTHED!!!

*"This novel is many things at once: a coming-of-age story of twins who are each struggling to find their places, a murder mystery, a culturally driven exploration of home and belonging, and the same thoughtful, expansive, and careful examination of what it means to be Anishinaabe as Boulley offered in the previous novel." -BCCB, starred review

*"Heightened tension, dynamic action scenes, a complicated heist and plenty of revelations [make] Warrior Girl Unearthed an edifying and deeply moving read." -BookPage, starred review

*"A compelling narrative about one teen's attempt to undo some of the injustices her community and people have faced." -School Library Journal, starred review

*"Another powerful, suspenseful page-turner from Boulley"-The Horn Book, starred review

* "A thrilling and empowering read" -Publisher's Weekly, starred review

*"A page-turning heist grounded in a nuanced exploration of critical issues of cultural integrity." -Kirkus Reviews, starred review

"[I]ncredibly engaging...This quick follow-up to Boulley's best-selling, award-winning Firekeeper's Daughter carries over all the same intrigue, tension, and heartbreak." -BookList



PRAISE FOR FIREKEEPER'S DAUGHTER

A PRINTZ MEDAL WINNER!
A MORRIS AWARD WINNER!
AN AMERICAN INDIAN YOUTH LITERATURE AWARD YA HONOR BOOK!

A REESE WITHERSPOON x HELLO SUNSHINE BOOK CLUB YA PICK

An Instant #1 New York Times Bestseller

Soon to be adapted at Netflix for TV with President Barack Obama and Michelle Obama's production company, Higher Ground.

"One of this year's most buzzed about young adult novels." ―Good Morning America

A TIME Magazine Best YA Book of All Time Selection
Amazon's Best YA Book of 2021 So Far (June 2021)
A 2021 Kids' Indie Next List Selection
An Entertainment Weekly Most Anticipated Books of 2021 Selection
A PopSugar Best March 2021 YA Book Selection


"This is one bold, uncompromising and elegantly crafted debut." ―Courtney Summers, New York Times-bestselling author of Sadie

"Intricate and moving. Boulley takes the reader on an incredible journey with the assurance of a veteran novelist." ―Tochi Onyebuchi, award-winning author of Beasts Made of Night and Riot Baby

"A rare and mesmerizing work that blends the power of a vibrant tradition with the aches and energy of today's America. This book will leave you breathless!" ―Francisco X. Stork, acclaimed author of Marcelo in the Real Worldand Illegal

"A crime suspense fiction [with] a lot of layers, Indigenous culture, and it's really beautifully written." ―Georgia Hardstark, co-host of My Favorite Murder podcast

"[An] absolute powerhouse of a debut." ―NPR

"Another YA novel that's absolutely page-turning required reading for adults...Our heroine is so smart, so thoughtful, and so good." ―Glamour

"Raw and moving. . . Boulley has crafted a nuanced and refreshing protagonist." ―Cosmopolitan

"Sure to be on one of the year's best YA novels" ―POPSUGAR

"A gorgeous insight into Anishinaabe culture and a page-turning YA thriller with a healthy dose of romance thrown in,Firekeeper's Daughter hits all of the right notes." ―Hypable

"Immersive and enthralling, Firekeeper's Daughter plunges the reader into a community and a landscape enriched by a profound spiritual tradition. Full of huge characters and spellbinding scenes, it gives a fascinating insight into life on and off the reservation, with Daunis as a tough and resourceful heroine through every vicissitude." ―Financial Times

"Hitting hard when it comes to issues such as citizenship, language revitalization, and the corrosive presence of drugs on Native communities, this novel will long stand in the hearts of both Native and non-Native audiences." ―Publishers Weekly, Starred Review

"Though Firekeeper's Daughter contains gripping action sequences and gasp-inducing twists, it's Daunis' mission of self-discovery, which begins as a low and steady growl and grows to a fierce, proud roar, that has the most impact... Though it both shocks and thrills, in the end, what leaves you breathless is Firekeeper's Daughter's blazing heart." ―BookPage, Starred Review

"Boulley, herself an enrolled member of the Sault Ste. Marie Tribe of Chippewa Indians, writes from a place of love for her community and shares some key teachings from her culture, even mixing languages within the context of the story. She doesn't shy away from or sugar-coat the very real circumstances that plague reservations across the country, and she tackles these through her biracial hero who gets involved in the criminal investigation into the corruption that led to this pain. An incredible thriller, not to be missed." ―Booklist, Starred Review