We Begin at the End (Hardcover)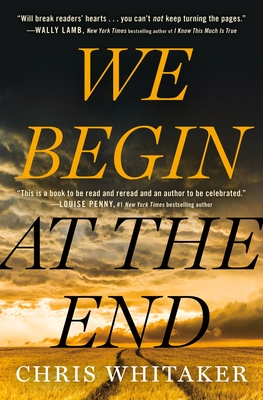 $27.99

Usually Ships in 4-7 Days
Staff Reviews
---
Thirteen year old Duchess proclaims to be an outlaw to most everyone she meets. She's cantankerous, armored, bright, and the daughter of Star, the town beauty who can't overcome the tragic loss of her sister during her teen years. Beginning in a California coastal town, Duchess and her five year old, sweet brother, Robin, exist with the help of the town sheriff, Walk. Although Walk has a slough of his own problems, he tries to shelter Duchess's disheveled family from more heartache. When troubles get too deep, he moves the children to Montana to live with their grandpa, Hal. The beauty of Montana is stunning, and while there Duchess gradually tries to let go of her outlaw status letting a few people penetrate her cracked life. This beautiful, multi-layered story of painful loss breathes forgiveness and love. Each character brings a different weight to this well-balanced novel. You will cringe, laugh and cry while reading this extraordinary book. A winner that ripples out far and wide.
— Liz
March 2021 Indie Next List
---
"We Begin at the End is dramatic storytelling at its best, full of layers of intrigue and complex personalities set around the murder of the book's most vulnerable character. The stoical, 13-year-old Duchess Day Radley takes center stage, and her heartbreaking life unleashes a hero within: self-proclaimed outlaw, bold and courageous, though to her peril not always wise beyond her years. Chris Whitaker has created a character for the ages and an extraordinary reading experience. By turns amusing, frightening, and exhilarating."
— Robin Sung, Porter Square Books, Cambridge, MA
Description
---
Winner of the Gold Dagger for Best Crime Novel from the Crime Writers' Association (UK)
Winner for Best International Crime Fiction from Australian Crime Writers Association
An Instant New York Times Bestseller

"A vibrant, engrossing, unputdownable thriller that packs a serious emotional punch. One of those rare books that surprise you along the way and then linger in your mind long after you have finished it."
—Kristin Hannah, #1 New York Times bestselling author of The Nightingale and The Four Winds

Right. Wrong. Life is lived somewhere in between.

Duchess Day Radley is a thirteen-year-old self-proclaimed outlaw. Rules are for other people. She is the fierce protector of her five-year-old brother, Robin, and the parent to her mother, Star, a single mom incapable of taking care of herself, let alone her two kids.

Walk has never left the coastal California town where he and Star grew up. He may have become the chief of police, but he's still trying to heal the old wound of having given the testimony that sent his best friend, Vincent King, to prison decades before. And he's in overdrive protecting Duchess and her brother.

Now, thirty years later, Vincent is being released. And Duchess and Walk must face the trouble that comes with his return. We Begin at the End is an extraordinary novel about two kinds of families—the ones we are born into and the ones we create.
About the Author
---
Chris Whitaker is the award-winning author of Tall Oaks, All the Wicked Girls, and the New York Times bestseller We Begin at the End. Chris lives in the UK.

Follow him on Twitter @WhittyAuthor
And on Instagram @chriswhitakerauthor
Praise For…
---
Winner of the Gold Dagger for Best Crime Novel from the Crime Writers' Association (UK)
Winner for Best International Crime Fiction from Australian Crime Writers Association
Winner of the Theakston Old Peculier Crime Novel of the Year (UK)
An Instant New York Times Bestseller
A Good Morning America Buzz Pick
#1 Indie Next Pick
A Lariat Reading List Pick

Praise for We Begin at the End by Chris Whitaker

"We Begin at the End was recommended by a friend, who recommended to a friend, who recommended it to my wife, who gushed about it to me. It is that kind of very emotional, well-written, unforgettable story that gets people gushing—including me."
—James Patterson

"Cape Haven, Calif., is a pretty town of broken souls. Its chief cop clings to the past as his body fails. A drunk former beauty can barely care for the kids she loves, and her fierce 13-year-old daughter Duchess Day Radley imagines herself an outlaw willing to do anything to defend her little brother."
—People (Book of the Week)

"A heartbreaking, page-turning, swashbuckling thriller."
—Good Morning America

"What is new is the protagonist's anguished, gorgeous voice, filled with rage and tenderness."
—The Washington Post

"Ravishing, pulse-raising suspense...."
—O, The Oprah Magazine

"A moving, propulsive story."
—The New York Times Book Review

"A vibrant, engrossing, unputdownable thriller that packs a serious emotional punch. One of those rare books that surprise you along the way and then linger in your mind long after you have finished it."
—Kristin Hannah, #1 New York Times bestselling author of The Nightingale and The Four Winds

"A beautifully written mystery, packed with unforgettable characters. An intricately woven portrait of small-town intrigue where old and new sins collide."
—Jane Harper, New York Times bestselling author of The Dry and The Survivors

"Couldn't put it down. Incredible writing, characters so brilliantly drawn they jump off the page. Outstanding."
—B. A. Paris, bestselling author of Behind Closed Doors

"Two damaged children—one timid and sweet, the other foul-mouthed and furious—will break readers' hearts in this well-plotted and perfectly-paced novel. If, like me, you love stories that kidnap your intended schedule because you can't not keep turning the pages, then I wholeheartedly recommend Chris Whitaker's We Begin at the End."
—Wally Lamb, New York Times bestselling author of I Know This Much Is True

"I LOVED this book. From the riveting plot to the beautiful writing. But mostly what kept me longing to get back to it each day were the characters, especially young Duchess. Fierce, brave, vulnerable, she leaps off the page fully formed. As does Walk. How aptly named. A chief of police on his own inexorable journey. This is a book to be read and reread and an author to be celebrated."
—Louise Penny, #1 New York Times bestselling author

"With prose as eerily beautiful as its settings, you'll be left thinking about this novel long after the final page."
—Newsweek

"It's an instant classic….Let's begin at the end. After you've turned the final page of Chris Whitaker's magnificent new novel, you'll struggle—I struggled, certainly—to describe the experience…it recalls the very best of Tana French and Dennis Lehane. Think of Duchess Day Radley as a twenty-first-century Scout Finch, tough and curious and good. In fact, think of We Begin at the End as a novel at the same time distinctly American and profoundly universal."
—A.J. Finn, author of the #1 New York Times bestseller The Woman in the Window

"Rich with character and story, conflict and tension, humor, tragedy, and raw, unadulterated guts, this one has it all. Throw in the most compelling young protagonist I've read in at least a decade, and you have a deep and meaningful story that is an absolute delight from first page to last."
—John Hart, author of six New York Times bestsellers

"We Begin at the End is a searing portrait of guilt and grief, strikingly written and full of characters you can't help but love."
—Charlotte McConaghy, author of Migrations

"Beautifully written, We Begin at the End really reminds me of To Kill a Mockingbird. And the spirit of Scout is very much alive in Duchess."
—Sarah Pinborough, New York Times bestselling author of Behind Her Eyes

"This is an epic drama and a profound masterpiece. I'll be amazed if I read a better novel this year."
—Daily Mirror (UK)

"Heartbreaking and profound, this is my thriller of the year."
—The Mirror (UK)

"It's extraordinary."
—AARP

"[An] impressive, often lyrical thriller. Whitaker crafts an absorbing plot around crimes in the present and secrets long buried, springing surprises to the very end. A fierce 13-year-old girl propels this dark, moving thriller."
—Kirkus Reviews (starred review)

"A superb thriller…. Powered by extraordinarily deep character development and an impressively intricate plot, this novel is simultaneously a murder mystery, a love story, and a heartbreaking tragedy. The existential agony is palpable throughout, but so, too, is the hope at the end. Whitaker has upped his game with this emotionally charged page-turner."
—Publishers Weekly (starred review)