Finding Freedom: A Cook's Story; Remaking a Life from Scratch (Hardcover)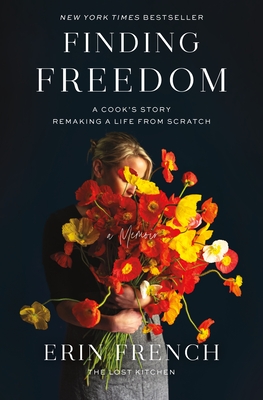 $28.00
Usually Ships in 1-5 Days
Staff Reviews
---
Do not read this book when you are hungry! Aside from the stories about her abusive first husband and her time in rehab, food fills the pages of this compelling memoir of a young woman's fight to realize her vocation as a chef. From the age of 13, when her father put her to work in his diner, Erin loved working with food and serving it to others. An unplanned pregnancy during college in Boston brought her back to rural Maine where she worked at restaurants, cafes, and bars until she was able to open a small restaurant. But as she achieved success as a chef, her unhappy marriage came to feel like a trap, and her long hours in the restaurant led to prescription drug addiction. Any reader who has started a small business or dreamed of starting one will recognize the trials and pitfalls entailed therein and, at the same time, will be inspired by Erin's grit and determination that led to the creation of The Lost Kitchen, a restaurant so popular today that there is an annual lottery for each season's dinner reservations. Recommended.
— Alice
April 2021 Indie Next List
---
"A memoir that grabs you from the beginning and immediately has you rooting hard for a scrappy, young, genius chef-to-be as she overcomes some pretty serious challenges along the way to owning one of the most sought-out restaurants in New England."
— Michael Herrmann, Gibson's Bookstore, Concord, NH
Description
---
**New York Times Bestseller**

From Erin French, owner of the critically acclaimed The Lost Kitchen, a TIME world dining destination, a life-affirming memoir about survival, renewal, and finding a community to lift her up

Long before The Lost Kitchen became a world dining destination with every seating filled the day the reservation book opens each spring, Erin French was a girl roaming barefoot on a 25-acre farm, a teenager falling in love with food while working the line at her dad's diner and a young woman finding her calling as a professional chef at her tiny restaurant tucked into a 19th century mill. This singular memoir—a classic American story—invites readers to Erin's corner of her beloved Maine to share the real person behind the "girl from Freedom" fairytale, and the not-so-picture-perfect struggles that have taken every ounce of her strength to overcome, and that make Erin's life triumphant.

In Finding Freedom, Erin opens up to the challenges, stumbles, and victories that have led her to the exact place she was ever meant to be, telling stories of multiple rock-bottoms, of darkness and anxiety, of survival as a jobless single mother, of pills that promised release but delivered addiction, of a man who seemed to offer salvation but in the end ripped away her very sense of self. And of the beautiful son who was her guiding light as she slowly rebuilt her personal and culinary life around the solace she found in food—as a source of comfort, a sense of place, as a way of bringing goodness into the world. Erin's experiences with deep loss and abiding hope, told with both honesty and humor, will resonate with women everywhere who are determined to find their voices, create community, grow stronger and discover their best-selves despite seemingly impossible odds. Set against the backdrop of rural Maine and its lushly intense, bountiful seasons, Erin reveals the passion and courage needed to invent oneself anew, and the poignant, timeless connections between food and generosity, renewal and freedom.
About the Author
---
Erin French is the owner and chef of The Lost Kitchen, a 40-seat restaurant in Freedom, Maine, that was recently named one of TIME Magazine's World's Greatest Places and one of "12 Restaurants Worth Traveling Across the World to Experience" by Bloomberg. A born-and-raised native of Maine, she learned early the simple pleasures of thoughtful food and the importance of gathering for a meal. Her love of sharing Maine and its delicious heritage with curious dinner guests and new friends alike has garnered attention in outlets such as The New York Times (her piece was one of the ten most read articles in the food section the year it was published), Martha Stewart Living, Wall Street Journal, Boston Globe, and Food & Wine. She has been invited to share her story on NPR's All Things Considered, The Chew, CBS This Morning, and The Today Show. Erin was featured in a short film made by Tastemade in partnership with L. L. Bean, which won a James Beard Award, and The Lost Kitchen Cookbook has been named one of the best cookbooks by The Washington Post, Vogue.com, and Remodelista and was nominated for a James Beard Foundation Award.
Praise For…
---
"With extraordinary honesty and humor, Erin French's incredible memoir takes us on a profoundly personal journey through her highest highs and her lowest lows. It was her love of cooking and bringing people joy that gave her the strength to build the life she'd always dreamed of. I'll never forget this book and neither will you."
—Ina Garten

"Erin is an overcomer and a risk-taker. She's the kind of person who, when faced with a setback, pushes forward and makes beauty out of hardship. Her story is full of passion and courage, and when you read this book, you will walk away feeling inspired and encouraged in your own life."
—Joanna Gaines, Co-Founder, Magnolia

"Erin French is a talented chef, a successful entrepreneur, a beautiful young woman, and a passionate promoter of living the 'good life.' This book chronicles the incredible ups, and relatable downs, of building a life and a business. Congratulations, Erin! You have done it!"
—Martha Stewart, Founder Martha Stewart Living Omnimedia

"Women everywhere will respond to Finding Freedom, a story of the triumph of true passion against all odds. With grit, honesty, and lyrical writing, Erin French takes us on her journey: working the line at her father's diner, surviving addiction, toxic relationships, raising her son as a single mother, to finally re-inventing herself as a renowned chef and restaurateur. Finding Freedom is a wild ride, one you won't soon forget."
—Stephanie Danler, bestselling author of Sweetbitter and Stray

"Erin and I grew up in very different kitchens (an American diner; Chez Panisse), but I recognized so much in her experience: the intimacy and immediacy of a restaurant-as-second-home; the sounds and smells of cooking; the pleasure of bringing joy to people through food. Erin's story is a gritty, sensuous, honest story of finding her own path—with the pursuit of good food as her bellwether."
—Fanny Singer, author of Always Home

"Think "Wild" with whisks and buttery mashed potatoes instead of hiking boots and breathtaking views."
—New York Times Book Review, "Inside the List"

"Engaging stories from the kitchen and beyond... A canny life story from a determined woman with the gift of vision and the wherewithal to implement it."
—STARRED Kirkus Review

"Readers will root for French and will be fascinated by her efforts at survival, redemption, and rejuvenation. Notably heavier on insight and lighter on hubris than the average chef memoir, this will speak to both the brokenhearted and those with kitchen dreams of their own."
—Publishers Weekly

"Ms. French tells a courageous story without sentimentality or self-pity. She has a sense of humor, an eye for detail and knows how to build tension. But what impresses me most about this book is her evocative writing about food. She describes it so well you can taste it."
—Wall Street Journal

"French chronicles her struggles, failures and triumphs in a lyrically written new memoir, 'Finding Freedom'...[a] compelling, authentic tale of grit and determination"
—Associated Press