The Dirty Tricks Department: Stanley Lovell, the OSS, and the Masterminds of World War II Secret Warfare (Hardcover)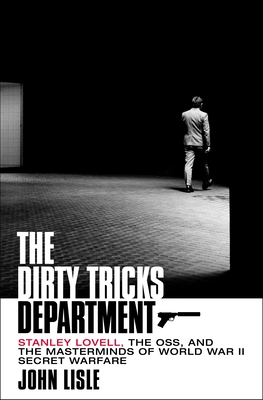 Staff Reviews
---
Anyone who has read the many good true stories about 20th century spies has gotten a taste of what John Lisle outlines in great detail in this well-researched history of the secret warfare methods employed by the OSS in WWII and later by the CIA. He describes how the Research and Development Branch of the newly formed OSS came to be. The R&D Branch was led by Stanley Lovell, a chemist and inventor who supervised the creation of such items as exploding flour, incendiary devices attached to bats, explosives in lipstick and the hundreds of other successful and unsuccessful "dirty tricks" to outwit the enemy. Included are lots of anecdotes about how these devices were used during the war and how the CIA, successor to the OSS, developed more dirty tricks after WWII ended. 
— Alice
Description
---
John Lisle reveals the untold story of the OSS Research and Development Branch—The Dirty Tricks Department—and its role in World War II.

In the summer of 1942, Stanley Lovell, a renowned industrial chemist, received a mysterious order to report to an unfamiliar building in Washington, D.C. When he arrived, he was led to a barren room where he waited to meet the man who had summoned him. After a disconcerting amount of time, William "Wild Bill" Donovan, the head of the OSS, walked in the door. "You know your Sherlock Holmes, of course," Donovan said as an introduction. "Professor Moriarty is the man I want for my staff…I think you're it."

Following this life-changing encounter, Lovell became the head of a secret group of scientists who developed dirty tricks for the OSS, the precursor to the CIA. Their inventions included bat bombs, suicide pills, fighting knives, silent pistols, and camouflaged explosives. Moreover, they forged documents for undercover agents, plotted the assassination of foreign leaders, and performed truth drug experiments on unsuspecting subjects.

Based on extensive archival research and personal interviews, The Dirty Tricks Department tells the story of these scheming scientists, explores the moral dilemmas that they faced, and reveals their dark legacy of directly inspiring the most infamous program in CIA history: MKULTRA.
About the Author
---
JOHN LISLE is a historian of science and the American intelligence community. He earned a Ph.D. in history from the University of Texas and has taught courses on U.S. history, cyberspace, and information warfare at the University of Texas, Louisiana Tech University, and Austin Community College. His writing has appeared in Scientific American, Smithsonian Magazine, Skeptic, The Journal of Intelligence History, and Physics in Perspective. The Dirty Tricks Department is his first book.
Praise For…
---
"This enjoyable, picaresque and sometimes alarming book offers another good reason for maintaining careful oversight over the intelligence services: Spy-scientists tend to go rogue when left to invent their own devices." —Ben Macintyre, New York Times

"In John Lisle's The Dirty Tricks Department, a darkly entertaining trawl through the outlandish exploits and misadventures of Lovell's "Department of Dirty Tricks," the spymasters of the O.S.S. treat the rules of war as minor annoyances." —Air Mail

"The Dirty Tricks Department is a fascinating tale vividly told, full of sabotage and skullduggery, deviousness and invention, and populated by a cast of remarkable characters. James Bond meets Sherlock Holmes—but in deadly serious real life." —H.W. Brands, New York Times bestselling author of the Pulitzer Prize finalists Traitor to His Class and The First American

"The Dirty Tricks Department is the best book about the OSS I've ever read. It's also one of the finest intelligence histories in recent years. Terrific research, razor-sharp writing, and a scintillating cast of characters—heroes, weirdos, con men, mad scientists—make this a must-read for anyone interested in the dark arts of espionage and secret warfare." —Tim Weiner, winner of the Pulitzer Prize, National Book Award, and author of the bestselling history of the CIA Legacy of Ashes

"[A] knowledgeable and entertaining study … Lisle stuffs the account with bizarre inventions, humorous anecdotes, and vivid sketches of researchers and agents. Espionage buffs will be enthralled." —Publishers Weekly

"[A] fascinating story … With careful research and a dry wit, Lisle finds much to say about the backroom war. A page-turning account of the scientists, inventors, and eccentrics of the OSS in a critical period of conflict." —Kirkus Reviews

"Lisle has composed an absolutely engaging chronicle of the founding and WWII heyday of the OSS, the precursor of today's CIA … How it all got started … is endlessly fascinating." —Booklist