The Villa: A Novel (Hardcover)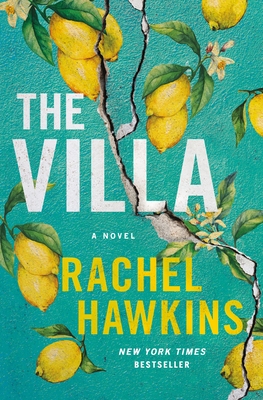 $28.99

Usually Ships in 4-7 Days
Staff Reviews
---
Successful "cozy mystery" author Emily is in a rut: her marriage is in ruins, she has writer's block, she's being cleaned out by her greedy ex,  and she has just begun to recover from a mysterious and incapacitating illness. While at lunch with her childhood best friend, Chess, a self-help author of stratospheric popularity, an invitation too good to pass up is offered, and Em joins Chess for six weeks at an Italian villa with its own tragic past. Emily begins to explore what happened in the 1970s to a rag-tag group of rock stars, drug dealers and groupies, with superstar musician Noel Gordon attempting to reignite his song-writing career. Included in the groupie set are half-sisters, Mari and Lara, whose own creative forces are ignored and sidelined while the men combust under various dalliances of sex, drugs, and all the usual distractions. Behind the scenes, Mari writes what is an eventual best-selling thriller, and Lara composes a landmark platinum album. In the final week of that long ago summer, passions rise as secrets unfold, and Mari's boyfriend Pierce is murdered. 
Tensions between Emily and Chess begin to emerge during the stay as secrets are revealed and a creative competition of the most unhealthy sort begins to unravel the fabric of their longtime friendship. Fast-paced, clever and a nice departure from the usual thriller! 
— Raquel
January 2023 Indie Next List
---
"Six weeks in an Italian Villa is an ideal summer for best friends Chess and Emily — except for the secrets they've kept. The Villa has secrets of its own. 'Houses remember' is the first line of a book written at the Villa; this one has seen it all!"
— Beth Mynhier, Lake Forest Book Store, Lake Forest, IL
Description
---
INSTANT NEW YORK TIMES BESTSELLER!

"Hawkins weaves an engrossing tale about betrayal, sisterhood, and the power of telling your own story. Captivating!" ––People

"Hawkins is the reigning queen of suspense." ––Heather Gudenkauf, New York Times bestselling author

The bestselling author of The Wife Upstairs returns with a brilliant new gothic suspense set at an Italian villa with a dark history.

As kids, Emily and Chess were inseparable. But by their 30s, their bond has been strained by the demands of their adult lives. So when Chess suggests a girls trip to Italy, Emily jumps at the chance to reconnect with her best friend.

Villa Aestas in Orvieto is a high-end holiday home now, but in 1974, it was known as Villa Rosato, and rented for the summer by a notorious rock star, Noel Gordon. In an attempt to reignite his creative spark, Noel invites up-and-coming musician, Pierce Sheldon to join him, as well as Pierce's girlfriend, Mari, and her stepsister, Lara. But he also sets in motion a chain of events that leads to Mari writing one of the greatest horror novels of all time, Lara composing a platinum album––and ends in Pierce's brutal murder.

As Emily digs into the villa's complicated history, she begins to think there might be more to the story of that fateful summer in 1974. That perhaps Pierce's murder wasn't just a tale of sex, drugs, and rock & roll gone wrong, but that something more sinister might have occurred––and that there might be clues hidden in the now-iconic works that Mari and Lara left behind.

Yet the closer that Emily gets to the truth, the more tension she feels developing between her and Chess. As secrets from the past come to light, equally dangerous betrayals from the present also emerge––and it begins to look like the villa will claim another victim before the summer ends.

Inspired by Fleetwood Mac, the Manson murders, and the infamous summer Percy and Mary Shelley spent with Lord Byron at a Lake Geneva castle––the birthplace of Frankenstein––The Villa welcomes you into its deadly legacy.
About the Author
---
Rachel Hawkins is the New York Times bestselling author of The Wife Upstairs and Reckless Girls, as well as multiple books for young readers. Her work has been translated in over a dozen countries. She studied gender and sexuality in Victorian literature at Auburn University and currently lives in Alabama.
Praise For…
---
"Hawkins casts a sharp eye throughout to the way we construct stories about female artists—and the moral ambiguity inherent in creation and fame. The effect lingers like a shadow, or a creature, that endures past the final words. Hawkins manages to achieve the seemingly impossible: A Frankenstein-inspired novel that feels both fresh and unique." —Kirkus (starred review)

"This story's finely honed interplay of creative ambition and haunting sadness makes it a step above. Hawkins pokes at the darker aspects of both true crime and self-help, and it works beautifully. Hawkins' star is definitely on the rise after two bestsellers, and this one will propel her further into the stratosphere." —Booklist (starred review)

"Equally compelling dual timelines intertwine as The Villa progresses, showcasing Hawkins' skill at crafting intriguing characters who take the notion of an unreliable narrator to clever new heights. Sly commentary on self-help and true crime mixes nicely with eerie gothic elements in this inventive and provocative tale that explores the dark side of artistic genius and the corrosive effects of unhealthy relationships...Fans of twisty, creepy, layered thrillers will revel in their suspenseful stay at The Villa." —Bookpage

"Friendship and professional jealousy fuel this nail-biter...Intense characters complement the brisk plot, which shifts smoothly between the present and 1974. Hawkins consistently entertains." —Publishers Weekly

"In The Villa, Rachel Hawkins brilliantly stitches together past and present, deftly luring readers into a deliciously dark tale filled with twisted secrets, suspect loyalties, and deadly encounters. I tore through this haunting thrill ride at breakneck speed but hated to see it end. Everything about The Villa is pitch-perfect, again proving that Hawkins is the reigning queen of suspense." —Heather Gudenkauf, New York Times bestselling author of The Overnight Guest

"Cleverly-narrated via past and present timelines...The Villa teems with sexual tension, festering tempers, and questionable friendships. Hawkins' latest thriller reminds us that no matter what truths we think we've stumbled upon, writers cannot always be trusted—and certainly not the tales they tell." —Sarah Penner, New York Times bestselling author of The Lost Apothecary

"Rachel Hawkins DELIVERS with The Villa. Slick, twisty, and packed full of pop culture references spanning decades, this book is a perfectly delicious read. I devoured it as fast as I could and wanted to read it again immediately. Buy one for yourself and another for your best friend because you'll want to talk about it for days." —Deanna Raybourn, New York Times bestselling author