Exiles: A Novel (Hardcover)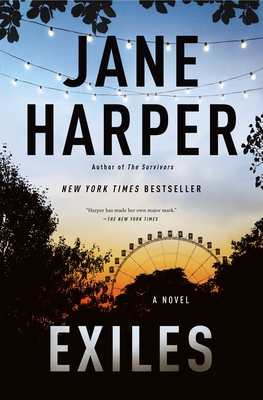 Staff Reviews
---
What mother leaves her six month old in a stroller alone at a crowded festival? That is the question that has plagued family and friends of Kim Gillespie for a year. Kim disappeared that night, never to be seen again, and those that knew her just don't understand how she could leave the baby unattended. The investigators never recovered a body, but it is presumed she jumped off of a ledge into the water below. A year later at the same festival, there is an appeal held, asking the crowd for help with details. Kim's daughter, Zara, is leading the quest for new information that would explain what happened to her mom. Aaron Faulk has returned to see his friends, the Racos, for the christening that didn't happen last year due to Kim's disappearance. When he starts to study the details of that night with fellow cop Greg Raco, something doesn't add up. Thrown in the middle of this mystery is an unsolved hit-and-run from five years ago and a few budding romances that may or may not go anywhere. So many moving parts that brilliantly come together in the end. Highest praise for another great book that only Jane Harper could write!
— Christina
February 2023 Indie Next List
---
"What do you look for in a mystery? I look for Jane Harper's name under the title. Detective Aaron Falk returns in Exiles, set in lush Australian wine country; despite his 'clues,' you'll not guess the ending!"
— Mary Hembree, House of Books, Kent, CT
Description
---
FROM NEW YORK TIMES BESTSELLING AND AWARD-WINNING AUTHOR JANE HARPER COMES EXILES, A CAPTIVATING MYSTERY ABOUT A MISSING MOTHER

"I love Jane Harper's Australia-based mysteries." —Stephen King

"Once again Harper proves that she is peerless in creating an avalanche of suspense with intimate, character-driven set pieces...Harper's legions of fans will exult in reading Exiles."
—David Baldacci, #1 New York Times bestselling author

Federal Investigator Aaron Falk is on his way to a small town deep in Southern Australian wine country for the christening of an old friend's baby. But mystery follows him, even on vacation.

This weekend marks the one-year anniversary of Kim Gillespie's disappearance. One year ago, at a busy town festival on a warm spring night, Kim safely tucked her sleeping baby into her stroller, then vanished into the crowd. No one has seen her since. When Kim's older daughter makes a plea for anyone with information about her missing mom to come forward, Falk and his old buddy Raco can't leave the case alone.

As Falk soaks up life in the lush valley, he is welcomed into the tight-knit circle of Kim's friends and loved ones. But the group may be more fractured than it seems. Between Falk's closest friend, the missing mother, and a woman he's drawn to, dark questions linger as long-ago truths begin to emerge. What would make a mother abandon her child? What happened to Kim Gillespie?
About the Author
---
Jane Harper is the New York Times bestselling author of The Dry, Force of Nature, and The Lost Man. Jane previously worked as a print journalist in Australia and the UK and lives in Melbourne with her husband, daughter, and son.
Praise For…
---
"Once again Harper proves that she is peerless in creating an avalanche of suspense with intimate, character-driven set pieces that are as exquisitely engineered as the inner workings of a Steinway. Harper's legions of fans will exult in reading Exiles."
—David Baldacci, #1 New York Times bestselling author

"Falk's investigation is a terrific one, but what makes the book memorable is Harper's skill at plumbing personal mysteries."
—New York Times Book Review


"Investigator Aaron Falk arrives in Australian wine country for his godson's christening, postponed from last year when the community was rocked by a woman's disappearance. There are clues they've missed, planted deftly by Harper in the relationships and psyches of her nuanced characters."
—People

"Another all-consuming mystery from Harper...Fans will relish Falk's intuitive "spider sense" moments here, and they will be amazed at the simultaneously shocking and tender ending."
—Booklist, starred review

"With this book, Harper may well have given her legions of readers exactly what they have been waiting for: a beautifully observed crime novel about regional life featuring the reticent and endearing federal policeman, Aaron Falk...Quietly and inevitably, the secrets and deceptions are unraveled as Falk finds himself deftly woven into the weft of this small community. In Exiles, Falk may at last have come home."
—Sydney Morning Herald

"Stellar…Writing at the top of her game, Harper effectively uses whodunit tropes to explore her characters' hidden lives. Readers interested in literate and nuanced mysteries will be eager to see more of Falk."
—Publishers Weekly, starred review

"Jane Harper's lyrically written, immersive and slow-burning mystery Exiles is a powerful send-off for beloved character Aaron Falk."
—BookPage, starred review

"An outstanding crime novel, rich in mystery and atmosphere and full of heart. Utterly immersive, captivating and beautifully written; I lost myself completely within its pages and was bereft when it ended. Jane Harper is a rare jewel of an author and Exiles deserves to be huge. It blew me away. It's my book of the year so far."
—C L Taylor, Sunday Times bestselling author

"Jane Harper has once again produced an ingenious, moving and hugely satisfying mystery. This is crime writing perfection."
— C. M. Ewan, #1 internationally bestselling author

"Fine writing and addictive storytelling."
—Ann Cleeves, New York Times bestselling author

"A truly wonderful read. Rich in detail, landscape and character and deeply satisfying on all levels."
—Sarah Hilary, award-winning author

"The kind of crime novel you move into rather than just reading it - a wholly absorbing set of mysteries, a cast of characters that feels entirely real and a setting so vivid you can practically smell the breeze through the bushland. Aaron Falk is the still center of the novel, a quiet presence like no other in crime fiction. Exceptional in every way."
—Jane Casey, author of the Maeve Kerrigan novels