The Ambassador of Nowhere Texas (Hardcover)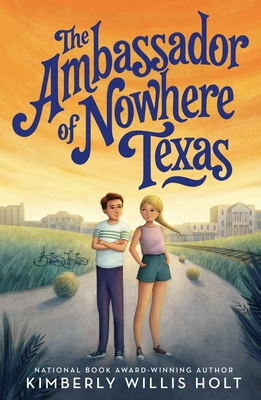 Staff Reviews
---
Billed as a companion book to the National Award winning novel When Zachary Beaver Came To Town, it is the summer of 2002. Toby Wilson, the young narrator of the first book is now grown with children of his own. Rylee Wilson narrates this story of friendship and discovery. Rylee's best friend Twig is no longer her "best friend". But a new family is moving in on the block. Joe and his mother have moved to small Antler, Texas from Brooklyn. Joe and Rylee become fast friends but Joe has a secret. As in Zachary Beaver, Holt nails that awkward pretween stage. They know just enough to get in trouble but not enough to understand. It is another summer of learning how to deal with change.
— Valerie
Description
---
Kimberly Willis Holt's The Ambassador of Nowhere, Texas is a stunning post-9/11 companion to the National Book Award-winner When Zachary Beaver Came to Town.

Decades after the Vietnam War and Toby's life-changing summer with Zachary Beaver, Toby's daughter Rylee is at a crossroads—her best friend Twig has started pushing her away just as Joe, a new kid from New York, settles into their small town of Antler. Rylee befriends Joe and learns that Joe's father was a first responder on 9/11. The two unlikely friends soon embark on a project to find Zachary Beaver and hopefully reconnect him with Rylee's father almost thirty years later.

This beautiful middle grade novel is a tribute to friendships—old and new—and explores the challenges of rebuilding what may seem lost or destroyed.

Christy Ottaviano Books
About the Author
---
Twenty three years ago Kimberly Willis Holt stopped talking about wanting to be a writer and started to pursue her dream. Because of her family's Louisiana roots she considers herself a southerner, but her father's military career took her to places beyond the South, including Paris and Guam.

She's the author of more than fifteen books for a wide range of ages, many of which have won awards and honors. Her third novel, When Zachary Beaver Came to Town won the National Book Award for Young People's Literature. She writes and gardens in Texas.
Praise For…
---
A Junior Library Guild Selection

"In this companion to the author's memorable When Zachary Beaver Came to Town, 30 years have passed and it's 2001. Evocatively written ("stiff as burnt bacon"), this is an altogether absorbing and affecting novel. It's obvious that Holt loves her fully realized characters and their small-town setting, and readers can't help but feel the same." —Booklist, starred review

"Holt deftly intertwines the stories of the individuals from both books, each set at a pivotal time in our country's past, the earlier work during the Vietnam War and the latter in the aftermath of 9/11. This volume is a literary reunion of sorts, but more important is its deep examination of the meaning and responsibilities of friendship, family, and community." —Horn Book

"A quiet celebration of friendship, no matter how brief." —Publishers Weekly