The Remarkable Journey of Coyote Sunrise (Paperback)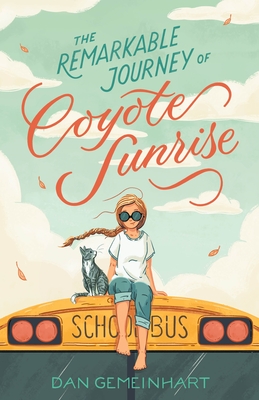 $8.99
Coming Soon - Available for Pre-Order Now
Staff Reviews
---
Twelve-year-old Coyote and her dad, Rodeo, live in a tricked-out old school bus, criss-crossing the country to follow whims and chase dreams. Sounds great, but there's a catch: Coyote can't go home, can't call her dad "dad," and can't ever mention the car crash that killed her mom and two sisters five years ago. When Coyote is unexpectedly reminded of a relic from her previous life, she realizes that she's tired of running. She tricks her dad into driving her home, picking up a diverse and quirky ensemble of fellow travelers along the way. As the father-daughter duo draws nearer to their destination, they're reminded of how it feels to be part of a family. The instantly-lovable narrator and tender treatment of tough topics make this a great choice for grades three and up.
— Noah
Description
---
Critically acclaimed author, Dan Gemeinhart's The Remarkable Journey of Coyote Sunrise introduces young readers to an unforgettable girl trying to find her place in the world.
Five years.
That's how long Coyote and her dad, Rodeo, have lived on the road in an old school bus, criss-crossing the nation.
Five years.
It's also how long ago Coyote lost her mom and two sisters in a car crash.
Coyote hasn't been home in all that time, but when she learns that the park in her old neighborhood is being demolished—the very same park where she, her mom, and her sisters buried a treasured memory box—she knows she'll do whatever it takes to get back in time to save it. So she hatches a crazy plan to get her dad to drive 3,600 miles back to Washington state in four days...without him realizing it.
Along the way, they'll pick up a strange crew of misfit travelers. Lester has a lady love to meet. Salvador and his mom are looking to start over. Val needs a safe place to be herself. Over the course of thousands of miles, Coyote will learn that going home can sometimes be the hardest journey of all...but that with friends by her side, she just might be able to turn her "once upon a time" into a "happily ever after."
About the Author
---
Dan Gemeinhart is a former elentary-school teacher-librarian and lifelong book nerd. He lives with his wife and three daughters in a small town in Washington State. He's the author of some other books, too: The Honest Truth, Some Kind of Courage, Scar Island, and Good Dog. If he ever meets you, he'd love to talk about books with you.