Whisper Network: A Novel (Paperback)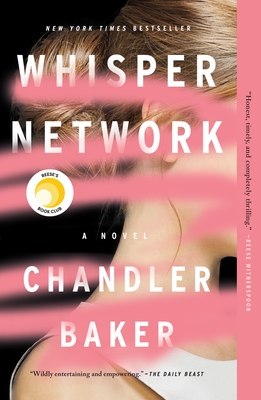 Staff Reviews
---
Four women lawyers may or may not be guilty of pushing their boss Ames Garrett over the balcony of their office building. Each one most certainly has cause. He is a womanizing misogynist of the first order. Let's just say he deserved it. As the story unfolds with each woman trying to keep her job and feeling guilty about her personal life, we know that someone finally did the deed. You will say "yes!!!!" as you read about the treatment each one gets as a hard working, hard driving businesswoman. It's a shout out to all of us who have ever been belittled and told to stay in our lane.
— Valerie
July 2019 Indie Next List
---
"It was inevitable that, with the #MeToo movement sweeping America, someone would pen a novel encompassing the realities of working women in our country. What I wasn't prepared for, however, was the degree to which I'd become involved in Whisper Network, racing home to finish it because I loved the story. I haven't felt this strength of solidarity with other women since the march in D.C. I closed this book with a resounding, 'Oh, hell yes!'"
— Jill Miner, Saturn Booksellers, Gaylord, MI
Description
---
AN INSTANT NEW YORK TIMES BESTSELLER!
"Honest, timely, and completely thrilling." —Reese Witherspoon (Reese's Book Club x Hello Sunshine book pick)

"Part page-turning thriller, part smart examination of the #MeToo movement, part feminist rallying cry…Whisper Network is the satisfying "beach read" we've earned."
—The Daily Beast

Sloane, Ardie, Grace, and Rosalita have worked at Truviv, Inc. for years. The sudden death of Truviv's CEO means their boss, Ames, will likely take over the entire company. Each of the women has a different relationship with Ames, who has always been surrounded by whispers about how he treats women. Those whispers have been ignored, swept under the rug, hidden away by those in charge.

But the world has changed, and the women are watching this promotion differently. This time, when they find out Ames is making an inappropriate move on a colleague, they aren't willing to let it go. This time, they've decided enough is enough.

Sloane and her colleagues' decision to take a stand sets in motion a catastrophic shift in the office. Lies will be uncovered. Secrets will be exposed. And not everyone will survive. All of their lives—as women, colleagues, mothers, wives, friends, even adversaries—will change dramatically as a result.

"If only you had listened to us," they tell us on page one of Chandler Baker's Whisper Network, "none of this would have happened."

"Exciting and sprinkled with razor-sharp insights about what it is to be a woman today, Whisper Network is a witty and timely story that will make you cheer for sisterhood."—Liv Constantine, USA Today bestselling author of The Last Mrs. Parrish
About the Author
---
Chandler Baker grew up in Florida, went to college in Pennsylvania, and studied law in Texas, where she now lives with her family and an ever-growing pile of books. Although she loves spinning tales with a touch of horror, she is a much bigger scaredy-cat than her stories would lead you to believe. In addition to the High School Horror series, Chandler is the author of the young adult novel, Alive.

Chandler Baker lives in Austin with her husband and toddler where she also works as a corporate attorney. She is the author of five young adult novels. Whisper Network is her adult debut.
Praise For…
---
A Reese Witherspoon x Hello Sunshine Book Club Pick
An Oprah Magazine's Buzziest Books of 2019

"Honest, timely, and completely thrilling." —Reese Witherspoon (Reese's Book Club x Hello Sunshine book pick)

"A delicious and timely thriller...Part soapy shocker (one of the characters is keeping a very big secret) and part legal thriller (excerpts from depositions offer a glimpse into the third act). Think Big Little Lies meets the famous 2017 list of men in the media industry accused of sexual harassment."
—New York Times Book Review

"Part page-turning thriller, part smart examination of the #MeToo movement, part feminist rallying cry, Whisper Network is a wildly entertaining and empowering tale...Baker's insights are so on the nose that they can elicit a visceral response...Whisper Network is the satisfying "beach read" we've earned."
—The Daily Beast

"A sort of Big Little Lies in a Texas power suit, Whisper offers a crackling exposé of working motherhood, corporate malfeasance, and female friendship in the era of #MeToo...[Baker] captures keenly what it means to be a modern woman in an old boys' world." A-
—Entertainment Weekly

"A compulsively readable mystery with a strong message. Don't miss it."
—Booklist, starred review

"This novel opens a conversation about challenging a man in power, but also contains all of the best components of a murder mystery."
—Newsweek, Summer Books 2019: Best Buys and Beach Reads

"Vivid and compelling, offering an insider's perspective on the true cost of female ambition in the workplace…Read this novel for a spirited take on the rage that simmers just below the surface of today's woman in the corner office, the cubicle or the break room."
—USA Today

"Viciously funny and compulsively readable, Baker's first adult novel is a feminist thriller for the #MeToo era…It's a breezy page-turner of a book, which is the brilliance of it: Under the froth is an unmistakable layer of justified rage."
—Kirkus, starred review

"A thriller, a murder mystery, and an anthem for any woman who has ever hit a glass ceiling, been the brunt of sexual innuendo, or felt harassed in the workplace. Smart, articulate, and witty, it will resonate with a huge audience."
—Library Journal, starred review

"Fast, sharp and funny."
—New York Post

"Don't be fooled by its title. Whisper Network is a primal roar of a novel. Furiously funny and just plain furious, it's as timely as today's headlines and as big-hearted as your best work friend. A fantastic read."
—Riley Sager, New York Times bestselling author of The Last Time I Lied

"Exciting and sprinkled with razor-sharp insights about what it is to be a woman today, Whisper Network is a witty and timely story that will make you cheer for sisterhood."
—Liv Constantine, USA Today bestselling author of The Last Mrs. Parrish

"Delectable…Nuanced, heartfelt, and smart."
—Toronto Star

"This feminist thriller is a thought-provoking addition to #MeToo's conversation about workplace misconduct, power, and gender roles. It's also a delectable read."
—Refinery29, Best Books of July

"An engrossing, bracingly funny thriller…This empowering novel is sure to resonate with many readers in the #MeToo era."
—Publishers Weekly

"Whisper Network is Big Little Lies meets Working Girl: a deft, honest take on what women in the workplace must endure; a fast-paced whodunit; and a gripping, #metoo-era thriller about how to fight for justice when the law isn't on your side. If your boss has done more than wink at you, if you've had to pump during a conference call, or if a man has ever taken credit for your work, then Chandler Baker's latest is a must read."
—Miranda Beverly-Whittemore, New York Times bestselling author of Bittersweet and June

"Whisper Network manages to be provocative, timely, and a ripping good read: A murder mystery and a manifesto all rolled up into one. I couldn't put it down."
—Janelle Brown, New York Times bestselling author of Watch Me Disappear

"Might just make the strongest claim yet for the thriller of the #MeToo era."
—OprahMag.com

"This sharp, funny, and very timely debut—one of the season's most buzzed about—from Chandler Baker follows a group of colleagues as the company they work at gets a new leader whose open-secret bad behavior might just be his downfall. At least if they have anything to do with it."
—Town & Country

"A well-told story about a hot button topic — a book that's sure to entertain and lead to some interesting discussions."
—The Missourian

"Women everywhere who have ever worked with toxic men might get neck cramps while reading Whisper Network, from nodding fervently at all the truth bombs Baker drops...The social commentary is razor sharp and incisive in its wit, and readers will be loud and clear when recommending this novel."
—Shelf Awareness

"You'll recognize every character in Whisper Network. Furious and relevant writing: the ultimate #metoo book."
—Clare Mackintosh, bestselling author of I Let You Go

"It's Nine to Five on speed. This preternaturally timely novel — provocative, disturbing, and (dare I say it?) surprisingly fun — is serrated as a kitchen knife, and twice as sharp. I read it with horror. I read it with pleasure. I'll read it again."
—A.J. Finn, author of #1 NYT bestseller The Woman in the Window

"From the first page, Whisper Network is a twisty, propulsive, utterly addicting whodunit, with whip-smart, irreverent and unforgettable characters. Part murder mystery, part expose, the story takes hold of you and doesn't let go for one heart-pounding second with its incisive commentary about harassment in the workplace with deadly consequences. Provocative, thoughtful and highly entertaining, Whisper Network is a book readers will be talking about long after they've finished reading it."
—E. G. Scott, author of The Woman Inside

"If you love Big Little Lies (and want to sock it to the man), try Whisper Network. Part workplace thriller, part feminist call to arms…It's The Firm meets 9 To 5. This is a juicy air-punch of a novel."
—Grazia

"What do you get if you mix Big Little Lies with the #MeToo scandal? This perfect-for-now tale of four women who take a stand against their misogynistic boss, with results none of them could have foreseen. A barnstorming modern novel."
—Evening Standard

"A striking portrayal of professional women in North Texas and the challenges we face as we strive to achieve professional equity in today's culture of rampant workplace sexual harassment and assault…Whisper Network reveals that the sometimes imperfect ways women navigate these impossible dilemmas doesn't make us failures, it makes us what men always get to be: human."
—Dallas Morning News