Faking Reality (Hardcover)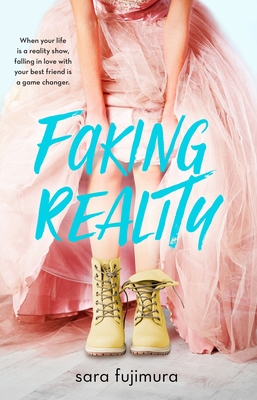 Description
---
Can a reality star princess transform the boy-next-door into her Cinnamon Roll Prince?

Dakota McDonald swore after "The Great Homecoming Disaster" that she'd never allow her romantic life to be a plot line in her parents' HGTV show again. But when the restaurant run by the family of her best friend (and secret crush), Leo, is on the line, Dakota might end up eating her own words.

Leo Matsuda dreams of escaping the suffocating demands of working in his family's restaurant, but the closer he gets to his goal—thanks to the help of his best friend (and secret crush) Dakota—the more reasons there are for him to stay.

Sara Fujimura's Faking Reality is another charming multicultural romance by the award-winning author of Every Reason We Shouldn't, a National Public Radio Best YA Book of the Year.
About the Author
---
SARA FUJIMURA is an award-winning young adult author and creative writing teacher. She is the American half of her Japanese-American family, and has written about Japanese culture and raising bicultural children for such magazines as Appleseeds, Learning Through History, East West, and Mothering, as well as travel-related articles for To Japan With Love. Her self-published young adult novels include Tanabata Wish and Breathe. She lives in Phoenix with her husband and children.
Praise For…
---
Praise for Every Reason We Shouldn't:

"A rich, emotionally layered story. ... Wonderful." —NPR

"This book is like a warm hug filled with all the things I love. I started smiling from page one and couldn't put it down." —Courtney Milan

"Whether your first ice skating romance was The Cutting Edge or Yuri!!! On Ice, you will absolutely love this book. Full of complicated family relationships, sparkling friendships, and a completely delicious romance, Every Reason We Shouldn't is an uplifting love song to everyone who's ever lost their way, and then had the courage to find it again." —Lindsay Ribar, author of Rocks Fall, Everyone Dies

"Sure to take the gold." —Kirkus Reviews

"Readers will enjoy the well-developed characters, witty dialogue, and cringe-worthy romantic fumbles right through to the awfully neat, but very happy ending." —School Library Connection

"Compelling... an obvious choice for fans of classic love stories that play out on the ice, but also for readers looking for a nuanced story of self-discovery." —Booklist