Goodbye, Vitamin: A Novel (Paperback)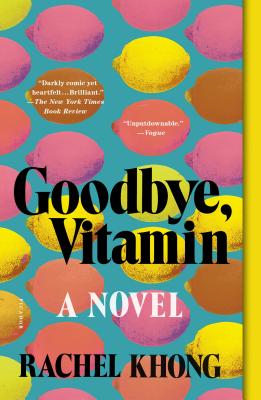 $16.00
Usually Ships in 1-5 Days
Staff Reviews
---
Ruth's father, a much beloved professor of California history, is failing fast. His dementia has cost him his job which is what he lives for. Ruth narrates this story of a daughter trying to do the right thing with her parents and with her own life. Her long time boyfriend has left her. So now back at home, she meets up with her old friends and makes new ones. Brief chapters capture the fleetingness of life with all its messy parts.
— Valerie
July 2017 Indie Next List
---
"It seems impossible that Khong could tuck so much kindness, honesty, and eclectic humor into one little book! Questioning her life choices in the midst of a major breakup, Ruth, our narrator, returns home to care for her father, an Alzheimer's patient, and gives daily dispatches full of love, rich observations, and clever, unique jokes. Stuffed with rich descriptions of food and cooking and anchored by imperfect-but-tireless familial love, this book goes down as smoothly as a cool glass of water and is as nourishing and thoughtful as it is fun at every turn."
— Annie Harvieux (W), Magers & Quinn Booksellers, Minneapolis, MN
Description
---
Named a Best Book of the Year by NPR; O, The Oprah Magazine; Vogue; San Francisco Chronicle; Esquire; Huffington Post; Nylon; Entertainment Weekly; BuzzFeed; Booklist; and The Independent

"A quietly brilliant disquisition . . . told in prose that is so startling in its spare beauty that I found myself thinking about Khong's turns of phrase for days after I finished reading."—Doree Shafrir, The New York Times Book Review

"One of those rare books that is both devastating and light-hearted, heartfelt, and joyful. . . . Don't miss it."—BuzzFeed

"Hello, Rachel Khong. Kudos for this delectable take on familial devotion."—NPR

Her life at a crossroads, a young woman goes home again in this funny and inescapably moving debut from a wonderfully original new literary voice.

Freshly disengaged from her fiancé and feeling that life has not turned out quite the way she planned, thirty-year-old Ruth quits her job, leaves town and arrives at her parents' home to find that situation more complicated than she'd realized. Her father, a prominent history professor, is losing his memory and is only erratically lucid. Ruth's mother, meanwhile, is lucidly erratic. But as Ruth's father's condition intensifies, the comedy in her situation takes hold, gently transforming all her grief.

Told in captivating glimpses and drawn from a deep well of insight, humor, and unexpected tenderness, Goodbye, Vitamin pilots through the loss, love, and absurdity of finding one's footing in this life.
About the Author
---
Rachel Khong grew up in Southern California and holds degrees from Yale University and the University of Florida. From 2011 to 2016, she was the managing editor then executive editor of Lucky Peach magazine. Her fiction and nonfiction have appeared in Tin House, Buzzfeed, Joyland, American Short Fiction, The San Francisco Chronicle, The Believer, and California Sunday. She lives in San Francisco. Goodbye, Vitamin is her first novel.
Praise For…
---
Named a PopSugar summer read
BuzzFeed, "22 Exciting New Books You Need To Read This Summer"
Named one of Coastal Living's "50 Books of Summer"
Elle, "The 24 Best Books to Read This Summer"
Named a Goop summer read
Bustle, "29 New Fiction Books To Read This Summer"
Vanity Fair, "What to Read Right Now"

"Told in a diary format over the year that Ruth spends at home, Goodbye, Vitamin is a quietly brilliant disquisition on family relationships and adulthood, told in prose that is so startling in its spare beauty that I found myself thinking about Khong's turns of phrase for days after I finished reading." -The New York Times Book Review

"[Rachel Khong] is very funny talking about her parents, who are aging. And I can relate (laughs). It's a unique moment in your life when you realize, "OK, I think I'm in charge now!" -Reese Witherspoon, in an interview with USA Today

"A heartwarming book. . .Khong's endearingly quirky novel. . .is filled with whimsical observations, oddball facts. . . [and] some passages evoke the wonderful offbeat sensibility of Ali Smith. . . .Sweet? Yes. Sugarcoated? Perhaps. Saccharine or cloying? Not to me. Hello, Rachel Khong. Kudos for this delectable take on familial devotion and dementia." -NPR

"Heartbreaking but also funny. . . .sparkling. . . .illuminating. . . .[Goodbye, Vitamin is] a novel modeled on real life, where humor often rubs shoulders with pathos, and Ruth's gift as a narrator is her ability to observe and record it all." -San Francisco Chronicle

"[Goodbye Vitamin is] material for another grueling exploration of loss, and yet, against all odds, Ms. Khong has produced a book that's whimsical and funny. This is because the author, like her guiding spirit, Lorrie Moore, has a love for the ridiculous in the mundane. . .This sweet-natured novel is about Ruth's attempts to come to terms with a past her father can no longer remember while still attending to the quirky, fleeting joys of the present. -The Wall Street Journal

"Reading Goodbye, Vitamin. . . .is like tasting an entirely new flavor. At once gut-wrenching and deeply soothing." -Oprah.com, "2 Compulsively Readable Novels"

"Engaging and humorous and deeply touching. . . Khong has created something special." -The Charlotte Observer

"In her tender, well-paced debut novel. . . .Khong writes heartbreaking family drama with charm, perfect prose, and deadpan humor."—Booklist, starred review

"Goodbye, Vitamin is one of those rare books that is both devastating and light-hearted, heartfelt and joyful, making it a perfect and unique summer read. Don't miss it."—Isaac Fitzgerald, BuzzFeed

"Tender yet funny in turns, Goodbye, Vitamin offers poignant insight into family, memory, marriage, parenthood, love, and loss."—Jarry Lee, BuzzFeed

"A darkly funny debut novel about love, loss, and heartbreak."—PopSugar

"A good mix of humor and love." —Elle

"Tragic and funny." —Entertainment Weekly, "23 Most Anticipated Books of 2017"

"Incredibly poignant . . . Rachel Khong's first novel sneaks up on you — just like life . . . and heartbreak. And love."—Miranda July

"The novel Goodbye,Vitamin builds with humor, with gusto and with such deceptive lightness that the reader wonders, at its devastating end, how in the world the debut author Rachel Khong managed to pull it off so beautifully. The only possible answer is this, that Khong is a magician, and that we are lucky to fall under her spell at the beginning of her brilliant writing life."
—Lauren Groff, author of Fates and Furies

"Half stand-up comic, half a seismographer of the human heart, Khong writes with vulnerability and penetrating insight, and with a gentle humor that moves you not only to care for her characters, but also to care more fervently for the people in your life."—Alexandra Kleeman, author of You Too Can Have A Body Like Mine

"Rachel Khong's Goodbye, Vitamin is one of the funniest elegiac novels I have ever read, and also one of the gutsiest. It is about so many things—Alzheimer's, fast food, turning thirty, marriage, Southern California, the digestive habits of jelly fish, the invention of the intermittent windshield wiper—and at the same time it is about only one thing, the really important thing, the imperative, as E. M. Forster long ago urged, to connect. Rarely has gravitas been handled with such lightness of touch, or a sad story told so happily." —David Leavitt, author of The Indian Clerk and The Lost Language of Cranes

"Hard-ball, laconic, severely, even frighteningly, intimate. To boot, a current of food runs through it, a sophisticated but not snobbish celebration of the empiric integrity of all food. The color of Fanta! You will emerge wanting to take a good snifferoo of a fresh hot cut radish, to study the underside of a saltine, and in the face of depression to be a better and perkier person than you are. This book does it all." —Padgett Powell, author of Cries for Help, Various and Edisto

"Equal parts clever and tender, Khong's [Goodbye,] Vitamin is a moving meditation on what it means to patient, forgiving, and human." —Karolina Waclawiak, author of The Invaders and How to Get into the Twin Palms

"I don't know how she did it, but Rachel Khong has breathed fresh life into the slacker comedy, the family drama, and the campus novel—in wry, swift, spiky, heartfelt prose that is a joy to read. I have enormous admiration for Goodbye, Vitamin, but more than that, I enjoyed the hell out of reading it."—Justin Taylor, author of Flings