The Yellow Bird Sings: A Novel (Hardcover)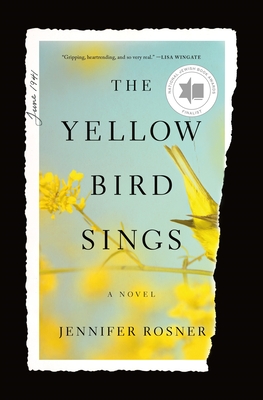 Staff Reviews
---
Forced from their home during the German invasion of Poland, Roza and her young daughter flee to a farm in the countryside where they are begrudgingly hidden by the family in the hayloft. They spend days and then months completely still and silent, learning to communicate and keep their sanity by inventing stories. Shira is five and a musical prodigy. When it becomes too dangerous, Shira is sent to a convent where she is hidden as a Catholic. There, she blossoms as a violinist. Meanwhile we follow Roza as she hides in the forest with partisans. This is a tense book with danger at every turn. It is also a powerful story about music and the tenacity of the human spirit.
— Valerie
Description
---
"Rosner's exquisite, heart-rending debut novel is proof that there's always going to be room for another story about World War II....This is an absolutely beautiful and necessary novel, full of heartbreak but also hope, about the bond between mother and daughter, and the sacrifices made for love." —The New York Times

In Poland, as World War II rages, a mother hides with her young daughter, a musical prodigy whose slightest sound may cost them their lives.

As Nazi soldiers round up the Jews in their town, Róza and her 5-year-old daughter, Shira, flee, seeking shelter in a neighbor's barn. Hidden in the hayloft day and night, Shira struggles to stay still and quiet, as music pulses through her and the farmyard outside beckons. To soothe her daughter and pass the time, Róza tells her a story about a girl in an enchanted garden:

The girl is forbidden from making a sound, so the yellow bird sings. He sings whatever the girl composes in her head: high-pitched trills of piccolo; low-throated growls of contrabassoon. Music helps the flowers bloom.

In this make-believe world, Róza can shield Shira from the horrors that surround them. But the day comes when their haven is no longer safe, and Róza must make an impossible choice: whether to keep Shira by her side or give her the chance to survive apart.

Inspired by the true stories of Jewish children hidden during World War II, Jennifer Rosner's debut is a breathtaking novel about the unbreakable bond between a mother and a daughter. Beautiful and riveting, The Yellow Bird Sings is a testament to the triumph of hope—a whispered story, a bird's song—in even the darkest of times.
About the Author
---
Jennifer Rosner is the author of If A Tree Falls: A Family's Quest to Hear and Be Heard, a memoir about raising her deaf daughters in a hearing, speaking world. Her children's book, The Mitten String, is a Sydney Taylor Book Award Notable. Jennifer's writing has appeared in the New York Times, The Massachusetts Review, The Forward, Good Housekeeping, and elsewhere. She lives in western Massachusetts with her family. The Yellow Bird Sings is her debut novel and is being published around the world.
Praise For…
---
"Rosner's exquisite, heart-rending debut novel is proof that there's always going to be room for another story about World War II....This is an absolutely beautiful and necessary novel, full of heartbreak but also hope, about the bond between mother and daughter, and the sacrifices made for love."
—The New York Times

"Jennifer Rosner hooks readers from the onset…Readers will have empathy for Róza and Shira, and admire Róza's courage and persistence as she faces life without her daughter, releasing her to save her, like a bird freed from a cage."
—The Missourian

"A study of music, imagination and the power of a mother's love."
—Parade

"Satisfying and sweet…Love, empathy and fear—as well as a yellow songbird—wind through this tale of an unbreakable bond between mother and child. The novel demonstrates Ms. Rosner's deep understanding of the terrors of the Holocaust."
—Pittsburgh Post-Gazette

"The book will help you escape the drudgery of solitude in your own home—and remember past beacons of hope during troubling times."
—ReadersDigest.com

"A riveting page-turner that will delight music lovers and please members of any book club."
—Hadassah Magazine

"The power of a mother-daughter bond is beautifully portrayed against the backdrop of 1941 Poland."
—WBUR's The ARTery

"Written in beautifully understated prose and tinged with magical elements, The Yellow Bird Sings is about the bonds between mothers and daughters, and the enduring power of music and storytelling even in the most devastating of times."
—Chronogram

"Rosner challenges the Holocaust with a touch of magic (the yellow bird appears throughout), clarifying a dangerous time and place even as she offers a vibrant, affecting portrait of the mother-daughter relationship."
—Library Journal (starred review)

"In Shira and Roza, Rosner captures two souls in turmoil, chronicling their grief as well as their strength of will to overcome, their longing and even surprising triumphs…The Yellow Bird Sings keeps your heart in your throat, your eyes pricked with tears."
—BookPage (starred review)

"This stunning debut novel sings with the power of a mother's love and the heartbreaking risks she'll endure."
—Booklist

"A World War II story with a Room-like twist, one that also deftly examines the ways in which art and imagination can sustain us…This is a Holocaust novel, but it's also an effective work of suspense, and Rosner's understanding of how art plays a role in our lives, even at the worst of times, is impressive."
—Kirkus

"Moving…A wrenching chronicle."
—Publishers Weekly

"A beautiful book in so many ways. Like Shira's imaginary bird, Jennifer Rosner's prose is lilting and musical, yet her tale of war's grave personal reality is gripping, heartrending, and so very real."
—Lisa Wingate, author of Before We Were Yours and Before and After

"Music and love course through this beautiful novel, twin rivers of wonder. Jennifer Rosner has written a book that will break your heart, and then put it back together again, a little larger than before."
—Alex George, author of A Good American

"Desperately moving and exquisitely written. If you only read one book this year, make it The Yellow Bird Sings. A beautiful story with achingly memorable characters, for me Jennifer Rosner's novel stands alongside The Boy in the Striped Pajamas and Code Name Verity as one of those profoundly special World War Two novels you know you will never forget."
—AJ Pearce, author of Dear Mrs. Bird

"A beautifully written tale of mothers and daughters, war and love, the music of the living and the silence of the dead."
—Kate Quinn, author of The Huntress and The Alice Network

"A captivating novel of the power of music, the human voice, and what we sacrifice in order to survive extraordinary circumstances. Absolutely riveting."
—Ramona Ausubel, author of Sons and Daughters of Ease and Plenty and No One Is Here Except All of Us

"An extraordinary debut novel, brimming with beauty, hope, and heart."
—Meg Waite Clayton, author of The Last Train to London

"A brilliant and transporting novel."
—Margot Livesey, author of Mercury and The Flight of Gemma Hardy

"An extraordinarily beautiful and moving novel of the human heart. It is a rich and poignant story of the enduring power of love and hope in the face of peril."
—David Gillham, author of City of Women