Willodeen (Hardcover)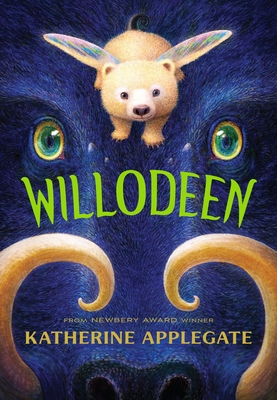 Staff Reviews
---
The village of Perchance is famous for its spot on the annual hummingbear migration, and for the glittering nests these creatures spin atop the beautiful blue willow trees. But lately Perchance has fallen on hard times. A rash of mudslides, droughts, and wildfires have threatened the village and its residents, and the hummingbears have disappeared. Eleven-year-old Willodeen thinks she might know why, but no one wants to listen to the opinions of a shy, odd child. Or so she thinks. As Willodeen sets out to test her theory with the help of a new friend, she slowly finds her voice—and earns the respect of the other villagers.
It's classic Katherine Applegate: Quiet yet deep, fantastical yet relatable, and with sensitively-drawn animal characters. Above all else, it's a gently insistent reminder that no one is too small to make a difference. Willodeen is a heroine we can all learn from and admire.
— Noah
Description
---
From #1 New York Times bestseller Katherine Applegate, a singular middle-grade novel about a girl who risks everything to help a handmade creature who comes to life.

The earth is old and we are not, and that is all you must remember . . .

Eleven-year-old Willodeen adores creatures of all kinds, but her favorites are the most unlovable beasts in the land: strange beasts known as "screechers." The villagers of Perchance call them pests, even monsters, but Willodeen believes the animals serve a vital role in the complicated web of nature.

Lately, though, nature has seemed angry indeed. Perchance has been cursed with fires and mudslides, droughts and fevers, and even the annual migration of hummingbears, a source of local pride and income, has dwindled. For as long as anyone can remember, the tiny animals have overwintered in shimmering bubble nests perched atop blue willow trees, drawing tourists from far and wide. This year, however, not a single hummingbear has returned to Perchance, and no one knows why.

When a handmade birthday gift brings unexpected magic to Willodeen and her new friend, Connor, she's determined to speak up for the animals she loves, and perhaps even uncover the answer to the mystery of the missing hummingbears.

A timely and timeless tale about our fragile earth, and one girl's fierce determination to make a difference.
About the Author
---
Katherine Applegate is the author of several best-selling young adult series, including Animorphs and Roscoe Riley Rules. Home of the Brave, her first standalone novel, received the SCBWI 2008 Golden Kite Award for Best Fiction and the Bank Street 2008 Josette Frank Award. She lives with her family in Irvine, California.
Praise For…
---
"Katherine Applegate's "Willodeen," like most fairy tales, takes place in a world that is familiar in its generalities and supernatural in its particulars. Applegate's most inventive contribution, however, comes after the main business of the story has been resolved[:] It takes empathy to cherish all living things, no matter how small or ugly. But it takes imagination to recognize both the agonies and the marvels of the future that awaits us." —The New York Times Book Review

"Employing flawlessly simple, candid prose that belies deeper messages, Newbery Medalist Applegate again considers the complex relationship between humans and the natural world. ... Fiercely protective Willodeen is easy to champion, and her belief that "nature knows more than we do" is a message worth sharing." —Publishers Weekly, starred review

"Applegate's gentle yet honest tale mixes magic with very real environmental messaging, both warning of human-caused harm and pointing to nature's resilience and interconnectedness. ...Applegate empowers her young characters by not only granting them courage but also ensuring they earn the respect of their elders."—Booklist, starred review

"This accessible fantasy offers hope as well as a tender examination of people re-learning to work together to care for one another and the world around them." —The Horn Book Magazine

"An endearing fable that illuminates the importance of recognizing that all living things serve a purpose in our beautifully complex world and are worthy of care and dignity." —BookPage

"Applegate's latest fantasy is a simple but beautiful story about humans' relationship with the natural world. ... A sweet fantasy about standing up for what you believe in."—School Library Journal

Praise for Wishtree:

A NEW YORK TIMES BESTSELLER!
A New York Times Notable Book, 2017
A National Public Radio Best Book of 2017
A Publishers Weekly Bestseller
A Washington Post Best Book of 2017
A Chicago Public Library Best Book of 2017
A Publishers Weekly Best Book of 2017
San Francisco Chronicle 2017 Gift Guide
Los Angeles Times 2017 Gift Guide
Autumn 2017 Kids' Indie Next List "Top Pick" Title
Winner, E.B. White Read Aloud Award
2018 ALSC/ALA Notable Children's Book

"A beautifully written, morally bracing story that will leave its imprint on a reader of any age." The New York Times Book Review

"The simplicity of Newbery Medalist Applegate's graceful novel contrasts powerfully with the prejudice it confronts. Narration comes from Red, an enormous red oak near an elementary school that also serves as a "wishtree" for the neighborhood—once a year, residents deposit wishes in Red's branches and hollows....Red's openhearted voice and generosity of spirit bring perspective gained over centuries of observation.--Publishers Weekly, starred review

"Applegate introduces another quiet, resilient protagonist who -- like the caged gorilla in The One and Only Ivan and the working-class boy in Crenshaw -- speaks movingly to a noisy, fractious world. -- The Washington Post

"The story's wit and humor keep it from being heavy-handed, as do vivid portrayals of minor characters, especially Bongo, the sarcastic crow who is Red's best friend. This is a book made for family sharing and discussion."--Raleigh News & Observer

"Timely, necessary, and brimming with heart."-- Booklist, starred review

"Newbery Award–winning author Applegate meets high expectations in this tale told by a tree named Red, a red oak who is "two hundred and sixteen rings old." ... Another stunning effort from Applegate. This thoughtful read is a top choice for middle graders."--School Library Journal, starred review

"This swiftly moving yet contemplative read is great for early middle grade, reluctant or tentative readers, or precocious younger students. A deceptively simple, tender tale in which respect, resilience, and hope triumph."--Kirkus Reviews, starred review

"This gentle yet powerful book is suitable for all ages...and its message remains more vital than ever."--BookPage

"Inspires hope for positive change. Perfect for a powerful classroom read, Wishtree is another winner for Applegate."--Voices of Youth Advocates, starred review