What's Worth Keeping: A Novel (Paperback)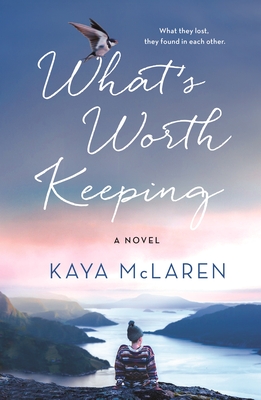 $16.99

Usually Ships in 4-7 Days
Staff Reviews
---
Amy is a breast cancer survivor. She has endured countless rounds of chemo and a double masectomy. She also has a secret. On the day she received her diagnosis, she found divorce papers due to be delivered on the day after her daughter's high school graduation. That is the beginning of this heartwarming, poignant story of grief, renewal, and love. Paul, Amy's husband is an Oklahoma City homicide detective. He has never recovered from the trauma of the bombing which happened when their child was an infant. Carly, poised to graduate, lashes out over the stress of possibly losing her mother. All three character narrate their own stories. Carly is taken by her father to live with a great aunt who runs a trail ride vacation service out of Chama, NM. There Carly, with the help of her wise aunt, begins to find her place. Amy takes off on a long, solo road trip back to the Pacific Northwest where she grew up with her family living amongst the big trees. Paul, who purchased a ramshackle house years ago in Chama is suffering greatly from not only the bombing but all the wretchedness he sees in his job. As the reader we know from the beginning that the divorce papers were a way for Paul to let Amy go because he couldn't drag her into his sadness. As in all of her novels, McLaren finds a way to redemption.
— Valerie
Description
---
"A book as wise and unflinching as an old growth forest, filled with the capricious beauty and brutality of life. Kaya McLaren gives us a powerful, deeply moving story of a family in desperate need of healing and the paths each of them must walk to find it, and shows us how we might all find hope if we can pause long enough to listen to the whispers of nature." —Barbara O'Neal, Wall Street Journal, Washington Post, and Amazon Charts #1 bestselling author of When We Believed in Mermaids

In Kaya McLaren's What's Worth Keeping, during one unforgettable summer, three generations of one family receive the best gift of all time: a second chance...

The day her doctor says the one word that no one wants to hear, Amy Bergstrom discovers a secret that her husband of 25 years has been keeping from her. Now that the months of treatment and surgeries are behind her, she escapes her claustrophobic life seeking healing, peace and clarity in an ancient forest in Washington State, a forest that holds memories of her childhood summers.

After dropping off his daughter at Amy's Aunt Rae's horse ranch in the mountains of New Mexico, Officer Paul Bergstrom visits the fixer-upper he had bought years ago as a place to retire with his family. Although it appears fine on the outside, the inside is a disaster—just like his marriage. When he finds himself with more off-duty time than he expected, he lovingly repairs his dream home, building the future he so desperately wants.

Witnessing her mother's health crisis had been terrifying enough, but learning the cause was genetic leaves Carly with the sense that all of her dreams are pointless. With the help of her eccentric great aunt and a Clydesdale named T. Rex, Carly just may find her faith in her future again.

Amy, Paul, and Carly discover that love and family are worth keeping in this powerful, emotional, and hopeful novel.
About the Author
---
Kaya McLaren lives on the east slope of the Cascade Mountains in Washington State where she writes and teaches middle school art. In her spare time, she loves to hike and SUP with her dog, Frida, as well as bicycle, ski, kayak, and visit as many national parks and hot springs as possible.
Praise For…
---
"A book as wise and unflinching as an old growth forest, filled with the capricious beauty and brutality of life. Kaya McLaren gives us a powerful, deeply moving story of a family in desperate need of healing and the paths each of them must walk to find it, and shows us how we might all find hope if we can pause long enough to listen to the whispers of nature." - Barbara O'Neal, Wall Street Journal, Washington Post, and Amazon Charts #1 bestselling author of When We Believed in Mermaids

"...What's Worth Keeping shows a full picture of how, while cancer can shatter both a body and a family, sometimes love can bring people back together. Readers who enjoy Emily Giffin and Caroline Leavitt will be drawn into the emotional journey of these characters in this heartwarming novel." - Booklist (starred review)