Things Jolie Needs to Do Before She Bites It (Hardcover)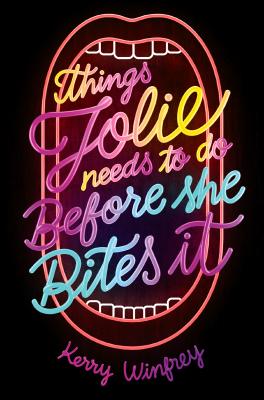 Description
---
Kerry Winfrey's funny and honest YA novel, Things Jolie Needs to Do Before She Bites It

Jolie's a lot of things, but she knows that pretty isn't one of them.

She has mandibular prognathism, which is the medical term for underbite. Chewing is a pain, headaches are a common occurrence, and she's never been kissed. She's months out from having a procedure to correct her underbite, and she cannot wait to be fixed.

Jolie becomes paralyzed with the fear that she could die under the knife. She and her best friends, Evelyn and Derek, decide to make a "Things Jolie Needs to Do Before She Bites It (Which Is Super Unlikely, but Still, It Could Happen)" list. Things like: eat every appetizer on the Applebee's menu and kiss her crush Noah Reed.

But since when did everything ever go exactly to plan?

Filled with humor, heart--and an honest look at today's beauty standards--Jolie's journey is a true feel-good story.
About the Author
---
Kerry Winfrey grew up in Bellville, Ohio, where she spent most of her time reading inappropriate books at the library. Not much has changed. Kerry writes for HelloGiggles. She lives in Columbus, Ohio, with her husband, their son, and their dog, Merlin. Love and Other Alien Experiences is her first novel.
Praise For…
---
"Numerous laugh-aloud moments don't lessen the potency of the story's messages about beauty's subjectivity and overcoming fears. Readers will gleefully cheer Jolie on as she learns to appreciate herself for who she is."--Publishers Weekly, starred review

"The author has a light touch with heavy topics and has crafted a funny and relatable lead, well-developed secondary characters, and great story lines. This is a brisk read with real insight into friendships and young romance. Readers will want to spend their time with Jolie, her family, and her friends."–School Library Journal

"In her quirky sophomore novel, Winfrey (Love and Other Alien Experiences, 2017) offers up a story about self-acceptance that's rich with humor and heart. Jolie's situation may be unique, but this will appeal to anyone who's ever felt out of place."--Booklist