The Curious World of Calpurnia Tate (Paperback)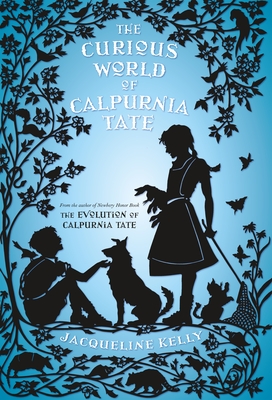 Other Books in Series
This is book number 2 in the Calpurnia Tate series.
Staff Reviews
---
Although her progress in other feminine arts lag, 1900 proves to be an eventful year for aspiring scientist Calpurnia Tate and her family in Fentress, Texas. Callie Vee's observation of a seagull 200 miles inland is instrumental in warning Houston, Galveston, and Corpus Christi of an impending major storm. Devastation in Galveston brings a cousin and a visiting veterinarian to town, opening Calpurnia's eyes to the possibilities of making money, assisting the new vet, even attending university, all things unheard of for respectable young ladies. Irrepressible Calpurnia will not let conventional wisdom stand her way. Charming, engaging, funny, and rich in language, readers will delight in Calpurnia's successes, empathize with her struggles, and turn the last page in this sequel, yearning for a third in the series.
— Jennifer
Description
---
Callie Vee, Travis, Granddaddy, and the whole Tate clan are back in this charming follow-up to Newbery Honor-winner The Evolution of Calpurnia Tate.

Travis keeps bringing home strays. And Callie has her hands full keeping the wild animals—her brother included—away from her mother's critical eye. Whether it's wrangling a rogue armadillo or stray dog, a guileless younger brother or standoffish cousin, the trials and tribulations of Callie Vee will have readers laughing and crying and cheering for this most endearing heroine.

In this enchanting middle-grade novel, The Curious World of Calpurnia Tate by Jacqueline Kelly, readers will fall deeper in love with our heroine Callie Vee, as she continues her journey to learn more about the world around her and to deal with her wild family.

"The Evolution of Calpurnia Tate is the most delightful historical novel for tweens in many, many years." —The New Yorker, "Book Bench" section

"In her debut novel, Jacqueline Kelly brings to vivid life a boisterous small-town family at the dawn of a new century. And she especially shines in her depiction of the natural world that so intrigues Callie." —The Washington Post on The Evolution of Calpurnia Tate

Don't miss any of Callie's middle-grade adventures:
The Evolution of Calpurnia Tate
The Curious World of Calpurnia Tate
The Calpurnia Tate, Girl Vet chapter book series:
Skunked!
Counting Sheep
About the Author
---
Jacqueline Kelly won the Newbery Honor for her first book, The Evolution of Calpurnia Tate. She was born in New Zealand and raised in Canada, in the dense rainforests of Vancouver Island. Her family then moved to El Paso, Texas, and Kelly attended college in El Paso, then went on to medical school in Galveston. After practicing medicine for many years, she went to law school at the University of Texas, and after several years of law practice, realized she wanted to write fiction. Her first story was published in the Mississippi Review in 2001. She now makes her home with her husband and various cats and dogs in Austin and Fentress, Texas.
Praise For…
---
"The Evolution of Calpurnia Tate is the most delightful historical novel for tweens in many, many years. …Callie's struggles to find a place in the world where she'll be encouraged in the gawky joys of intellectual curiosity are fresh, funny, and poignant today." —The New Yorker, "Book Bench" section

"In her debut novel, Jacqueline Kelly brings to vivid life a boisterous small-town family at the dawn of a new century. And she especially shines in her depiction of the natural world that so intrigues Callie . . . Readers will want to crank up the A.C. before cracking the cover, though. That first chapter packs a lot of summer heat." —The Washington Post on The Evolution of Calpurnia Tate

"Each chapter of this winning . . . novel opens with a quotation from 'On the Origin of Species'--a forbidden book that her own grandfather turns out to have hidden away. Together they study Darwin's masterpiece, leading to a revolution in Callie's ideas of what she might accomplish on her own." —New York Times Book Review on The Evolution of Calpurnia Tate

"Animal lovers will revel in the abundant anecdotes about the benevolent country vet and Travis' mangy strays-some heart-wrenching, some hilarious-while learning plenty about nature ("from pond water up to the stars"), the deadly 1900 Galveston hurricane, and early Texas history as recounted by Callie's scholarly and beloved Granddaddy. A warm, welcome stand-alone companion to Kelly's lauded debut." —Kirkus Reviews, starred review

"Well worth waiting for . . . Readers will flock to this sequel for the pleasure of revisiting this beloved character and her world." —Booklist, starred review

"Humor and little heartbreaks abound as Callie learns animal care under the tutelage of Dr. Pritzker, the town's veterinarian. . . . Recommended for fans of the original novel and strong readers who enjoy character-driven narratives." —School Library Journal, starred review

"Six years after debuting in Kelly's Newbery Honor-winning The Evolution of Calpurnia Tate, the budding Texas scientist returns, as curious and charming as ever, and now preoccupied with fauna instead of flora . . . Happily, the episodic narrative leaves the door wide open for further adventures—if we're lucky." —Publishers Weekly, starred review

"Callie's transformation into an adult and her unexpected bravery make for an exciting and enjoyable read. Kelly's rich images and setting, believable relationships and a touch of magic take this story far." —Publishers Weekly, starred review, on The Evolution of Calpurnia Tate

"Interwoven with the scientific theme are threads of daily life in a large family—the bonds with siblings, the conversations overheard, the unspoken understandings and misunderstandings—all told with wry humor and a sharp eye for details that bring the characters and the setting to life. The eye-catching jacket art, which silhouettes Callie and images from nature against a yellow background, is true to the period and the story. Many readers will hope for a sequel to this engaging, satisfying first novel." —Booklist, starred review, on The Evolution of Calpurnia Tate

"Readers will finish this witty, deftly crafted debut novel rooting for "Callie Vee" and wishing they knew what kind of adult she would become." —Kirkus, starred review, on The Evolution of Calpurnia Tate

"Narrator Calpurnia's voice is fresh and convincing, and Granddaddy is that favorite relative most readers would love to claim as their own. Historical fiction fans are in for a treat." —Bulletin of the Center for Children's Books on The Evolution of Calpurnia Tate

"Kelly, without anachronism, has created a memorable, warm, spirited young woman who's refreshingly ahead of her time." —The Horn Book Review on The Evolution of Calpurnia Tate

"A charming and inventive story of a child struggling to find her identity at the turn of the 20th century... there's no uncertainty over the achievement of Kelly's debut novel." —School Library Journal, starred review, on The Evolution of Calpurnia Tate