Big Lies in a Small Town: A Novel (Hardcover)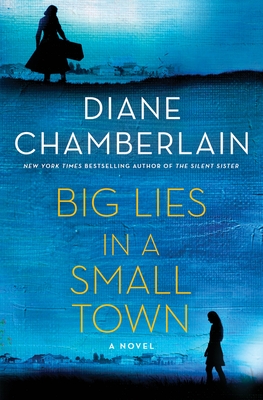 $27.99
Usually Ships in 1-5 Days
Staff Reviews
---
This charming tale is told from two points of view: Morgan Christopher in North Carolina 2018 and Anna Dale, North Carolna 1940. When Morgan Chrisopher is released from serving a three year prison stint for a crime she didn't commit, it is with the caveat that she restore an old post office mural in a sleepy southern town. When she accepts the assignment, she has no idea what she will find under layers of grime and time during the restoration of the mural. What she does discover are secrets the town has been keeping... Anna Dale, an artist from New Jersey, wins a national contest to paint a mural for the post office in 1940s Edenton, North Carolina. Alone and desperate for income, she sets out to this small town where she is soon immersed in the deep prejudice and secrets the town holds. What happened to Anna Dale? Why was Morgan chosen to restore the mural? These questions and more come together in this somewhat historical read complete with tension, social commentary, and mystery.
— Lesley
Great Reads
---
"Big Lies in a Small Town offers an intriguing mystery that caused me to stay up way past my bedtime on several occasions. The author perfectly weaves the 1940 and the 1918 storylines throughout alternating chapters, captivating the reader with main characters Anna and Morgan, as well as a host of fascinating supporting players. The ending offers a surprise twist that catches the reader unaware. A must-read for mystery lovers as well as those who appreciate art."
— Gayle Lovvorn, Noteworthy Bookstore, Stamford, TX
Description
---
From New York Times bestselling author Diane Chamberlain comes a novel of chilling intrigue, a decades-old disappearance, and one woman's quest to find the truth…

"A novel about arts and secrets...grippingly told...pulls readers toward a shocking conclusion."—People magazine, Best New Books

North Carolina, 2018:
Morgan Christopher's life has been derailed. Taking the fall for a crime she did not commit, her dream of a career in art is put on hold—until a mysterious visitor makes her an offer that will get her released from prison immediately. Her assignment: restore an old post office mural in a sleepy southern town. Morgan knows nothing about art restoration, but desperate to be free, she accepts. What she finds under the layers of grime is a painting that tells the story of madness, violence, and a conspiracy of small town secrets.

North Carolina, 1940:
Anna Dale, an artist from New Jersey, wins a national contest to paint a mural for the post office in Edenton, North Carolina. Alone in the world and in great need of work, she accepts. But what she doesn't expect is to find herself immersed in a town where prejudices run deep, where people are hiding secrets behind closed doors, and where the price of being different might just end in murder.

What happened to Anna Dale? Are the clues hidden in the decrepit mural? Can Morgan overcome her own demons to discover what exists beneath the layers of lies?

"Chamberlain, a master storyteller, keeps readers hooked, with a story line that leavens history and social commentary with romance and mystery."—Lexington Dispatch
About the Author
---
DIANE CHAMBERLAIN is the bestselling author of more than twenty novels published in over eleven languages. Her books include The First Lie, Her Mother's Shadow, The Good Father, and Kiss River. She lives in North Carolina with her partner, photographer John Pagliuca, and her shelties, Keeper and Cole.
Praise For…
---
A Palm Beach Post 2020 Recommendation

"Compelling...[A] good, captivating and ultimately satisfying story."—Greensboro News & Record

"Chamberlain is more than a terrific writer. She's incisive and understands people."—The Star-Ledger

"Chamberlain's depictions of creative beauty and perseverance across time and in the face of inevitable obstacles will keep readers turning the pages."—Publishers Weekly

"Chamberlain's writing is reminiscent of a quilt made up of pieces from different people, places, and times, stitched together into a single, emotional story."—Booklist

"An engaging, well-researched, and sometimes thought-provoking art mystery."—Kirkus Reviews

"[A] great escape."—First for Women

"[A] heart-pounding whodunit."—Women's World

Praise for Diane Chamberlain's The Dream Daughter

"With a little tension and a lot of heart, The Dream Daughter will delight Chamberlain's fans and hook new readers." —Booklist

"Chamberlain writes with supernatural gifts...fate, destiny, chance and hope combine for a heady and breathless wonder of a read."—Pam Jenoff, author of The Orphan's Tale

"Can a story be both mind-bending and heartfelt? In Diane Chamberlain's hands, it can. The Dream Daughter will hold readers in anxious suspense until the last satisfying page." —Therese Fowler, author of Z