Furiously Happy: A Funny Book About Horrible Things (Paperback)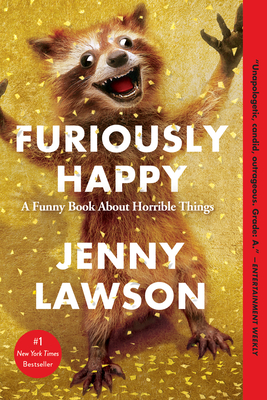 List Price: $18.99
Our Price: $17.99
(Save: $1.00 5%)
Staff Reviews
---
Once again Jenny Lawson has come out with a book of raunchy, hilarious, and often poignant thoughts/ramblings on life, depression, and taxidermy, among other things. A few years ago she was going through a particularly rough spell when she wrote in her blog that she had decided to be FURIOUSLY HAPPY. She was amazed at the overwhelming response. The plan was further elevated when she found a roadkill raccoon,had it stuffed, and named it Rory. Rory has his arms raised over his head and looks like he is smiling and saying "Yaaayyyy!". How could that not make you happy?
About the time one or two of her essays gets a little too serious, Lawson follows up with a lighter tone. One bit on the stupid things people try to bring on planes made me laugh out loud: "I don't have any liquids. That's iced tea." Or there's the tale of when she went on a trip to Australia and, what else, dressed up as a koala. And so it goes. With a George Carlineque eye for the humorous and ridiculous in everyday life, Jenny Lawson elicits smiles from all of her readers. (But just feel sorry for Victor, her long-suffering husband who gets to be the foil.) At the same time, her brutal honesty about her psychotic afflictions makes her sympathetic and very real. Furiously Happy is an inspiration and a hoot.
— Cynthia
October 2015 Indie Next List
---
"Anyone living with depression knows that it's like being held hostage by your own brain, and sometimes survival means clinging to the knowledge that it won't last forever. Lawson takes this to the next level in Furiously Happy, her catalogue of the wonderful, ridiculous adventures that she has gone on in an effort to make the good times overshadow the bad. By fearlessly embracing her weirdness and being open about her experiences with mental illness in a culture that still largely stigmatizes and misunderstands such disorders, Lawson shines a light on what it's like to live with depression, OCD, insomnia, and anxiety. More than that, though, she shows that it is possible to fight back - even if it sometimes requires holding a midnight raccoon rodeo."
— Marita Rivir (M), Joseph-Beth Booksellers, Cincinnati, OH
Description
---
#1 New York Times Bestseller

In Furiously Happy, a humor memoir tinged with just enough tragedy and pathos to make it worthwhile, Jenny Lawson examines her own experience with severe depression and a host of other conditions, and explains how it has led her to live life to the fullest:

"I've often thought that people with severe depression have developed such a well for experiencing extreme emotion that they might be able to experience extreme joy in a way that 'normal people' also might never understand. And that's what Furiously Happy is all about."

Jenny's readings are standing room only, with fans lining up to have Jenny sign their bottles of Xanax or Prozac as often as they are to have her sign their books. Furiously Happy appeals to Jenny's core fan base but also transcends it. There are so many people out there struggling with depression and mental illness, either themselves or someone in their family—and in Furiously Happy they will find a member of their tribe offering up an uplifting message (via a taxidermied roadkill raccoon). Let's Pretend This Never Happened ostensibly was about embracing your own weirdness, but deep down it was about family. Furiously Happy is about depression and mental illness, but deep down it's about joy—and who doesn't want a bit more of that?
About the Author
---
Jenny Lawson is an award-winning humorist known for her great candor in sharing her struggle with mental illness. She lives in Texas with her husband and daughter and was constantly "buying too many books" ("Not a real thing," she insists), so she decided to skip the middleman and just started her own bookshop, which also serves booze because books and booze are what magic is made of. She has previously written Let's Pretend This Never Happened and Furiously Happy, both of which were #1 New York Times bestsellers. She also wrote You Are Here, which inexplicably made it onto the New York Times bestseller list in spite of the fact that it was basically a very fun coloring book. She would like to be your friend unless you're a real asshole. And yes, she realizes that this whole paragraph is precisely the reason she shouldn't be allowed to write her own bio.
Praise For…
---
Praise for Jenny Lawson:

"We're living in an era of bestselling books by female comedians… But Lawson's book needs no lovable, familiar face on the front cover…She's unapologetic, candid, outrageous, and the book reaches new levels of hilarity because of it." —Entertainment Weekly (A)

"Jenny made me laugh so hard I feared for my safety! I think that's how she was able to get past my defenses and make me feel more okay about myself." —Allie Brosh

"You'll laugh, wince, writhe in discomfort, cry, then laugh again…But the two things you'll never do is doubt Jenny's brilliance or her fearlessness…She's changing the conversation one rented sloth at a time." —Brené Brown

"Lawson's self-deprecating humor is not only gaspingly funny and wonderfully inappropriate; it allows her to speak...in a real and raw way." —O, The Oprah Magazine

"Take one part David Sedaris and two parts Chelsea Handler and you'll have some inkling of the cockeyed humor of Jenny Lawson...[She] flaunts the sort of fearless comedic chops that will make you spurt Diet Coke through your nose." —Parade