Hello Ruby: Adventures in Coding (Hardcover)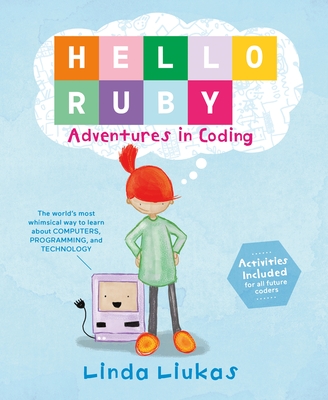 $19.99

Usually Ships in 4-7 Days
Other Books in Series
This is book number 1 in the Hello Ruby series.
Description
---
"Hello Ruby is half picture book and half activity book rolled into one adorable package. It introduces programming without requiring a computer at all. The point of the book isn't to teach you a programming language, but programming concepts." --GeekMom.com

Meet Ruby—a small girl with a huge imagination, and the determination to solve any puzzle. As Ruby stomps around her world making new friends, including the Wise Snow Leopard, the Friendly Foxes, and the Messy Robots, kids will be introduced to the fundamentals of computational thinking, like how to break big problems into small ones, create step-by-step plans, look for patterns and think outside the box through storytelling. Then, these basic concepts at the core of coding and programming will be reinforced through fun playful exercises and activities that encourage exploration and creativity.

In Ruby's world anything is possible if you put your mind to it.
About the Author
---
Linda Liukas is a programmer, storyteller, and illustrator from Helsinki, Finland. The idea for Hello Ruby first made its debut on Kickstarter and quickly smashed its $10,000 funding goal in just three and a half hours gathering $380,000 in total to become Kickstarter's most funded children's book.

Linda is a central figure in the world of programming and worked on edutech before it was even called that. Linda is the founder of Rails Girls, a global phenomenon teaching the basics of programming to young women all over the world. The workshops, organized by volunteers in over 160 cities, have in a few years taught more than 10,000 women the foundations of programming.

Linda has studied in business, design, and engineering at Aalto University and product engineering at Stanford University. She was selected as the 2013 Ruby Hero (the most notable prize within the Ruby programming community) and she's the Digital Champion of Finland, appointed by EU commissioner Neelie Kroes. She lives in Helsinki, Finland.
Praise For…
---
"Writing software is about expression, creativity, and practical application. Our kids should learn to bend, join, break and combine code in a way it wasn't designed to. Just as they would with crayons and paper or wood and tools. I believe there's plenty to learn in programming logic and culture before showing children a single screen." —Linda Liukas author of Hello Ruby

"Hello Ruby is way more than a children's book." —Fast Company

"Getting girls into programming, one children's book at a time." —TechCrunch

"Hello Ruby by Linda Liukas is half picture book and half activity book rolled into one adorable package. What I love about it is that it introduces programming without requiring a computer at all. The point of the book isn't to teach you a programming language, but programming concepts." --GeekMom.com