Genius: The Game (Hardcover)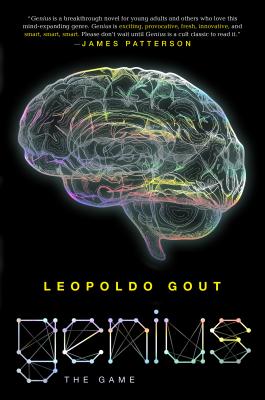 $18.99
Usually Ships in 1-5 Days
Other Books in Series
This is book number 1 in the Genius series.
Staff Reviews
---
Kirwan Biswas, thought to be the next Steve Jobs, is the eighteen-year-old founder of India's largest tech firm, Ondscan, and creator of The Game. Two hundred of the world's brightest minds under eighteen will compete—by invitation only—in two challenges he himself has devised. The winners will receive the funding, resources, and technology to launch their own cutting-edge research lab anywhere they choose. Rex, Tunde, and Painted Wolf have been best friends via the internet but have never met; two of them have been officially invited to The Game, and one has hacked his/her invitation. Each has a particular expertise and together, it seems they could win the competition hands-down. Each has a compelling ulterior motive for succeeding: protecting their families, but upon arrival, the three quickly realize that The Game is much more dangerous than they originally thought. First in a series for 12+
— Jennifer
Description
---
Trust no one. Every camera is an eye. Every microphone an ear. Find me and we can stop him together.
The Game: Get ready for Zero Hour as 200 geniuses from around the world go head to head in a competition hand-devised by India's youngest CEO and visionary.
The Players:
Rex- One of the best programmers/hackers in the world, this 16-year-old Mexican-American is determined to find his missing brother.
Tunde-This14-year-old self-taught engineering genius has drawn the attention of a ruthless military warlord by single-handedly bringing electricity and internet to his small Nigerian village.
Painted Wolf-One of China's most respected activist bloggers, this mysterious 16-year-old is being pulled into the spotlight by her father's new deal with a corrupt Chinese official.
The Stakes: Are higher than you can imagine. Like life and death. Welcome to the revolution. And get ready to run.
About the Author
---
LEOPOLDO GOUT , author of Genius, is a writer, artist, and filmmaker who hails from Mexico. After studying in London Gout produced the Award-Winning film Days of Grace, which A. O. Scott of the New York Times called "potent and vigorous." He is the Executive Producer of the number one new show of the summer, sci-fi drama "Zoo" on CBS; and is partnered with James Patterson Entertainment to produce "Maximum Ride". Leopoldo Gout resides in New York City with his wife and two children.
Praise For…
---
"Genius is a breakthrough novel for young adults and others who love this mind-expanding genre. Genius is exciting, provocative, fresh, innovative, and smart, smart, smart. Please don't wait until Genius is a cult classic to read it." — James Patterson, #1 New York Times bestselling author of the Maximum Ride novels
"Strong characters who show their bravery throughout, friendships that do not falter, and ethics that do not fail, even when characters are faced with the impossible, are a refreshing change to most teenage novels. Readers will be caught up in the brilliance of the three characters and be surprised at the many twists and turns that they must confront. A gripping must-have." -- School Library Journal, starred review
"Gout's characters are believable and immensely likable and their friendship serves as a delightful and realistic anchor amid the fast-moving chaos. Science and technology may take center stage in Gout's fictional Game, but it's the less flashy craft of writing that sells the story." --The New York Times Book Review
"a fast-moving story that presents its protagonists with intriguing moral choices" -- Publishers Weekly
"it's tense and suspenseful with a breakneck pace and a plot that twists and turns, the characters reeled me in and made me care about their situations. Topics including engineering, coding, hacking, and physics will be a huge draw for teens interested in STEM subjects, but the compelling story will keep anyone turning the pages to reach the cliff-hanger ending." -- The Booklist Reader