Because It Is My Blood: A Novel (Birthright #2) (Paperback)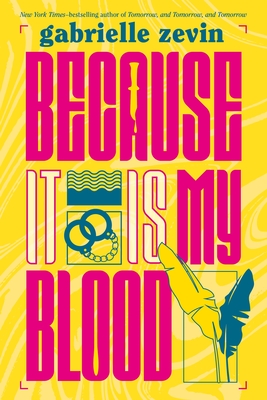 $14.99
Usually Ships in 1-5 Days
Description
---
"Every time I think I'm out, they pull me back in." —Michael Corleone, The Godfather
Since her release from Liberty Children's Facility, Anya Balanchine is determined to follow the straight and narrow. Unfortunately, her criminal record is making it hard for her to do that. No high school wants her with a gun possession charge on her rap sheet. Plus, all the people in her life have moved on: Natty has skipped two grades at Holy Trinity, Scarlet and Gable seem closer than ever, and even Win is in a new relationship. But when old friends return demanding that certain debts be paid, Anya is thrown right back into the criminal world that she had been determined to escape. It's a journey that will take her across the ocean and straight into the heart of the birthplace of chocolate where her resolve—and her heart—will be tested as never before.
Because It Is My Blood is the second novel in Gabrielle Zevin's Birthright series.
About the Author
---
Gabrielle Zevin is the author of many popular books for teens, including Elsewhere, Memoirs of a Teenage Amnesiac, and In the Age of Love and Chocolate, the final novel in the Birthright trilogy. Her novels for adults are Margarettown, The Hole We're In, and the forthcoming The Storied Life of A.J. Fikry. She was also the screenwriter for Conversations with Other Women, for which she received an Independent Spirit Award nomination. Zevin is a graduate of Harvard University. After many years on Manhattan's Upper West Side, she recently moved to Silver Lake, Los Angeles.
Praise For…
---
"An engaging heroine, lots of humor . . . in this Godfather for teens. B+" —EW.com
"Readers who enjoy mob stories and visions of future societies will be pleased. As in the first book, Zevin provokes thought about what we make illegal and why." —School Library Journal
"The idea of a world in which chocolate, coffee, and other stimulants have been outlawed is alluring, and Anya is a strong, smart protagonist. Fans will want to find out what happens to her." —VOYA
"Discerning characters' true motives will keep readers guessing, and the conflicting forces within Anya add an extra dimension of drama to this action-packed sequel." —Publishers Weekly
"This sequel to All These Things I've Done paints on such a broad canvas that readers will be amazed at Zevin's management abilities. . . . Zevin's strong suit is characterization, and it shines here. Whatever the nefarious plot, no one becomes a cartoon character--like chocolates, each is delicious in his or her own right." —Booklist
"Fans of the first will enjoy the author's inventive combination of chocolate, crime and politics, as well as finding out Anya's post-prison fate." —Kirkus Reviews
"Anya's flaws are what make her a complicated, thoroughly human character, one whom readers will enjoy continuing to try to understand. . . . Readers will love her, flawed as she is." —Teenreads.com