Other Birds: A Novel (Paperback)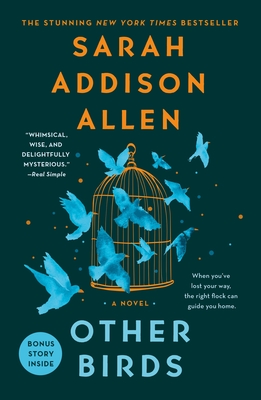 Staff Reviews
---
She has a knack for writing books with ghosts and magic. In this sweet novel, a cast of characters are thrown together in a small condo complex hidden behind the main street of Mallow Island. Each person has a back story. Zoey moves in because her mother left her the condo. Charlotte (or is she Charlotte) is escaping a cult. There's Oliver and Mac (the incredible chef) and more. It's a light hearted coming together of misfits.
— Valerie
September 2022 Indie Next List
---
"It has been over a week since I finished Other Birds and I am still enchanted. A beautiful story with an eclectic bunch of characters in a dreamy southern town with a touch of mystery, love, and loss."
— Elisa McIntosh, The Bookstore Plus Music & Art, Lake Placid, NY
Description
---
Includes a brand new bonus story of how Mallow Island came to be!

The New York Times Bestseller

From the acclaimed author of Garden Spells comes an enchanting tale of lost souls, lonely strangers, secrets that shape us, and how the right flock can guide you home.

Down a narrow alley in the small coastal town of Mallow Island, South Carolina, lies a stunning cobblestone building comprised of five apartments. It's called The Dellawisp and it is named after the tiny turquoise birds who, alongside its human tenants, inhabit an air of magical secrecy.

When Zoey Hennessey comes to claim her deceased mother's apartment at The Dellawisp, she meets her quirky, enigmatic neighbors including a girl on the run, a grieving chef whose comfort food does not comfort him, two estranged middle-aged sisters, and three ghosts. Each with their own story. Each with their own longings. Each whose ending isn't yet written.

When one of her new neighbors dies under odd circumstances the night Zoey arrives, she is thrust into the mystery of The Dellawisp, which involves missing pages from a legendary writer whose work might be hidden there. She soon discovers that many unfinished stories permeate the place, and the people around her are in as much need of healing from wrongs of the past as she is. To find their way they have to learn how to trust each other, confront their deepest fears, and let go of what haunts them.

Delightful and atmospheric, Other Birds is filled with magical realism and moments of pure love that won't let you go. Sarah Addison Allen shows us that between the real and the imaginary, there are stories that take flight in the most extraordinary ways.
About the Author
---
SARAH ADDISON ALLEN is the New York Times bestselling author of Garden Spells, The Sugar Queen, The Girl Who Chased the Moon, The Peach Keeper, Lost Lake, and First Frost. She was born and raised in Asheville, North Carolina.
Praise For…
---
The New York Times Bestseller

"Whimsical, wise, and delightfully mysterious." --Real Simple

"If you're looking for a bit of mystery, whimsical characters and a keen sense of place, Other Birds offers all these delights and more. Allen immerses readers in this island world, as well as in the processes of self-discovery, the experiences of being haunted and the gift of surrendering to what we can and cannot control." --Book Page

"The biggest challenge for the reader is to try to not turn the pages so quickly in order to extend the fun. ... An outstanding reading experience. Readers who enjoy a Southern story, a touch of the unexplained, and works by Fannie Flagg and Karen White will all be delighted by this novel." --Booklist (starred review)

"A lyrical mystery that embraces letting go and living freely." --Kirkus

"Languid and peaceful, gentle and comforting, Allen's newest showcases her talent for tender stories of near magic. Her fans will be lining up for this." --Library Journal

"Allen skillfully weaves the various threads, as vignettes narrated by ghosts of former building residents provide further context as the plot unfurls…This will move readers." --Publishers Weekly

"This story is so magical, beautiful and wise, with a wonderful cast of eclectic characters, and even a few ghosts. It filled my heart." -- Clare Pooley, New York Times bestselling author of THE AUTHENTICITY PROJECT

"A master of her craft, Sarah Addison Allen draws you in with her whimsy and poetic language, only to lay bare the deep emotional truths of being human. Other Birds captivated me by its utter uniqueness. Is it a ghost story? A fairytale about a girl and her imaginary pigeon? A character study of a motley crew of hard-knocks survivors? It is all these things—along with being one of my favorite books of the year." -- Colleen Oakley, bestselling author of THE INVISIBLE HUSBAND OF FRICK ISLAND

"For her latest treasure of a tale, Allen has concocted a mesmerizing cast of characters, all with mysterious pasts and quiet secrets, and placed them in a dreamy Southern resort town famous for its marshmallow candy. It's a story of community, forgiveness, and the myriad ways the past haunts the present. Absolutely luscious and a true page-tuner."
—Fiona Davis, New York Times bestselling author of The Lions of Fifth Avenue

"With a dash of her signature magic, Allen dishes up a touching story that hits the sweet spot between heartache and healing. Set in an atmospheric island town, Other Birds interlaces the disappointments and dreams of a group of creative, lonely people who have more in common than they know. And that's the real magic in this story: the human ability to connect with people and places in meaningful ways that transform our lives."
—Glendy Vanderah, best-selling author of Where the Forest Meets the Stars and The Light Through the Leaves

"Oh, joy of joys! A new book by Sarah Addison Allen, and Other Birds is her best yet! Dark and sweet, brutal and wise, full of delectable food and plenty of meddling ghosts, and soaked with an abiding tenderness and hope. One of my favorite books this year." —Barbara O'Neal, author of Write My Name Across the Sky and When We Believed in Mermaids

"This delightful novel is rife with magical realism as Zoey learns what home really means and how helping others can help heal one's own heart, too." --Good Housekeeping

"Allen's gift for whimsical, poetic language, makes Other Birds one of our most-anticipated books for 2022. You're going to want to read this one with your book club." --Reader's Digest

"Tinged with magic, interlaced with loss and longing, each character's story unfolds in layers creating an intricate puzzle that teases and delights." --Southern Bookseller Review

"Fans of Hulu's 'Only Murders in the Building' and Netflix's 'Dead to Me' will warm to this quirky tale." --Los Angeles Times