The Pull of Gravity (Paperback)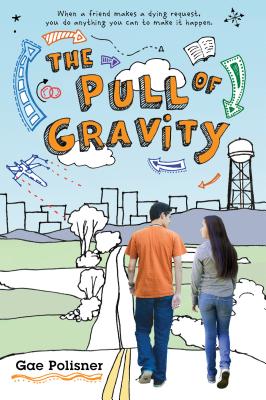 $10.99

Usually Ships in 4-7 Days
Description
---
While Nick Gardner's family is falling apart, his best friend, Scooter, is dying from a freak disease. The Scoot's final wish is that Nick and their quirky classmate, Jaycee Amato, deliver a prized first-edition copy of Of Mice and Men to the Scoot's father. There's just one problem: the Scoot's father walked out years ago and hasn't been heard from since. So, guided by Steinbeck's life lessons, and with only the vaguest of plans, Nick and Jaycee set off to find him.
Characters you'll want to become friends with and a narrative voice that sparkles with wit make Gae Polisner's The Pull of Gravity a truly original coming-of-age story.
About the Author
---
GAE POLISNER is the award-winning author of In Sight of Stars, The Memory of Things (Nerdy Book Club Best YA 2016), The Summer of Letting Go (Nerdy Book Club Best YA 2014, Teen Ink Editor's Choice Badge of Approval) and The Pull of Gravity (2012 Bank Street Best, 2012 PSLA Top Forty, Nerdy Book Club Best YA 2011). She also co-hosts Teachers Write!, a virtual writers camp for teachers and educators. She lives in Long Island, New York with her family.
Praise For…
---
"The very sentimentalism of the situation, the quest nature of the plot, and the quirkiness of the characters will appeal to many young readers." —BCCB
"What summer reading list is complete without a road-trip novel? Especially one that extols the virtues of reading sad books and contains the sentence: 'Parents are such idiots.' " —Newsday
"Polisner's first novel begins with a bang and ends with another. . . . There is a great deal to enjoy throughout, and literary kids will surely enjoy a subplot involving John Steinbeck." —Booklist
"Characters feel real . . . and the plot zips along, championing strength in adversity." —School Library Journal
"[Gae Polisner] is a writer young adult readers will surely want to hear more from." —Examiner.com
"The very sentimentalism of the situation, the quest nature of the plot, and the quirkiness of the characters will appeal to many young readers." —The Bulletin of the Center for Children's Books
"Although the teens' best laid plans go oft awry, they discover that the force of the universe is with them--or at least friendship, family and romance. Pulls the heart in all the right places." —Kirkus Reviews
"Scooter, Nick, and Jaycee are real, and they're funny. I love how they yearn for something beautiful, warm, and true to lift them from the lousy, sad absurdity of their circumstances. And I love the unlikely places where they find it: Yoda. A possibly misguided bus trip. Red wax lips. Real lips. And each other. I love that they find it mostly in each other." —Lynne Rae Perkins, Newbery Medal–winning author of As Easy as Falling Off the Face of the Earth
"Part love story, part adventure story, funny and serious, The Pull of Gravity is a delightful read." —Francisco X. Stork, author of Marcelo in the Real World
"Gae Polisner writes with fluidity and grace. The Pull of Gravity will draw you in and keep you thinking long after you've closed the book." —K. L. Going, author of King of the Screwups
"The Pull of Gravity is the whole package--realistic, quirky, fun, and weepy. Polisner is an author to watch." —Mary E. Pearson, author of The Miles Between
"The Pull of Gravity is a clever, masterfully told tale of loyalty and redemption that will pull you in and hook you 'til the last page." —Chris Crutcher, author of Deadline