The Districts: Stories of American Justice from the Federal Courts (Hardcover)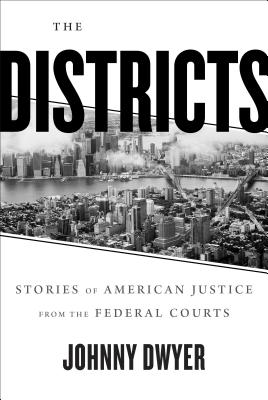 $28.95
Usually Ships in 1-5 Days
Description
---
An unprecedented plunge into New York City's federal court system that gives us a revelatory picture of how our justice system, and the pursuit of justice, really works.

A young Italian Mafioso helps get rid of a body in Queens. In Manhattan, a hedge fund portfolio manager misrepresents his company's assets to investors. At JFK International Airport, a college student returns from Jamaica with cocaine stuffed in the handle of her suitcase. These are just a few of the stories that come to life in this comprehensive look at the Southern District Court in Manhattan, and the Eastern District Court in Brooklyn--the two federal courts tasked with maintaining order in New York City. Johnny Dwyer takes us not just into the courtrooms but into the lives of those who enter through its doors: the judges and attorneys, prosecutors and defendants, winners and losers. He examines crimes we've read about in the papers or seen in movies and on television--organized crime, terrorism, drug trafficking, corruption, and white-collar crime--and weaves in the nuances that rarely make it into headlines. Brimming with detail and drama, The Districts illuminates the meaning of intent, of reasonable doubt, of deception, and--perhaps most important of all--of justice.
About the Author
---
JOHNNY DWYER is a reporter living in New York City and the author of American Warlord. He has written for Esquire, The Guardian, Rolling Stone, VICE, and other publications.
Praise For…
---
"If the courtroom is a theater, then The Districts is a backstage tour. In this magisterial anatomy of our criminal justice system, Johnny Dwyer punctures the dispassionate edifice of the institutions that administer criminal law to reveal the rousing and often messy human drama behind them. In a series of unforgettable stories about the lawyers, litigants and judges who face off in our federal courts, told in the kind of pointillist detail that can only come from years of hanging around the courthouse and doing old-school shoe-leather reporting, Dwyer presents a vivid tapestry of ambition, crime, punishment, and impunity."
—Patrick Radden Keefe, author of Say Nothing

"Illuminating... Dwyer skillfully explains complex federal statutes, such as the Foreign Intelligence Surveillance Act, and traces shifting definitions of what constitutes criminal conduct in insider trading cases. Ultimately, he leaves it up to readers to decide whether justice is being served, but his balanced, sympathetic account demystifies and humanizes the criminal justice system."
⁠—Publishers Weekly

"This well-documented, timely book will hold readers' attention."
⁠—Kirkus Reviews