Following You: A dark novel about obsession (Paperback)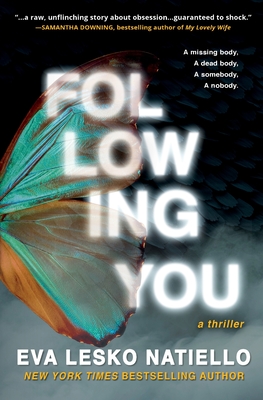 $15.99

Usually Ships in 4-7 Days
Description
---
A chilling new thriller from NEW YORK TIMES
b
estselling author of
THE MEMORY BOX.
"FOLLOWING YOU is a raw, unflinching story about obsession . . . Guaranteed to shock." -Samantha Downing, bestselling author of My Lovely Wife
"Expertly paced, gripping, and intoxicating, FOLLOWING YOU will leave you breathless. -J.D. Barker, New York Times bestselling author of A Caller's Game
"FOLLOWING YOU is a dark, delicious thriller. Read it with the lights on." -Amber Garza, author of When I Was You
Nothing is what it seems in this propulsive locked room thriller. Eva Lesko Natiello is back with another gripping suspense, keeping you guessing until the final page.
A missing body.
A dead body.
A somebody.
A nobody.
Only one person knows where she ends up. It's where no one can find her.
It's New Year's Eve. Shae Wilmont, the adored celebrity host of IShop-a popular shopping site-is ready to reclaim her life. Her stalker has been caught. But en route to a party, a harrowing encounter lands her in the wrong place at the wrong time. She's forced to make a split-second decision. She trusts her gut-it's a devastating mistake.
A fear-induced split-second decision goes terribly wrong, altering the fate of three strangers.
Shae's stunned fans quickly galvanize to track her down. Yet the charismatic Shae they know, who delivers digital intimacy to viewers who'll buy anything she sells, off camera is an enigma-private and strangely insecure-unable to let anyone get close. When startling personal secrets are exposed during the investigation, the paradox of Shae begins to unravel.
In this dark psychological suspense, the lives of three strangers collide irreversibly. Honey, a displaced Southern girl who flees a painful past, is fiercely protective of her new friends at the expense of her own safety, derailing her new life in California, . Creepy Lawrence, a Detective Bureau fast-tracker with a penchant for latex gloves and a perverse obsession with Shane And Shae, with millions of fake friends but hardly a real one. All three are hiding something, but only two of them are lying.
This suspenseful page-turner bares our assumptions of strangers. Who we believe without judgment and who we judge without believing.
How can you trust your instincts when they turn out to be wrong?
"Intense and creepy."
"Wickedly plotted."
"Gripping till the last page."
"If you think you know how this book will end-you're dead wrong "