Brotherless Night: A Novel (Hardcover)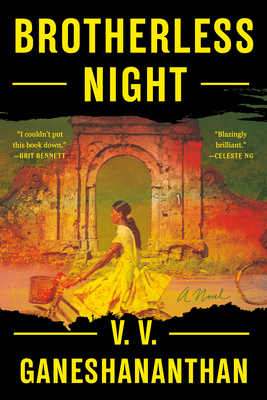 Staff Reviews
---
This is an intense and powerful story of a young woman whose family is torn apart by political turmoil and violence in the 1980s, the first decade of the civil war between Tamil separatists and the national government of Sri Lanka. Growing up in a Tamil community in northern Sri Lanka, Sashi wants to be a doctor like the oldest of her four brothers. In her first year of medical school, a friend who has become active in the Tamil Tiger movement asks Sashi to work as a medic at a field hospital, where she experiences first hand the atrocities of civil war. Sashi's brothers are caught up in "the movement," her family is forced to leave their home, and Sashi must figure out where she fits in the ongoing conflict. Including detailed factual information from her thorough research, the author makes the novel read like a memoir, and, in doing so, provides an intimate picture of the moral dilemmas faced by participants in civil and ethnic warfare and the permanent damage that results.  
— Alice
Description
---
NEW YORK TIMES EDITORS' CHOICE • A courageous young Sri Lankan woman tries to protect her dream of becoming a doctor in this "heartbreaking exploration of a family fractured by civil war" (Brit Bennett, #1 New York Times bestselling author of The Vanishing Half).
 
"An achingly moving portrait of a world full of turmoil, but one in which human connections and shared stories can teach us how—and as importantly, why—to survive."—Celeste Ng, New York Times bestselling author of Little Fires Everywhere

Jaffna, 1981. Sixteen-year-old Sashi wants to become a doctor. But over the next decade, a vicious civil war tears through her home, and her dream spins off course as she sees her four beloved brothers and their friend K swept up in the mounting violence. Desperate to act, Sashi accepts K's invitation to work as a medic at a field hospital for the militant Tamil Tigers, who, following years of state discrimination and violence, are fighting for a separate homeland for Sri Lanka's Tamil minority. But after the Tigers murder one of her teachers and Indian peacekeepers arrive only to commit further atrocities, Sashi begins to question where she stands. When one of her medical school professors, a Tamil feminist and dissident, invites her to join a secret project documenting human rights violations, she embarks on a dangerous path that will change her forever.

Set during the early years of Sri Lanka's three-decade civil war, Brotherless Night is a heartrending portrait of one woman's moral journey and a testament to both the enduring impact of war and the bonds of home.
About the Author
---
V. V. Ganeshananthan is the author of Love Marriage, which was longlisted for the Women's Prize and named one of the best books of the year by The Washington Post. Her work has appeared in Granta, The New York Times, and The Best American Nonrequired Reading, among other publications. A former vice president of the South Asian Journalists Association, she has also served on the board of the Asian American Writers' Workshop, and is presently a member of the board of directors of the American Institute for Sri Lankan Studies and the Minnesota Prison Writing Workshop. She teaches in the MFA program at the University of Minnesota and co-hosts the Fiction/Non/Fiction podcast on Literary Hub, which is about the intersection of literature and the news.
Praise For…
---
"A blazingly brilliant novel . . . With immense compassion and deep moral complexity, V. V. Ganeshananthan brings us an achingly moving portrait of a world full of turmoil, but one in which human connections and shared stories can teach us how—and as importantly, why—to survive."—Celeste Ng, New York Times bestselling author of Little Fires Everywhere

"A heartbreaking exploration of a family fractured by civil war, this beautiful, nuanced novel follows a young doctor caught within conflicting ideologies as she tries to save lives. I couldn't put this book down."—Brit Bennett, #1 New York Times bestselling author of The Vanishing Half

"Brotherless Night is my favorite kind of novel, one so rich and full of movement that it's only later I realize how much I have learned. V. V. Ganeshananthan drew me in from the very first line, and the intricacies of her characters' lives made it easy to stay."—Sara Nović, New York Times bestselling author of True Biz

"A beautiful, brilliant book—it gives an accounting of the unimaginable losses suffered by a family and by a country, but it is as tender and fierce as it is mournful. It is unafraid to look directly at the worst of the violence and erasure we have perpetrated or allowed to happen, but is insistent that we can still choose to be better."—Danielle Evans, author of The Office of Historical Corrections

"Through this moving story, Ganeshananthan traces the human aspects of war—the physical losses and tragedies as well as the conflicts of values that are often the true battlefields. . . . [She] forces the reader to discard a binary description of the world in favor of a more complex, human one."—BookPage (starred review)