My Name Is Lucy Barton: A Novel (Paperback)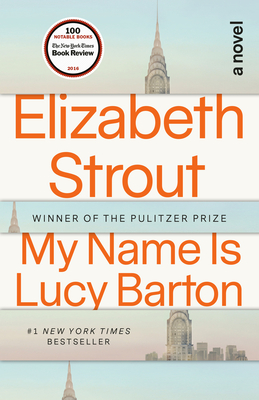 List Price: $17.00
Our Price: $16.00
(Save: $1.00 6%)
Staff Reviews
---
There is something in Lucy's voice in this quiet story that captures the anguish of alienation, the need for belonging, and the yearning for unconditional mother-love that most of us think we have experienced. Although she is reasonably well-off now, married with two children, Lucy grew up in abject poverty. She is now in a lengthy hospital stay for some undisclosed reason, and her husband has called Lucy's mother, with whom she has been out of touch for several years, to come and see her in the hospital. With a tenderness that is never clearly reciprocated, Lucy and her mother talk about events and people from Lucy's youth as Lucy attempts to understand her mother and their relationship. Recommended.
— Alice
January 2016 Indie Next List
---
"Strout has the incredible ability to take ordinary, even mundane situations and use them to make acute observations on the human condition. A mother's visit to her daughter in the hospital becomes the vehicle for an astute examination of daily needs, desires, yearnings, wishes, and dreams that become so much of the remembered experience. Using spare, precise, but beautiful language, she has produced another masterpiece in a growing list of impressive work."
— Bill Cusumano (M), Square Books, Oxford, MS
Description
---
#1 NEW YORK TIMES BESTSELLER • A simple hospital visit becomes a portal to the tender relationship between mother and daughter in this extraordinary novel by the Pulitzer Prize–winning author of Olive Kitteridge and The Burgess Boys.

NAMED ONE OF THE BEST BOOKS OF THE YEAR BY
The Washington Post • The New York Times Book Review • NPR • BookPage • LibraryReads • Minneapolis Star Tribune • St. Louis Post-Dispatch

Lucy Barton is recovering slowly from what should have been a simple operation. Her mother, to whom she hasn't spoken for many years, comes to see her. Gentle gossip about people from Lucy's childhood in Amgash, Illinois, seems to reconnect them, but just below the surface lie the tension and longing that have informed every aspect of Lucy's life: her escape from her troubled family, her desire to become a writer, her marriage, her love for her two daughters. Knitting this powerful narrative together is the brilliant storytelling voice of Lucy herself: keenly observant, deeply human, and truly unforgettable.

LONGLISTED FOR THE MAN BOOKER PRIZE

"A quiet, sublimely merciful contemporary novel about love, yearning, and resilience in a family damaged beyond words."—The Boston Globe

"It is Lucy's gentle honesty, complex relationship with her husband, and nuanced response to her mother's shortcomings that make this novel so subtly powerful."—San Francisco Chronicle

"A short novel about love, particularly the complicated love between mothers and daughters, but also simpler, more sudden bonds . . . It evokes these connections in a style so spare, so pure and so profound the book almost seems to be a kind of scripture or sutra, if a very down-to-earth and unpretentious one."—Newsday

"Spectacular . . . Smart and cagey in every way. It is both a book of withholdings and a book of great openness and wisdom. . . . [Strout] is in supreme and magnificent command of this novel at all times."—Lily King, The Washington Post

"An aching, illuminating look at mother-daughter devotion."—People

"This slim, perceptive novel packs more sentiment and pain into its unsparingly honest and forthright prose than novels two and three times as long. Strout . . . has always awed us with her ability to put into words the mysterious and unfathomable ways in which people cherish each other."—Chicago Tribune
About the Author
---
Elizabeth Strout is the Pulitzer Prize–winning author of Olive Kitteridge, as well as The Burgess Boys, a New York Times bestseller; Abide with Me, a national bestseller and Book Sense pick; and Amy and Isabelle, which won the Los Angeles Times Art Seidenbaum Award for First Fiction and the Chicago Tribune Heartland Prize. She has also been a finalist for the PEN/Faulkner Award and the Orange Prize in England. Her short stories have been published in a number of magazines, including The New Yorker and O: The Oprah Magazine. Elizabeth Strout lives in New York City.
Praise For…
---
"A quiet, sublimely merciful contemporary novel about love, yearning, and resilience in a family damaged beyond words."—The Boston Globe

"Sensitive, deceptively simple . . . [Elizabeth] Strout captures the pull between the ruthlessness required to write without restraint and the necessity of accepting others' flaws. It is Lucy's gentle honesty, complex relationship with her husband, and nuanced response to her mother's shortcomings that make this novel so subtly powerful. . . . My Name Is Lucy Barton—like all of Strout's fiction—is more complex than it first appears, and all the more emotionally persuasive for it."—San Francisco Chronicle

"A short novel about love, particularly the complicated love between mothers and daughters, but also simpler, more sudden bonds . . . It evokes these connections in a style so spare, so pure and so profound the book almost seems to be a kind of scripture or sutra."—Newsday

"Spectacular . . . Smart and cagey in every way . . . A book of withholdings and a book of great openness and wisdom. . . . [Strout] is in supreme and magnificent command of this novel at all times."—The Washington Post

"An aching, illuminating look at mother-daughter devotion."—People

"This slim, perceptive novel packs more sentiment and pain into its unsparingly honest and forthright prose than novels two and three times as long. Strout . . . has always awed us with her ability to put into words the mysterious and unfathomable ways in which people cherish each other."—Chicago Tribune

"Lucy Barton is . . . potent with distilled emotion. Without a hint of self-pity, Strout captures the ache of loneliness we all feel sometimes."—Time

"There is not a scintilla of sentimentality in this exquisite novel. Instead, in its careful words and vibrating silences, My Name Is Lucy Barton offers us a rare wealth of emotion, from darkest suffering to—'I was so happy. Oh, I was happy'—simple joy."—Claire Messud, The New York Times Book Review

"Deeply affecting."—The Guardian

"Strout allies herself less with recent autobiographical fictions than with Ernest Hemingway, whose style remains unmatched for its capacity to convey the effects of trauma without sentimentality. . . . Reading My Name Is Lucy Barton, I was frequently put in mind of Hemingway's famous injunction to write 'the truest sentence that you know.'"—The Wall Street Journal

"Impressionistic and haunting . . .  With Lucy Barton, [Strout] reminds us of the power of our stories—and our ability to transcend our troubled narratives."—Miami Herald
 
"Writing of this quality comes from a commitment to listening, from a perfect attunement to the human condition, from an attention to reality so exact that it goes beyond a skill and becomes a virtue."—Hilary Mantel