The End of Days (Paperback)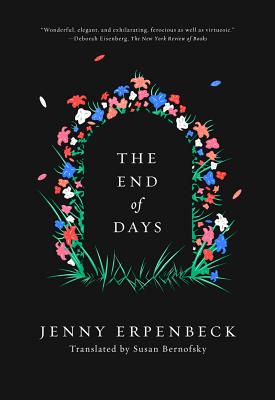 $16.95

Usually Ships in 4-7 Days
Description
---
Winner of the Independent Foreign Fiction Prize for the best translated novel of 2014, now a New Directions paperback
Winner of the Independent Foreign Fiction Prize and the Hans Fallada Prize, The End of Days, by the acclaimed German writer Jenny Erpenbeck, consists essentially of five "books," each leading to a different death of the same unnamed female protagonist. How could it all have gone differently?—the narrator asks in the intermezzos. The first chapter begins with the death of a baby in the early twentieth-century Hapsburg Empire. In the next chapter, the same girl grows up in Vienna after World War I, but a pact she makes with a young man leads to a second death. In the next scenario, she survives adolescence and moves to Russia with her husband. Both are dedicated Communists, yet our heroine ends up in a labor camp. But her fate does not end there….
A novel of incredible breadth and amazing concision, The End of Days offers a unique overview of the twentieth century.
About the Author
---
Jenny Erpenbeck was born in East Berlin in 1967. New Directions publishes her books The Old Child & Other Stories, The Book of Words, and Visitation, which NPR called "a story of the century as seen by the objects we've known and lost along the way."

The translator of Yoko Tawada, Franz Kafka, and Robert Walser, among others, Susan Bernofsky is currently working on a biography of Walser.
Praise For…
---
Words and stories and memory are the vehicle by which the reader moves, intoxicatingly and fearlessly, through a dizzying but magnificent series of terrains.
— Michele Filgate - The Boston Globe

Wonderful, elegant and exhilarating, ferocious as well as virtuosic: The End of Days is her most direct address to history.

— Deborah Eisenberg - The New York Review of Books

One of the finest, most exciting authors alive.
— Michael Faber

Dreamlike, almost incantatory prose.
— Vogue

Beautiful and ambitious. Erpenbeck's graceful prose suits the understated tone of this Hans Fallada Prize winner.
— Publishers Weekly, (starred review)

The brutality of her subjects, combined with the fierce intelligence and tenderness at work behind her restrained, unvarnished prose, is overwhelming.
— Nicole Krauss