Forgotten Allies: The Oneida Indians and the American Revolution (Paperback)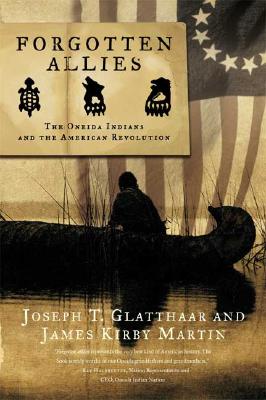 $20.00

Usually Ships in 4-7 Days
Description
---
Combining compelling narrative and grand historical sweep, Forgotten Allies offers a vivid account of the Oneida Indians, forgotten heroes of the American Revolution who risked their homeland, their culture, and their lives to join in a war that gave birth to a new nation at the expense of their own. Revealing for the first time the full sacrifice of the Oneidas in securing independence, Forgotten Allies offers poignant insights about Oneida culture and how it changed and adjusted in the wake of nearly two centuries of contact with European-American colonists. It depicts the resolve of an Indian nation that fought alongside the revolutionaries as their valuable allies, only to be erased from America's collective historical memory. Beautifully written, Forgotten Allies recaptures these lost memories and makes certain that the Oneidas' incredible story is finally told in its entirety, thereby deepening and enriching our understanding of the American experience.
About the Author
---
Joseph T. Glatthaar is the author of six books and teaches history at the
University of North Carolina, Chapel Hill.
James Kirby Martin
is the author of eleven books and teaches history at the University of Houston.
Praise For…
---
"Magnificent reading! Forgotten Allies represents the very best kind of American history. ... Professors Glatthaar and Martin have helped restore the truths of our Oneida heritage, both as allies in war and partners in peace with the United States." —Ray Halbritter, National Representative and CEO, Oneida Indian Nation
"The story of the Oneida Indians and the larger Iroquois Confederacy in the American Revolution is elegantly told in Forgotten Allies, a book that will surprise, delight, and sadden readers. The Oneidas stood with the liberty-loving forces of the Continental Army at Saratoga and Oriskany and Valley Forge. Yet once the war ended their bravery and loyalty were conveniently forgotten—until now. This is a gem of a book." —David Oshinsky, Pulitzer Prize-winning author of Polio: An American Story
"This is a book that will surprise and delight anyone interested in American history. It reveals in vivid scrupulously researched detail a hitherto unknown side of the War for Independence." —Thomas Fleming, author of Washington's Secret War: The Hidden History of Valley Forge
"Riveting from its deft opening of Lafayette's return, Forgotten Allies is a brilliant history of the Oneida Indian Nation and its complex participation in the American Revolution. Masterfully framing the cultural and political struggles of the time before plunging us into the American Revolution, this book has a message for every generation; history is relevant." —Jack Leustig, Producer, Director, Writer, Award-Winning CBS Television Documentary, 500 Nations
"Two accomplished historians tell the sad, neglected, yet fascinating story, rich in detail and well written, of the Oneida, one major Indian group who backed the 'winning' side in the American Revolution." —John Shy, Professor Emeritus, University of Michigan
"A vividly revealing chronicle of the Oneidas' thankless role in the American Revolution." —Chrispatsilelis, Houston Chronicle
"Two scholars seamlessly combine forces to tell a little-known but important and ultimately shameful story from an unlit corner of the colonies' battle for independence . . . Much research and erudition underlie a sad tale of fidelity betrayed." —Kirkus Reviews
"The fullest account we have of the United States Colored Troops (USCT), those black soldiers and white officers who contributed so mightily to Union victory." —Georgia Historical Quarterly on Forged in Battle
"Both a biography and an extended meditation on the ironies of the Revolution, Benedict Arnold, Revolutionary Hero is in many ways a remarkable example of the historian's craft . . . [an] indispensable guide." —Los Angeles Times on Benedict Arnold, Revolutionary Hero
"Martin's thorough primary-source research--the best in any biography of Arnold to date--underpins convincing explanations for both Arnold's intense revolutionary zeal and his subsequent betrayal. The book offers essential lessons to modern military officers." —Journal of Military History on Benedict Arnold, Revolutionary Hero