Lost & Found: Witherwood Reform School (Hardcover)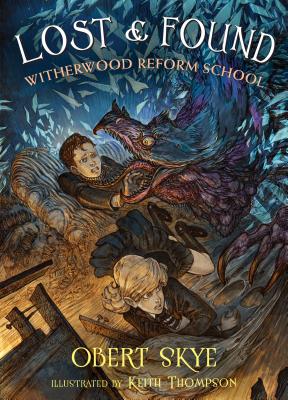 Description
---
Tobias and Charlotte Eggers are not on vacation. Well, I suppose they are on a vacation from everything they once knew. Locked within the walls of Witherwood, high upon a mysterious mesa, they are still looking for a way out. There are distractions, however. The very ground is shaking, and the creatures that protect the school are revolting. When one of their only friends goes missing it leads to a devastating secret. But there is hope. There are other students who have clear minds and are also fighting to get out. Luckily for everyone, Tobias has a plan. It's a dangerous one, but if it works, it could forever change their fate and Witherwood's future.
About the Author
---
Obert Skye
is the author and illustrator of
The Creature from My Closet: Wonkenstein
. He has also written the bestselling children's fantasy adventure series Leven Thumps and
Pillage
.
Keith Thompson is a professional freelance artist whose work appears in movies, games and
books including the Witherwood Reform School series and the Leviathan trilogy by Scott
Westerfeld. Thompson lives in Ottawa, Ontario.
Praise For…
---
"Skye keeps the misadventures coming as Tobias deals with the odd personalities of his fellow students and captors . . . Another suspenseful romp for kids who like dark humor."-Kirkus Reviews
"Skye's old-fashioned, witty writing style and amusing humor is the perfect fit for fans of the Spiderwick Chronicles and A Series of Unfortunate Events series." —Booklist on Witherwood Reform School
"A brother and sister find themselves trapped in a frightening school that threatens to destroy their minds in this dark comedy. . . Skye writes very much in the same vein as Lemony Snicket, with menacing dark humor and outlandish characters." —Kirkus Reviews on Witherwood Reform School
"In this Snicketesque series opener, Skye crafts an imaginative, absorbing tale in which nothing is as it seems." —Publishers Weekly on Witherwood Reform School