The Evolution of Calpurnia Tate (Hardcover)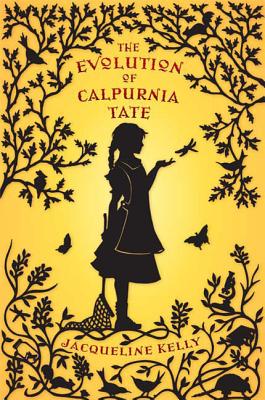 Other Books in Series
This is book number 1 in the Calpurnia Tate series.
Summer 2009 Kids' List
---
"Intrigued by the different grasshoppers in her backyard, 11-year-old Calpurnia Virginia Tate finds herself suddenly enthralled by the natural world -- a fascination that unexpectedly leads to a new bond with her famously reclusive grandfather. Voracious in her newfound love of science, Callie launches herself on a summer of exploration, which leads to many new discoveries, not least of which is what it means to be a girl in love with science in Texas in 1899."
— Meghan Dietsche Goel, Book People, Austin, TX
Description
---
In this witty historical fiction middle grade novel set at the turn of the century, an 11-year-old girl explores the natural world, learns about science and animals, and grows up. A Newbery Honor Book.

"The most delightful historical novel for tweens in many, many years. . . . Callie's struggles to find a place in the world where she'll be encouraged in the gawky joys of intellectual curiosity are fresh, funny, and poignant today." —The New Yorker

Calpurnia Virginia Tate is eleven years old in 1899 when she wonders why the yellow grasshoppers in her Texas backyard are so much bigger than the green ones. With a little help from her notoriously cantankerous grandfather, an avid naturalist, she figures out that the green grasshoppers are easier to see against the yellow grass, so they are eaten before they can get any larger. As Callie explores the natural world around her, she develops a close relationship with her grandfather, navigates the dangers of living with six brothers, and comes up against just what it means to be a girl at the turn of the century.

Author Jacqueline Kelly deftly brings Callie and her family to life, capturing a year of growing up with unique sensitivity and a wry wit.

The Evolution of Calpurnia Tate by Jacqueline Kelly was a 2010 Newbery Honor Book and the winner of the 2010 Bank Street - Josette Frank Award. This title has Common Core connections. This is perfect for young readers who like historical fiction, STEM topics, animal stories, and feminist middle grade novels.

Don't miss the sequel!
The Curious World of Calpurnia Tate

To follow Calpurnia Tate on more adventures, read the Calpurnia Tate, Girl Vet chapter book series:
Skunked!
Counting Sheep
Who Gives a Hoot?
A Prickly Problem
About the Author
---
Jacqueline Kelly won the Newbery Honor for her first book, The Evolution of Calpurnia Tate. She was born in New Zealand and raised in Canada, in the dense rainforests of Vancouver Island. Her family then moved to El Paso, Texas, and Kelly attended college in El Paso, then went on to medical school in Galveston. After practicing medicine for many years, she went to law school at the University of Texas, and after several years of law practice, realized she wanted to write fiction. Her first story was published in the Mississippi Review in 2001. She now makes her home with her husband and various cats and dogs in Austin and Fentress, Texas.
Praise For…
---
"The Evolution of Calpurnia Tate" is the most delightful historical novel for tweens in many, many years. …Callie's struggles to find a place in the world where she'll be encouraged in the gawky joys of intellectual curiosity are fresh, funny, and poignant today." —The New Yorker, "Book Bench" section

"In her debut novel, Jacqueline Kelly brings to vivid life a boisterous small-town family at the dawn of a new century. And she especially shines in her depiction of the natural world that so intrigues Callie… Readers will want to crank up the A.C. before cracking the cover, though. That first chapter packs a lot of summer heat." —The Washington Post

"Each chapter of this winning…novel opens with a quotation from 'On the Origin of Species'--a forbidden book that her own grandfather turns out to have hidden away. Together they study Darwin's masterpiece, leading to a revolution in Callie's ideas of what she might accomplish on her own." —New York Times Book Review

"Callie's transformation into an adult and her unexpected bravery make for an exciting and enjoyable read. Kelly's rich images and setting, believable relationships and a touch of magic take this story far." —Publishers Weekly, Starred Review

"Interwoven with the scientific theme are threads of daily life in a large family--the bonds with siblings, the conversations overheard, the unspoken understandings and misunderstandings--all told with wry humor and a sharp eye for details that bring the characters and the setting to life. The eye-catching jacket art, which silhouettes Callie and images from nature against a yellow background, is true to the period and the story. Many readers will hope for a sequel to this engaging, satisfying first novel." —Booklist, Starred Review

"Readers will finish this witty, deftly crafted debut novel rooting for "Callie Vee" and wishing they knew what kind of adult she would become." —Kirkus, Starred Review

"A charming and inventive story of a child struggling to find her identity at the turn of the 20th century… there's no uncertainty over the achievement of Kelly's debut novel." —School Library Journal, Starred Review

"Narrator Calpurnia's voice is fresh and convincing, and Granddaddy is that favorite relative most readers would love to claim as their own. Historical fiction fans are in for a treat." — The Bulletin of the Center for Children's Books

"That rare book that will appeal to child and adult alike." —Austin American-Statesman

"Introduces a turn-of-the-20th-century heroine for modern times." —Shelf Awareness

"Kelly, without anachronism, has created a memorable, warm, spirited young woman who's refreshingly ahead of her time." —The Horn Book Review