The Lovesick Salesman (Hardcover)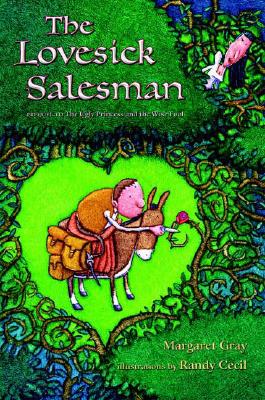 Description
---
A very long time ago, when this morning's mud puddles were still vast oceans, and dragons prowled their shores, there lived a little boy named Irwin who wanted to be a hero.

The uproarious prequel to the Christopher Medal
winner The Ugly Princess and the Wise Fool

Every boy in the kingdom of Coriander dreams of being a hero, which makes it hard to get into the Heroic Academy. Young Irwin's brave swagger is more of a meek stumble, yet he is sure the teachers will see the heroic qualities that hide beneath his slightly silly exterior.

But they don't. So Irwin resigns himself to selling candy, which he doesn't really mind-until he meets the princess. Julia is exquisite and brilliant, and Irwin adores her, but she only has eyes for the greatest hero of all. Can the young salesman discover his inner hero in time to win her heart?
About the Author
---
Margaret Gray has been reading and writing fairy tales since she was little girl, when her aversion to sports frustrated many gym teachers. She lives with her family in Los Angeles.

Randy Cecil has illustrated a number of highly praised books for children, including "Big Day on the River," "Dusty Locks and the Three Bears," and "Little Red Cowboy Hat." He lives in Houston, Texas.