One Dark and Dreadful Night (Hardcover)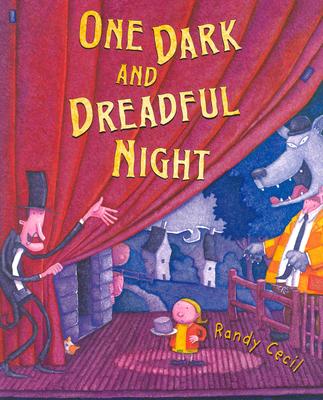 Description
---
Good evening, and welcome to the Wayward Orphans Theatre. I am Maestro Von Haughty. Tonight I am proud to present three tales of terror and misfortune...

A laugh-out-loud theatrical production that
puts Broadway to shame!

Maestro Von Haughty directs a theater company that performs gloomy works of tragedy-or they're supposed to. Unfortunately for the Maestro, his actors are a group of ragtag orphans that would much rather be in a happy play with butterflies and kittens (and perhaps a fairy as well).

When the spirited orphans take over the stage, the worst kind of mayhem ensues, and even the stern Maestro can't stop them from turning his dark and dreadful masterpiece into a hilarious romp in the Wild West!
About the Author
---
Randy Cecil has illustrated a number of highly praised books for children, including "Dusty Locks and the Three Bears," "Little Red Cowboy Hat," and "The Ugly Princes and the Wise Fool," which won the Christopher Medal. He lives in Houston, Texas.
Praise For…
---
"A hysterical addition to any fractured-fairytale collection."--Kirkus Reviews, starred review

"Funny-bone-tickling text and merry illustrations merge in this crackerjack picture book."-- Publishers Weekly, starred review

"Though parodies of folk tales abound, this take is both fresh and funny in text and art."--School Library Journal