Incarceron (Hardcover)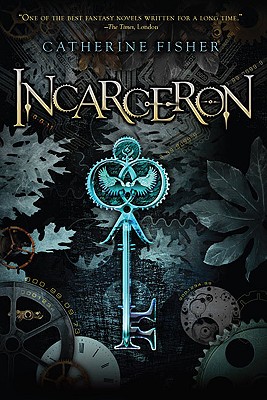 Description
---
A thrilling, high-concept fantasy for fans of Garth Nix and Nancy Farmer.
"Incarceron" is a prison so vast that it contains not only cells, but also metal forests, dilapidated cities, and vast wilderness. Finn, a seventeen-year-old prisoner, has no memory of his childhood and is sure that he came from Outside Incarceron. Very few prisoners believe that there is an Outside, however, which makes escape seems impossible.
And then Finn finds a crystal key that allows him to communicate with a girl named Claudia. She claims to live Outside- she is the daughter of the Warden of Incarceron, and doomed to an arranged marriage. Finn is determined to escape the prison, and Claudia believes she can help him. But they don't realize that there is more to Incarceron than meets the eye. Escape will take their greatest courage and cost more than they know.
About the Author
---
Catherine Fisher is an acclaimed novelist and poet, and has written many fantasy books for young people, including the popular "Oracle Betrayed" series. She lives in Wales.
Praise For…
---
"Fisher creates a world of danger and suspense that will keep readers ensnared."–BookPage



"Fisher scores a resounding success in this beautifully imagined science fantasy… Complex and inventive with numerous and rewarding mysteries."–The San Francisco Examiner



"TOP PICK! Readers will be left anxiously awaiting a sequel."–Romantic Times



"Fisher's characters are emotionally resonant, flawed, determined, and plagued by metaphysical questions... With some well-timed shocking twists and a killer ending, this is a must have."–Booklist



"Fisher's dystopic future, in which technology and decay coexist in a dazzling kaleidoscope of images and time periods, is brilliantly realized… Elegant, gritty, often surprising."–The Horn Book



"Fisher scores a resounding success in this beautifully imagined science fantasy."–Publishers Weekly



"By delving into the philosophy of imprisonment and the development of society; discussing how history informs the present; and exploring self-awareness and sentience in nonhuman characters, Incarceron becomes something of a tour de force."–School Library Journal



"A far-future thriller combines riveting adventure and masterful world-building with profound undertones… Like the finest chocolate, a rich confection of darkness, subtlety and depth, bittersweet and absolutely satisfying."–Kirkus Reviews



"An imaginative adventure unlike any other. There's a dark sophistication to it that sets it apart and makes it a delicious read."–Deseret News