Call Your Daughter Home (Hardcover)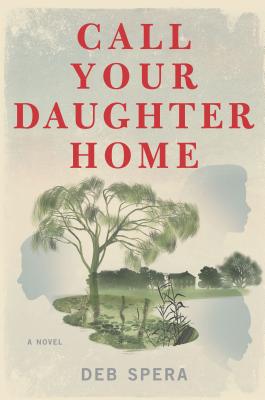 Staff Reviews
---
Three amazing narrators populate this southern tale of sadness, love, redemption, and revenge. Annie is the matriarch of the wealthiest family in Branchville but she is saddened by losing one child to suicide and her two daughters to an unknown rift. Rhetta is her African American cook, inheriting the job from her mother. Rhetta has also lost a child. It's the third narrator who will grab your heart-Gertrude. In an abusive marriage with five girls to care for, she takes matters into her own hands. Sometimes a well aimed gun will save your life.
— Valerie
Description
---
Publisher's Weekly Bookseller Pick
LibraryReads Pick
Amazon July Best of the Month Pick
"Like Jill McCorkle and Sue Monk Kidd, Spera probes the comfort and strength women find in their own company."
-- O Magazine
It's 1924 South Carolina and the region is still recovering from the infamous boll weevil infestation that devastated the land and the economy. Gertrude, a mother of four, must make an unconscionable decision to save her daughters from starvation or die at the hands of an abusive husband. Retta is navigating a harsh world as a first-generation freed slave, still employed by the Coles, influential plantation proprietors who once owned her family. Annie is the matriarch of the Coles family and must come to terms with the terrible truth that has ripped her family apart. These three women seemingly have nothing in common, yet as they unite to stand up to the terrible injustices that have long plagued the small town, they find strength in the bond that ties women together. Told in the pitch-perfect voices of Gertrude, Retta and Annie,
Call Your Daughter Home
is an audacious, timeless story about the power of family, deep-buried secrets and the ferocity of motherhood.
"A mesmerizing Southern tale, Call Your Daughter Home follows three women intertwined in struggle, unlikely friendship, and ultimately, redemption. Authentic, gripping, a page-turner, yet also a novel filled with language that begs to be savored. This book kept me up late and stayed with me long after I closed the final page."
-- Lisa Wingate, New York Times Bestselling Author of Before We Were Yours
"Deb Spera is a master of voice, a master of deep-diving access to the roiling depths of human identity. These three women, in their fierce struggle for values and self, speak to those struggles in all of us, men and women both. Call Your Daughter Home is an exhilarating and important book."
-- Robert Olen Butler, Pulitzer Prize winning author of A Good Scent from a Strange Mountain