Briar Rose: A Novel of the Holocaust (Fairy Tales) (Paperback)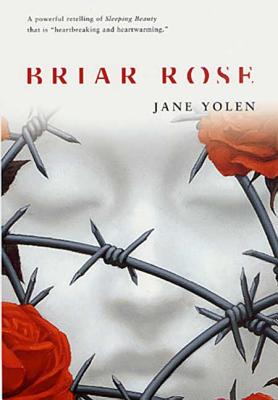 Description
---
A powerful retelling of Sleeping Beauty that is "heartbreaking and heartwarming."
An American Library Association "100 Best Books for Teens"
An American Library Association "Best Books for Young Adults"
Ever since she was a child, Rebecca has been enchanted by her grandmother Gemma's stories about Briar Rose. But a promise Rebecca makes to her dying grandmother will lead her on a remarkable journey to uncover the truth of Gemma's astonishing claim: I am Briar Rose. A journey that will lead her to unspeakable brutality and horror. But also to redemption and hope.
About the Author
---
Jane Yolen is one of the most distinguished and successful authors for young readers and adults in the country. She is the author of more than 200 books--including Briar Rose, Sister Light, Sister Dark, Owl Moon, and the immensely popular The Devil's Arithmetic. Her books have won awards including the Caldecott Medal, two Nebula Awards, the World Fantasy Award, the Jewish Book Award, and two Christopher Medals. SFWA named her the 2017 Damon KNIGHT MEMORIAL GRAND MASTER for her contributions to the literature of Science Fiction and Fantasy. She lives in Hatfield, Massachusetts.

Terri Windling is a writer, editor, artist, and passionate advocate of fantasy literature. She has won six World Fantasy awards for her editorial work and the Mythopoeic Award for her novel The Wood Wife. She has edited over thirty anthologies, many in collaboration with Ellen Datlow--including the Snow White, Blood Red adult fairy-tale series, The Armless Maiden, Sirens, The Green Man, and Swan Sister. She has also written children's books and articles on myth and folklore, and she edits the Endicott Studio Online Journal of Mythic Arts website. She divides her time between homes in Devon, England, and Tucson, Arizona.
Praise For…
---
"Terrifically moving." —The Washington Post
"Yolen takes the story of Briar Rose and links it to the Holocaust--a far from obvious connection that she makes perfectly convincing...Only a writer as good as Yolen could bring it off." —Publishers Weekly
"Both heartbreaking and heartwarming, Yolen's novel is a compelling reminder of the Holocaust as well as a contemporary tale of secrets and romance." —Booklist
"Showcases Yolen's skill at transforming the real world into a realm of fantasy." —Library Journal