Good Girls: Motherless Children #2 (Motherless Children Trilogy #2) (Hardcover)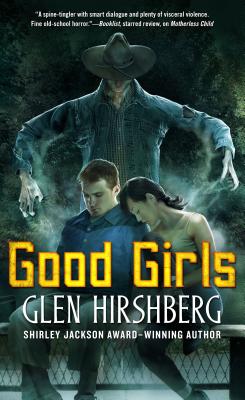 Description
---
Three-time International Horror Guild and Shirley Jackson Award Winner Glen Hirshberg brings his flair for the grim, grisly, and emotionally harrowing to Good Girls, the standalone sequel to Motherless Child.
Still in college, Rebecca is the "responsible one." She keeps her friends from getting too crazy—though Human Curling is kind of out there. She's a safety valve for Joel, her foster father, and helps out at Halfmoon House, which he runs with his wife, Amanda—Rebecca's foster mother, who makes sure her children able to protect themselves. To take care of themselves.
Mostly Rebecca takes care of everyone else. She works at the university's crisis center, doing whatever she can to help the troubled souls who call the hotline. Until the night he calls.
Jess has lost so much: her job, her home…her daughter Natalie, no longer human thanks to the creature who called himself the Whistler. She tried desperately to save Natalie, but in the end, Jess herself pulled the trigger and killed her child.
Deep in mourning, Jess flees, with the remnants of her family: the man she loved, seriously injured; her infant grandson, somehow still innocent and pure. And Sophie.
Natalie's best friend, Jess's almost-daughter, and a mother herself, though her son is dead. Sophie's alive but not alive—half-mad, half vampire, half a person…and Jess's responsibility.
The Whistler is hunting Jess. She killed his Mother…and Natalie, who was his "destiny." But he's not so single-minded that he can't have a little fun along the way, take what he needs from Rebecca's friends and family…take Rebecca for his own….
Fates collide in a small town where fear and love are two sides of the same coin and life and death lie far too close together.
About the Author
---
GLEN HIRSHBERG received his B.A. from Columbia University, where he won the Bennett Cerf Prize for Best Fiction, and his M.A. and M.F.A. from the University of Montana. His first novel, The Snowman's Children, was a Literary Guild Featured Selection. His collection, The Two Sams, won three International Horror Guild Awards and was named a Best Book of the Year by Publishers Weekly. Hirshberg has won the Shirley Jackson Award and been a finalist for the World Fantasy and the Bram Stoker Awards.
Praise For…
---
"Set in the immediate aftermath of the justly lauded Motherless Child, this intense novel weaves its themes of love, loss, family obligation, and personal sacrifice into another richly textured tale of supernatural horror." - Publishers Weekly