Ironskin (Hardcover)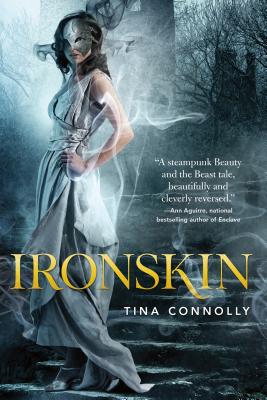 $24.99
Email or call for price.
Description
---
Jane Eliot wears an iron mask.
It's the only way to contain the fey curse that scars her cheek. The Great War is five years gone, but its scattered victims remain the ironskin.
When a carefully worded listing appears for a governess to assist with a "delicate situation" a child born during the Great War Jane is certain the child is fey-cursed, and that she can help.
Teaching the unruly Dorie to suppress her curse is hard enough; she certainly didn't expect to fall for the girl's father, the enigmatic artist Edward Rochart. But her blossoming crush is stifled by her scars and by his parade of women. Ugly women, who enter his closed studio...and come out as beautiful as the fey.
Jane knows Rochart cannot love her, just as she knows that she must wear iron for the rest of her life. But what if neither of these things are true? Step by step Jane unlocks the secrets of a new life and discovers just how far she will go to become whole again.
About the Author
---
TINA CONNOLLY lives in Portland, Oregon, with her husband and brand-new baby boy. Her stories have appeared in Strange Horizons, Fantasy, Beneath Ceaseless Skies, Highlights Magazine, and the anthology Unplugged: Year's Best Online SF 2008. Her Young Adult dystopia play, Witebox, will premiere in Portland in 2013. Connolly is a frequent reader for Escape Pod and Podcastle, and works as a face painter, which means a glitter-filled house is an occupational hazard. Ironskin is her first novel.
Praise For…
---
"A lyrical, beautifully crafted debut. I was particularly taken with the beautifully conceived strangeness of Connolly's fey-touched, just-a-shade-away alternate magical England. A haunting exploration of the true price one must pay for magic, beauty, and love, Ironskin will stay with me for a long time to come."
—M.K. Hobson, author of The Native Star

"Clever and romantic at the same time—no mean feat. A magical and entertaining waltz across the fairy forests and dark moors just a sideways step or two from Haworth Parsonage."
—Ian R. MacLeod, author of Wake Up and Dream

"A gothic, eerie, and pitch-perfect retelling of Jane Eyre, in which the moors are haunted by menacing fae and the hero's secrets are steeped in magic. Ironskin kept me up past my bedtime and stayed with me long after the last page has been turned."
—Leah Cypess, author of Mistwood