Who Killed Christopher Goodman?: Based on a True Crime (Hardcover)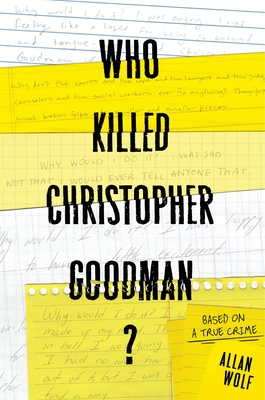 Description
---
Inspired by a tragic true event in his past, Allan Wolf examines the circumstances of one boy's inexplicable murder and the fateful summer leading up to it.

Everybody likes Chris Goodman. Sure, he's a little odd. He wears those funny bell-bottoms and he really likes the word ennui and he shakes your hand when he meets you, but he's also the kind of guy who's always up for a good time, always happy to lend a hand. Everybody likes Chris Goodman, which makes it especially shocking when he's murdered. Here, in a stunning multi-voiced narrative — including the perspective of the fifteen-year-old killer — and based on a true and terrible crime that occurred when he was in high school, author Allan Wolf sets out to answer the first question that comes to mind in moments of unthinkable tragedy: how could a thing like this happen?
About the Author
---
Allan Wolf is the author of many award-winning books for children and teens, including The Watch That Ends the Night: Voices from the Titanic, New Found Land: Lewis and Clark's Voyage of Discovery, and Zane's Trace. Allan Wolf lives in Asheville, North Carolina.
Praise For…
---
Wolf's dynamic, multifaceted characters come vividly alive through their distinct speaking voices, and their struggle to come to terms with not only their guilt but the senselessness of the universe is deeply affecting. Artful, thoughtful, and utterly captivating.
—Booklist (starred review)

Wolf uses these unique formats to excellent effect to create a gripping mystery as well as a thoughtful character study in which the six teens grapple with their actions on the night of the murder and their blame, if any, in Christopher Goodman's death. Recommended for most YA collections, this fast-paced novel will appeal to reluctant readers as well as fans of mystery and suspense.
—School Library Journal (starred review)

This is a thoughtful, remarkably well done novel that must have percolated in the author's mind for years: It is based on a murder in the author's own history, but limiting its audience to the true crime section would be its own crime. This novel should reach an audience as broad as its cast, and find fans just as widespread.
—VOYA

As several teens band together to play a revenge prank against an adult they've nicknamed "Mr. Self-Righteous," the final climactic pieces of the plot fall into place, leaving students haunted by Pelf 's senseless act of random violence.
—The Horn Book

In this novel in multiple voices, Wolf returns to an episode from his youth—the murder of a high school neighbor—with an eye toward probing the sadness, confusion, and vague guilt of the teens who knew the victim...tangled interrelationships among the teens are thoroughly believable, and readers will find plenty of intrigue in their aggregated points of view.
—Bulletin of the Center for Children's Books

Shifting perspective among several teens who interacted with Christopher in the days leading up to the festival, Wolf weaves a tense story of shared grief and guilt...A spare yet powerful account of a teenager's influence on his community and the rippling aftereffects of his death.
—Publishers Weekly

Written in poems and narrative, this unique novel displays a good understanding of human behavior and will appeal to readers who enjoyed Who Killed Mr. Chippendale? (Puffin Books, 1996) and those who appreciate suspense.
—School Library Connection

A heartfelt, intricate examination of what underlies human behavior.
—Kirkus Reviews