The Earth, My Butt, and Other Big Round Things (Paperback)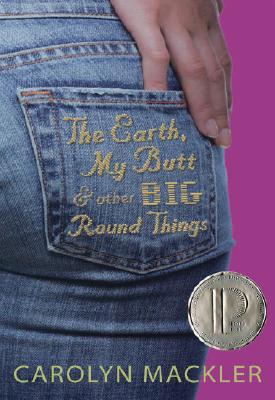 $8.99
Email or call for price
Description
---
An overweight teen is sure that she's the weakest link in her high-powered family - until her handsome, athletic, star-student brother has a shocking fall from grace.
— PUBLISHERS WEEKLY

Fifteen-year-old Virginia Shreves has a larger-than-average body and a plus-size inferiority complex. She lives on the Web, snarfs junk food, and follows the "Fat Girl Code of Conduct." Her stuttering best friend has just moved to Walla Walla (of all places). Her new companion, Froggy Welsh the Fourth (real name), has just succeeded in getting his hand up her shirt, and she lives in fear that he'll look underneath. Then there are the other Shreves: Mom, the successful psychologist and exercise fiend; Dad, a top executive who ogles thin women on TV; and older siblings Anaïs and rugby god Byron, both of them slim and brilliant. Delete Virginia, and the Shreves would be a picture-perfect family. Or so she's convinced. And then a shocking phone call changes everything.

With irreverent humor, insight, and surprising gravity, Carolyn Mackler creates an endearingly blunt heroine whose story will speak to every teen who struggles with family expectations - and serve as a welcome reminder that the most impressive achievement is to be true to yourself.
About the Author
---
Carolyn Mackler is the author of the acclaimed young adult novel LOVE AND OTHER FOUR-LETTER WORDS, which was an American Library Association Quick Pick for Reluctant Young Adult Readers and an International Reading Association Young Adult Choice. Her fiction and nonfiction have appeared in numerous publications, including SEVENTEEN, GIRLS' LIFE, TEEN PEOPLE, and GLAMOUR. Of THE EARTH, MY BUTT, AND OTHER BIG ROUND THINGS, she says, "So many of us feel like we don't quite fit in with the rest of the world, that we're inferior to others in some way. But things happen. Bad things happen. And many of us end up learning the difficult but important lesson that the people we idolize may not be all they're cracked up to be. And guess what? We're not so bad after all!"
Praise For…
---
From the eye-catching silver foil cover, with title graphics looking like lipstick, to the upbeat ending, this novel is a required purchase for public library young adult collections.
—VOYA

Mackler writes with a clarity and impact that lifts her material above the ordinary. The book is knowing about the relationship between image and self-image, and there's genuine understanding and a welcome absence of condescension . . .
—Bulletin of the Center for Children's Books, The

Mackler does a fine job of introducing girls to a very cool chick with a little meat on her bones.
—Horn Book, The

Readers will be rooting for Virginia all the way as she moves from isolated TV-watcher to Website-creator with purple hair and an eyebrow ring . . . Virginia's emotions progress from despondence to anger, joy, and strong independence, all portrayed with clarity. An easy read with substance and spirit.
—Kirkus Reviews

The heroine's transformation into someone who finds her own style and speaks her own mind is believable — and worthy of applause.
—Publishers Weekly

Mackler writes with such insight and humor that many readers will immediately identify with Virginia's longings as well as her fear and loathing.
—Booklist

Told through first-person narrative, journal entries, and e-mail, Virginia's story will interest readers who are looking for . . . teen angst, a bit of romance, and a kid who is a bit like them or their friends.
—School Library Journal

The title alone is enough to pull teens in, but the spunky narrator in Mackler's second YA novel will keep them reading. . . . Funny, touching, and very real. Mackler depicts both the trials and triumphs of adolescence when, like Virginia, we search for, and hopefully find, ourselves.
—Kliatt

Body image problems, family discord, a teenage contrarian narrating — is this anything new? Yes, because 15-year-old Virginia Shreves is so well-constructed a character that we like spending time with her.
—Chicago Tribune

Mackler . . . does an amazing job of capturing the wistful self-consciousness of teenage girls, and Virginia's transformation is inspiring.
—Book Page

Teenage girls will laugh, maybe cry, and undoubtedly nod vigorously in agreement.
—ForeWord Magazine

Featured as a giveaway
—YA Reads.com