Star Splitter (Hardcover)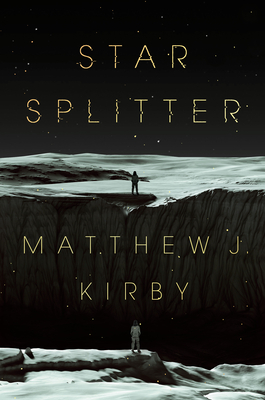 Staff Reviews
---
Jessica is teleported out to a ship orbiting a remote planet to join her parents. This process involves being scanned, uploaded and then 'printed' at your destination. When she arrives at her destination she discovers the ship has crash landed and the crew are dead. There is one other survivor — herself, printed about two weeks earlier.
Told in first person from each Jessica's point of view (the two accounts are easy to separate), questions of identity and what makes a personality are raised in this twisty thriller in which the full truth is not revealed until the (somewhat ambiguous) end. Left me with more questions than answers — in a good way!
— Caroline
Description
---
Survival and self-determination collide in this haunting, pulse-pounding science fiction novel from Edgar Award–winning author Matthew J. Kirby that spans both space and time.

"An intense, read-in-one-sitting kind of ride.″—Kirkus, starred review

"A twisty mystery of partial truths and unexpected reveals.″ —BCCB

"Dual timelines imbued with believable hard science, harrowing action, and strong characterizations permeate Kirby's breakneck adventure." —Publishers Weekly

2199. Deep-space exploration is a reality and teleportation is routine. But this time something has gone very, very wrong. Seventeen-year-old Jessica Mathers wakes up in a lander that's crashed onto the surface of Carver 1061c, a desolate, post-extinction planet fourteen light-years from Earth. The planet she was supposed to be viewing from a ship orbiting far above.

The corridors of the empty lander are covered in bloody hand prints; the machines are silent and dark. And outside, in the alien dirt, there are fresh graves carefully marked with names she doesn't recognize. Now Jessica must unravel the mystery of the destruction all around her—and the questionable intentions of a familiar stranger.
About the Author
---
Matthew J. Kirby is the critically acclaimed and award-winning author of the middle grade novels The Clockwork Three, Icefall, The Lost Kingdom, Infinity Ring Book 5: Cave of Wonders, and The Quantum League series, the Dark Gravity Sequence, and the Assassin's Creed series, Last Descendants. He was named a Publishers Weekly Flying Start, he has won the Edgar Award for Best Juvenile Mystery, the PEN Center USA award for Children's Literature, and the Judy Lopez Memorial Award, and has been named to the New York Public Library's 100 Books for Reading and Sharing, and the ALA Best Fiction for Young Adults lists. He is also a school psychologist, and currently lives in Utah with his wife and three step-kids.
Praise For…
---
"The expertly juggled storyline nurtures a tension that blossoms into a palpable sense of dread as the downright spooky nature of the disaster is explored. Themes of identity hit hard, as they come with high stakes. An intense, read-in-one-sitting kind of ride." —Kirkus, starred review

"Dual timelines imbued with believable hard science, harrowing action, and strong characterizations permeate Kirby's breakneck adventure. Questions of personhood are skillfully elevated, explored against an inventive future backdrop in which cloning is the norm and the potential consequences of deceptively simple-sounding procedures come at high costs." —Publishers Weekly