The Big Door Prize (Hardcover)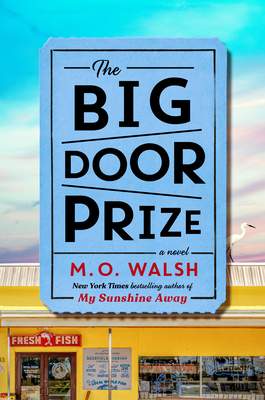 Staff Reviews
---
What would you do if you knew your life's potential? That's the question facing the citizens of Deerfield, Louisiana, when a machine sponsored by the company DNAMIX mysteriously appears in the local grocery store, and with a small swab of cheek cells, promises a participant their potential in life, what their body and mind are capable of doing, all for two dollars. Emboldened by new-found interests in things never before imagined, Deerfield townsfolk seize upon their new trajectories: Ballerina, Wood carver, Olympian etc.. regardless of skill or previous talent. Among these is Douglas Hubbard, beloved local high school history teacher, and ardent lover of jazz music. While Douglas grapples with his disappointing projected future, he is also pulled into a series of small-town concerns including the town bicentennial celebration, the retirement of the Catholic school principal, and the arrival of a troubled teen, Trina with her dark past and seductive ways. Douglas, alongside the local parish priest, Fr. Pete, and the despondent town mayor, find their friendship deepening around a local watering hole, as they watch the DNAMIX predictions rattle the lives of friends and family alike. In parallel, Douglas's wife Cherilyn, finds her prediction of ROYALTY spinning her towards ex-high school paramour, Deauce, who has ill-concealed his twenty year crush and has designs to rewrite history. High-schooler Jacob, twin to dead brother Toby, is also grappling with his own set of very real troubles as his father, the emotionally numb mayor, continues to ignore the shattered remnants their family life has become, while also being tormented by the aggressive advances of Trina.
This book was easy on the heart, and captivated me, as Mr. Walsh thoughtfully intertwined the stories of the Deerfield citizens with humor and compassion. I found myself rooting for all the various characters, both despicable and despondent, hoping against hope that love would conquer all and that perhaps maybe a few DNAMIX predictions would come true. Mr. Walsh also brings the very real concerns of social media gone wrong to bear, lending the story a current and compassionate examination of unforeseen consequences and a deeper understanding to the pressures that teens face at the hands of Twitter and IG. Thoughtful, engaging and heartwarming. Highly recommended.
— Raquel
September 2020 Indie Next List
---
"M.O. Walsh weaves quintessential Southern charm into a quirky scenario to produce The Big Door Prize, a novel that left me curious about the parts of myself I have yet to discover. You'll recognize the characters as your own next-door neighbors while being challenged to imagine the possibilities lying just past the periphery of a comfortably crafted trajectory. The novel questions what measures a life well-lived and answers with an entertaining tale of a grand machine in a modest town. Maybe potential is immeasurable. Perhaps that is exactly what gives us all hope."
— Mary Garner Rees, Lemuria Bookstore, Jackson, MS
Description
---
The New York Times bestselling author of My Sunshine Away returns with another instant Southern classic: a gripping and heartfelt novel about a mysterious machine that upends a small Louisiana town, asking us all to wonder if who we truly are is who we truly could be.

What would you do if you knew your life's potential? That's the question facing the residents of Deerfield, Louisiana, when the DNAMIX machine appears in their local grocery store. It's nothing to look at, really--it resembles a plain photo booth. But its promise is amazing: With just a quick swab of your cheek and two dollars, the device claims to use the science of DNA to tell you your life's potential. With enough credibility to make the townspeople curious, soon the former teachers, nurses, and shopkeepers of Deerfield are abruptly changing course to pursue their destinies as magicians, cowboys, and athletes--including the novel's main characters, Douglas Hubbard and his wife, Cherilyn, who both believed they were perfectly happy until they realized they could dream for more...

Written with linguistic grace and a sense of wonder, The Big Door Prize sparkles with keen observations about what it might mean to stay true to oneself while honoring the bonds of marriage, friendship, and community, and how the glimmer of possibility can pull these bonds apart, bring them back together, and make second chances possible, even under the strangest of circumstances.
About the Author
---
M.O. Walsh's writing has appeared in The New York Times, The Guardian, Oxford American, The Southern Review, and Best New American Voices, among others. His novel My Sunshine Away was a New York Times bestseller and winner of the Pat Conroy Southern Book Prize. He is a graduate of the MFA program at the University of Mississippi and currently directs the Creative Writing Workshop at the University of New Orleans.
Praise For…
---
One of PopSugar's 25 New Books Everyone Will Be Talking About in September
One of New York Post's Required Reading Picks 

"The ability to take what is primarily a funny, engaging, leisurely paced look at Small Town, USA, a la Fannie Flagg, and turn it into a breathless, high-stakes page-turner in the last 60 pages speaks to the mastery of Walsh's storytelling skills. But what makes The Big Door Prize most appealing is its deeply humane characters who are primarily sweet and kind-hearted, but who get drunk and fight and act a fool just enough to give them a bit of an edge. Weaving it all together is a gentle sense of humor conveyed through comic events and clever observations that make us laugh not so much at the characters but at the sight of ourselves within them." –Atlanta Journal-Constitution 

"The Big Door Prize is M. O. Walsh's long-awaited second novel and a captivating analysis of human nature, ambition, and how we chase our dreams while honoring our relationships and commitments." –Deep South Magazine

"[Walsh] eloquently explores the idea of second changes and makes the surreal seem achingly and poignantly authentic." –Augusta Chronicle

"Walsh's brand of comic tenderness is the perfect soother for these troubled times….Like Thornton Wilder or Edgar Lee Masters, those other masters of the small town collective portrait, Walsh probes the secrets at the heart of individual lives and reminds us to look long, listen hard, and offer compassion." –The Times-Picayune | The New Orleans Advocate

"The premise [of The Big Door Prize] is fantastic and at the same time, simple….M. O. Walsh is a gift. He is imaginative and productive....Definitely one to watch." –Tuscaloosa News

"All of [the] characters are fully realized and artfully drawn….From the opening line, the reader has the sense of a wise, omniscient narrator peeking into various bars, cars, and bedroom windows, a twinkle in his eye as he brings some mischief to the lives within….These connections lie at the heart of The Big Door Prize, and what an enormous heart it is." –Chapter 16

"[A] surprising and heartwarming contemporary drama about looking back and looking forward…Readers of this singular, nuanced story will, quite possibly and without a machine as prompt, undertake their own personal reflection." –Shelf Awareness

"[A] big-hearted and magical novel about fate, identity and the loyalties of a small town…Combining the humor and heart of small-town cozy fiction with the poignancy of literary fiction and the drama of domestic suspense, M. O. Walsh proves once again that he is a writer who needs to live on your bookshelves." –BookReporter

"Walsh skirts the edge of fantasy in this playful and touching tale....The novel transcends its quirky premise, offering many insights on the mysteries of the human heart." –Publishers Weekly (starred review)

"It's hard to believe that Walsh wrote this moving novel long before the COVID-19 pandemic, for there is eerie prescience in its soulful message that gratitude and grace are not to be taken for granted and that life can be upended in an instant." –Booklist (starred review)

"An eccentric, well-written small-town novel jam-packed with appealing characters and their dreams." —Kirkus Reviews 

"The Big Door Prize calls attention to the ordinary, hard-won joys of real people. M. O. Walsh's second novel is a feel-good read in a down-home setting, with serious undertones." —BookPage

"Think of The Big Door Prize as a beautiful box full of all the things that compose our lives: love, fate, chance, jealousy, sadness, jokes, desire, and music. M.O. Walsh gives us all this and more, page after page, until we feel as if we know a little bit more about everything there is worth knowing. One of the most big-hearted books you'll ever read, about so much, but, in the end, really about the secret of life: the specifics of caring." —Daniel Wallace, author of Extraordinary Adventures and Big Fish

"The lives of a couple facing their mid-life crisis and a young man coming of age intersect in this humorous and hopeful novel. M.O. Walsh has never been afraid to go down into the darkest places of the human heart, but his truthfulness is balanced by a beautiful optimism, just as his sharp humor is leavened by his genuine affection for the layered, vital characters he creates. A wise, wry, twisty, and entertaining tale. I loved it." —Joshilyn Jackson, author of Never Have I Ever

"The characters in The Big Door Prize are familiar yet curious—so much like my own neighbors that I began to weave myself into the story, considering other lives I might live if I were braver, pluckier. Walsh's novel is the ideal summer read, an immersive escape as well as a brilliant examination of free will vs. determinism." —Mary Miller, author of Biloxi and Always Happy Hour

"Part mystery, all charm. The big prize here is for readers: a heartwarming and eccentric page-turner in the grand tradition of Southern literature that will keep you wondering until the very end. Walsh writes his characters with great respect to prove we're never too old to discover new things about ourselves." —Steven Rowley, author of The Editor and Lily and the Octopus