Hallelujah Anyway: Rediscovering Mercy (Hardcover)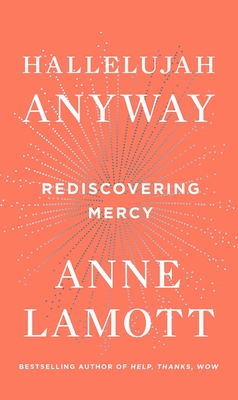 Staff Reviews
---
Anne Lamott author of Travelling Mercies, Small Victories, Plan B etc. has added a new blisteringly honest account of what mercy has meant in her life. Lamott has always been known for her achingly honest portrayals of her personal life, and Hallelujah Anyway brings this same approach as she leads the reader through her attemps to find mercy; to be given mercy and most importantly, to give mercy to others and herself. Her candid of stories which have played out in the mainstream-media, as well as intimate exchanges with her son are given to the reader as offerings of what human nature at it's best and worst can provide. This book is for anyone (and who amongst us doesn't?) in need of a reminder that mercy is radical kindness, and often is an absolving of the unabsolvable.
— Alice
April 2017 Indie Next List
---
"Hallelujah Anyway completely consumed me. The world has changed so much in the last year and it seems overwhelming at times. Lamott's new book is the answer to that despair, hopelessness, and futility. It's exactly what the title says - mercy through difficult times, kindness when it's not deserved, and singing hallelujah anyway. Lamott writes with such refreshing honesty. This book is now what I like to refer to as 'well-loved - underlined, dog-eared, and slightly worn. I suspect I'll revisit my favorite passages for years to come."
— Kristin Beverly, Half Price Books, Dallas, TX
Description
---
The perfect gift for Mother's Day "Anne Lamott is my Oprah." --Chicago Tribune The New York Times bestseller from the author of Hallelujah Anyway, Almost Everything and Bird by Bird, a powerful exploration of mercy and how we can embrace it. "Mercy is radical kindness," Anne Lamott writes in her enthralling and heartening book, Hallelujah Anyway. It's the permission you give others--and yourself--to forgive a debt, to absolve the unabsolvable, to let go of the judgment and pain that make life so difficult. In Hallelujah Anyway: Rediscovering Mercy Lamott ventures to explore where to find meaning in life. We should begin, she suggests, by "facing a great big mess, especially the great big mess of ourselves." It's up to each of us to recognize the presence and importance of mercy everywhere--"within us and outside us, all around us"--and to use it to forge a deeper understanding of ourselves and more honest connections with each other. While that can be difficult to do, Lamott argues that it's crucial, as "kindness towards others, beginning with myself, buys us a shot at a warm and generous heart, the greatest prize of all." Full of Lamott's trademark honesty, humor and forthrightness, Hallelujah Anyway is profound and caring, funny and wise--a hopeful book of hands-on spirituality.
About the Author
---
Anne Lamott is the New York Times bestselling author of Help, Thanks, Wow; Small Victories; Stitches; Some Assembly Required; Grace (Eventually); Plan B; Traveling Mercies; Bird by Bird; Operating Instructions, and the forthcoming Hallelujah Anyway. She is also the author of several novels, including Imperfect Birds and Rosie. A past recipient of a Guggenheim Fellowship and an inductee to the California Hall of Fame, she lives in Northern California.